After being told in January 2020 that everyone's favourite crime/drama/psychological thriller on Netflix, Mindhunter, wouldn't be getting a season 3, everyone was devastated. Fans feared that the third season was cancelled, but it later turned out that the series was just on hold, so a little bit of hope grew. According to an insider close to the streaming giant, Director David Fincher might be talking about reviving the series.
RELATED: Everything We Want To See In Disney+'s Real Steel TV Series
David Fincher In Talks To Return
A source close to Netflix reportedly told SmallScreen that David Fincher is currently in talks with Netflix about reviving Mindhunter and completing their dream of bringing season 3 to life. "All I can tell you about Mindhunter is that conversations between Netflix and Fincher are ongoing. They are discussing possibly bringing the show back for a third season. It's still very early, but Fincher sounds more upbeat about the project."
When the announcement was made that the third season was put on hold, there were rumours that it was just too expensive for Netflix to manage. There were also rumours that there was just too much drama behind the scenes, which Fincher revealed was partly true. During the filming of the second season, the drama started to wear on him, and he couldn't take it at the time. He reported being forced to fire the original showrunner and reject about eight scripts. On top of that, he was forced to oversee the filming of the entire project personally.
When talking about the third season being on hold, Fincher said that he was almost grateful for the break and to get away for a bit. They were focused on finishing the second season and only had a few scripts to choose from or much direction standing by for the third season. He said he didn't know if he was "ready to spend another two years in the crawl space."
At the very least, there was hope from the start of a revival. In 2020, Fincher had already mentioned that he would be happy to return to the project someday. However, there was so much that they still had to accomplish before they would feel like the series had a satisfying conclusion. The hope was to get all the way up to the late '90s and early 2000s, hopefully, get all the way up to people knocking on the door at Dennis Rader's house," he had shared.
Suppose he truly is in talks to return to the project and seems more upbeat than when he departed it in the first place. In that case, there is a good chance that we will get a Mindhunter season 3.
RELATED: Will We Be Getting Justice League 2 On Netflix Sometime Soon?
Mindhunter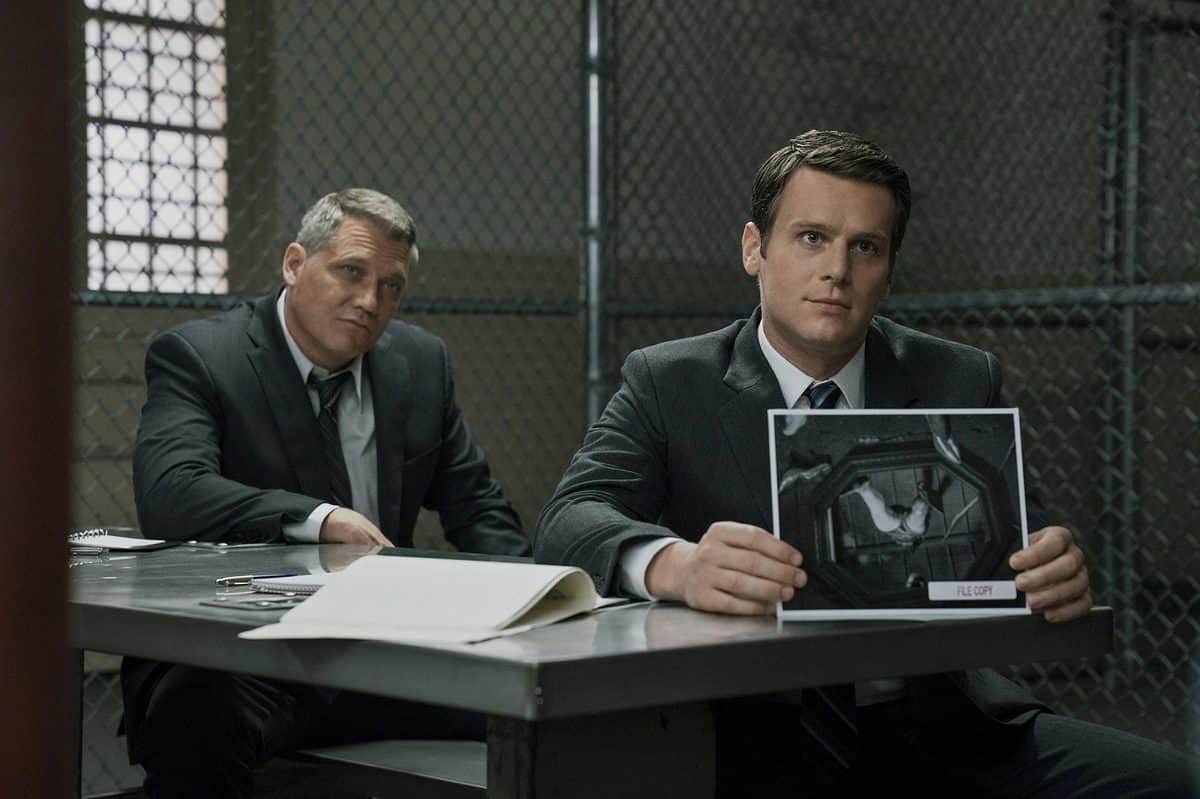 Mindhunter is a psychological thriller that dips its toes into crime drama. It is based on the book Mindhunter: Inside the FBI's Serial Crime Unit. Like the title of the book suggests, it follows two FBI agents, Holden Ford (played by Jonathan Groff) and Bill Tench (played by Holt McCallany), who, with the help of a psychologist, Dr Wendy Carr (played by Anna Torv) are trying to get into the minds of serial killers. The ultimate aim is to understand them inside and out so they can apply the knowledge they learn to catch and stop others from committing horrific crimes. And, of course, it doesn't hurt to solve some cold cases on the way.
Season One
Season one of the show takes place from 1977 to 1980, during the early days of criminal profiling. The three protagonists set up a research experiment where they try to learn what they can from the criminals to help them with current cases, beginning the FBI's delve into criminal psychology and criminal profiling. One notorious serial killer that stands out during the season is Edmund Kemper (played by Cameron Britton), who was convicted of 10 murders and apprehended in 1964. He is the first killer they analyse, helping Ford and Tench understand the inner machinations of a serial killer's mind.
Some other notable serial killers who feature in the first season are Dennis Radar, also known as BTK (played by Sonny Valicent), Jerry Brudos (played by Happy Anderson), Montie Rissel (played by Sam Strike), and Richard Speck (played by Jack Erdie).
Season Two
Season two of the show picks up where season one left off, spanning 1980 to 1981. Ford and Tench are now investigating the Atlanta Murders that spanned from 1979 to 1981, based on the actual case of Wayne Williams. Wayne Williams was charged and convicted for the murder of two adult men. Still, he was never tried for the killing of at least 28 other victims, mostly children. The lack of trial and justice for the children and adolescents caused mass outrage, and many still question his guilt. Unfortunately, the children's cases went cold.
Season two introduces some more notable killers, such as Charles Manson (played by Damon Herriman), David Berkowitz, famously known as Son of Sam (played by Oliver Cooper), Elmer Wayne Henley Jr. (played by Robert Aramayo) and William Pierce Jr. (played by Michael Filipowich).
It seems that with each passing season, they are delving into more notable killers that the FBI have had to deal with, as well as some that might not have gotten the coverage they deserved at the time. Although it is for entertainment purposes, awareness about the crimes of serial killers in the past may lead to surprising results.
With David Fincher being in talks about a season 3 for Mindhunter, and from what he has said about their rather ambitious plans, it might be possible that we could get more than just a third season, as season 2 left off in the 1980s. He wants to reach all the way into the 2000s. I'm sure that many fans will be happy to hear that. Unfortunately, there is no confirmation on any of the reports made, so for now, they remain rumours, but a girl can dream, right?
RELATED: Hannibal Season 4: Will Netflix Revive The Series?
Would you like to see season 3 of Mindhunter arriving on Netflix in the future?