Thirty-six years later, we're here again: Tom Cruise's Pete 'Maverick' Mitchell is acing the skies, sporting Aviators and wearing a bomber jacket as if it were a superhero uniform. Like most fans of the original (which earned cult classic status), I was very reluctant when the Top Gun sequel was first announced. How could a film about aviation do well in 2022? The good news is that it only took 10 minutes for the filmmakers to ease all my apprehensions and make me fall in love with the franchise again. Top Gun: Maverick is not only a really great blockbuster film and a visual masterpiece, but it's also a good reminder of why Tom Cruise (whose commanding screen presence carries the film) is a huge Hollywood star.
Three decades later, Tom Cruise, now 60-year-old, is ready to make the world fall in love with flying again.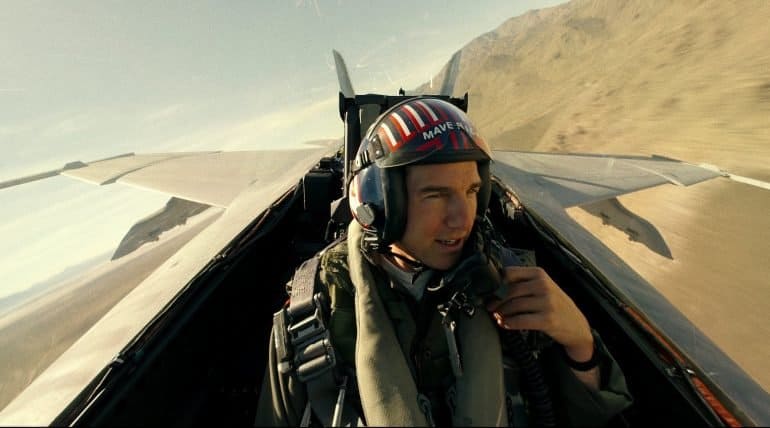 Directed by Joseph Kosinski, Top Gun: Maverick follows on from the original. Captain Maverick is still playing by his own rules and has avoided climbing up the ranks of the US Navy. His reputation lands him a role in preparing a group of fighter pilots for a risky mission that seems impossible to complete. Reluctant at first, he agrees to the job when he is urged on by Ice (Val Kilmer) and realises that Lieutenant Bradley 'Rooster' Bradshaw (Miles Teller), the son of Maverick's late best friend, is also assigned to the dangerous assignment.
Although there is high-speed combat and crazy antics in the skies, it's the on the ground demons (and complicated history) that keep the team from growing closer and also make for the most interesting viewing. Tensions are high and egos are bruised. If they are to survive their training, they're going to need to come together. And fast.
Hollywood is currently overcrowded with superhero action films and blockbusters that rely heavily on VFX. Not so here. And little difference makes Top Gun: Maverick feel like a breath of fresh air. It's a little more authentic — especially since most of the actors involved have been trained to complete the stunts involved.
But it's more than just that. Top Gun: Maverick allows you to feel — something that's missing from a lot of the other big budget films today. When Maverick hurts, we hurt. When the young pilots are in danger, we worry about them. When they celebrate victory, we feel it too. The film is alive and the emotions are real.
Top Gun: Maverick isn't just another shameless cash-in. I could argue that it even tops the original. Somehow this film manages to resurrect the cinema blockbuster, and I'm glad I managed to see it in all its IMAX glory.
The Review
Top Gun: Maverick
Top Gun is a piece of classic cinema. Top Gun: Maverick is about to be too. It's epic and thrilling from beginning to end.