Wait! Dwayne "The Rock" Johnson as Johnny Bravo? Yes, it nearly happened.
It's not uncommon to see Dwayne "The Rock" Johnson's name attached to every Hollywood project nowadays. However, one of the strangest and most interesting rumours was how he was set to star in a live-action adaptation of Johnny Bravo.
Turns out that this was entirely true. In 2002, Variety reported that Warner Bros. had purchased the rights for a Johnny Bravo film, with Neal Moritz and Marty Adelstein announced as the producers.
Speaking about Johnson's participation in the production, Adelstein said the following: "When the Rock mentioned to Neal and myself he was a big fan of Johnny Bravo and thought it was a great idea for a movie, we thought it was a natural fit and potentially a great role for him to play, so we went aggressively after the property."
It's not too difficult to see why this pairing made total sense. Not only does Johnson possess the physicality to convince as Bravo, but he also has the sense of humour and comedic timing to bring the dim-witted character to life. Everyone knows, with all the certainty in the world, that there's no one better to play Johnny Bravo than the People's Champ.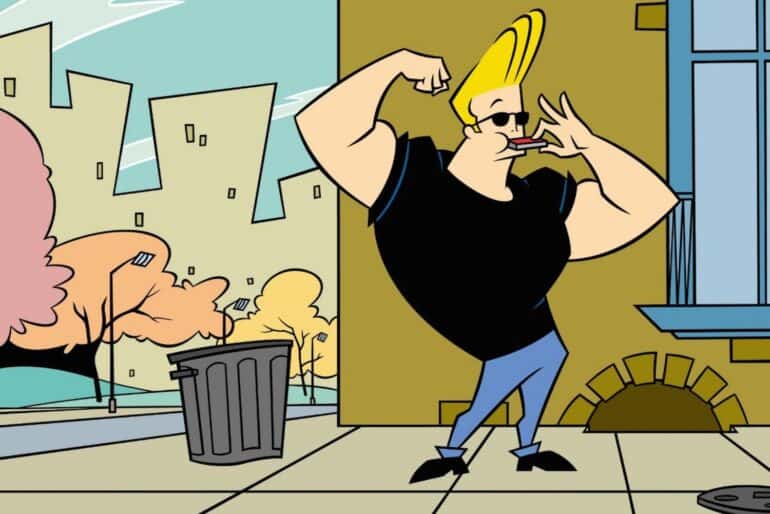 So, why didn't this film ever happen?
At the time, The Rock was at the beginning of his transition from wrestling superstar to full-time actor, so it seemed like a starring role in Johnny Bravo would've made good business for everyone involved. In typical Hollywood fashion, though, there was a delay in getting the production off the ground, which resulted in two big problems.
One, the Johnny Bravo cartoon was reaching its natural conclusion. In 2004 Cartoon Network aired the final season as the animated series' viewership dwindled. Having been around for seven years, the show had a good run, but it was on its last legs.
Two, Johnson's star power ascended, rapidly. No one could've predicted that he would become the biggest actor in the world two decades later, but the offers were coming in, thick and fast, as studios realised he possessed a natural charisma and likability that connected with global audiences.
Unfortunately, as more time passed, the likelihood of a Johnson's Johnny Bravo film decreased. The cartoon was no longer prime property or as prevalent in the public eye. Sure, the average person might know who Johnny is, but would they show up in droves for a live-action movie? Also, Johnson is now too big of a star for a role like this. He doesn't need to prove himself or search for roles anymore, since the projects come to him.
Additionally, there was a wave of criticism surrounding the Johnny Bravo character in recent years. Modern audiences deem him offensive, sexist, and misogynistic because of his womanising antics, believing there's no subtext in the animated show's message. Whether there's merit in that argument or not, no studio will be willing to die on that hill—especially not for a 50/50 project like this.
So, while a Johnny Bravo film starring The Rock might've been a dream match-up in 2002, it's doomed to be that now: only a dream. As much as there's a contingent of people who'd love to see this come to life, don't get your hopes up on this movie ever happening.
Tell us, would you like to see Dwayne "The Rock" Johnson star in a Johnny Bravo film? Let us know your thoughts in the comments section.