Get ready to explore the world of DC Comics and discover the best animated movies featuring everybody's favourite superhero: Superman! Read ahead to find out which animated movie made it to the top.
RELATED: Jack Black as Superman: You Know You Want To See It
In total, 13 Superman animated films feature the Kryptonian hero as a titular character. If one adds the Justice League films, amongst others, in the DC animated movie universe where he makes a cameo, there would be many more titles to include. However, deciding which of these movies to watch can be challenging, as not all animated Superman films are great. The iconic character's story has been told many times over, even bleeding over into the world of live-action movies. But worry not, comic book fans, as we are here to find the best animated feature by looking at a list of (and ranking) the best Superman movie stories of all time.
This list will exclude live-action movies and the Superman TV show. It will only look at the best animated movies and include films where Superman is the titular character or has his name in the tile. This will also include animated films that had a theatrical release or only made it to the small screen. Some may be standalone films, while others are canon, but all will tell a Superman story. So, without further ado, here is a ranked list of the best superman movies of all time.
RELATED: Superman & Lois Season 3 – What We Know So Far
13. Superman: Brainiac Attacks (2006) – Rank: Absolutely Not
As fun as all the animated Superman films are, one of them had to take the last-place spot. And unfortunately, that film is the 2006 Warner Bros animated feature, Superman: Brainiac Attacks. With the same director from the animated series Superman: The Animated Series, the film, unfortunately, has many flaws. The plot is not too complicated, seeing Superman taking on Brainiac and Lex Luthor as the main antagonists of the narrative. Essentially, Brainiac crash lands on Earth and highjacks Lex Labs to gain information about Earth's weapons. He and Superman battle, wherein audiences believe Brainiac has been defeated.
However, Lex Luthor decides to utilise Brainiac as a weapon to destroy the caped hero after seeing that Brainiac can effectively use his satellite against Superman. He recreates the alien with the chip he retrieved after the battle with Superman. Where the film falls flat is with the representation of Lex's character. Canonically, he is a menacing hero that is quite frightening. More on the serious side, none of his actions seem goofy, making him a great villain. This film seems to do the exact opposite of this.
Instead of giving us the usual villainous representation of his character, he is more playful and light-hearted. And while there is nothing wrong with having a whimsical villain, one cannot take a decades-old character's personality and drastically change it in this manner. Overall, the entire film seems goofier than the creators had intended. If you have yet to see this film, then think of Gene Hackman's portrayal of Lex Luthor in Superman IV: The Quest for Peace (1987).
However, while the film has its flaws, it does have its strong suits. One of them is Superman's relationship with Lois Lane. Their relationship is more deeply explored, and Clark is struggling with whether he wants to reveal his identity to her. This aspect could be a great addition to other films on this list, as it really adds depth to their romance.
12. Superman: Unbound (2013) – Rank: Disappointing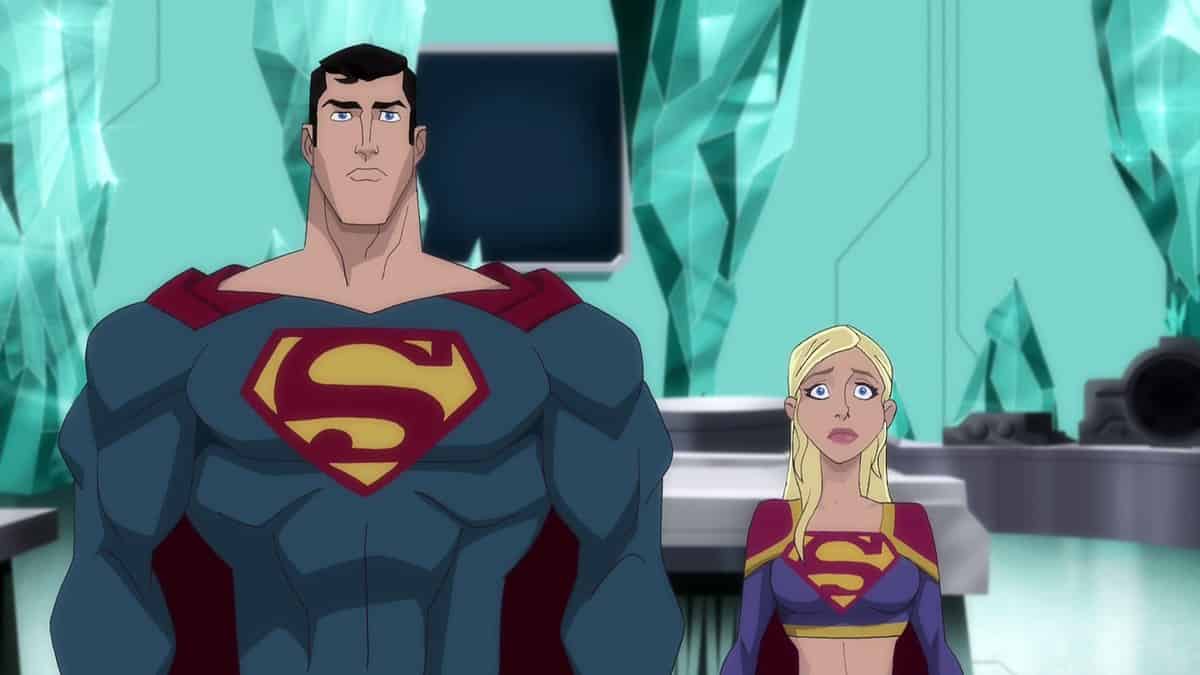 As the 16th comic book movie of DC Universe Animated Original Movies, James Tucker and Bob Goodman brings us a direct-to-video film of Geoff Johns' 2008 Superman: Brainiac comic book arc. Although this can be considered subjective, considering the film does not have a bad rating by any means, it was just incredibly…boring. And Superman comes across as very intolerable, which is not what you want your film's main hero to be seen as, especially where the source material is concerned.
With some impressive action sequences and decent animation, the film is by no means a disaster. The film sees the man of steel go up against Brainiac once again. After Superman intercepts a meteor approaching Earth, he quickly discovers it is a robot sent by Brainiac and destroys it. Through his cousin, Supergirl, he discovers that Brainiac is a scientist who had given himself many mechanical enhancements and then wreaked havoc on Krypton by miniaturising the capital city of Kandor. Of course, Supergirl is terrified of him but chooses to help Superman regardless.
The biggest issue here is how Superman comes across as very dislikeable. And this is mainly due to his treatment of Supergirl throughout the film's runtime. One would think he would be more excited to discover that he is not the last survivor of the dead planet Krypton, but no. Instead, he seems very annoyed by her presence, making him come across in a not-so-great light. Furthermore, the animation style is not favourable, but this aspect is up to personal preference. Ultimately, the movie is disappointing despite having the potential to be one of the better Superman instalments.
RELATED: Brightburn 2: Why the Superman Horror Film Deserves a Sequel
11. Superman: The Last Son of Krypton (1996) – Ranking: Child-Friendly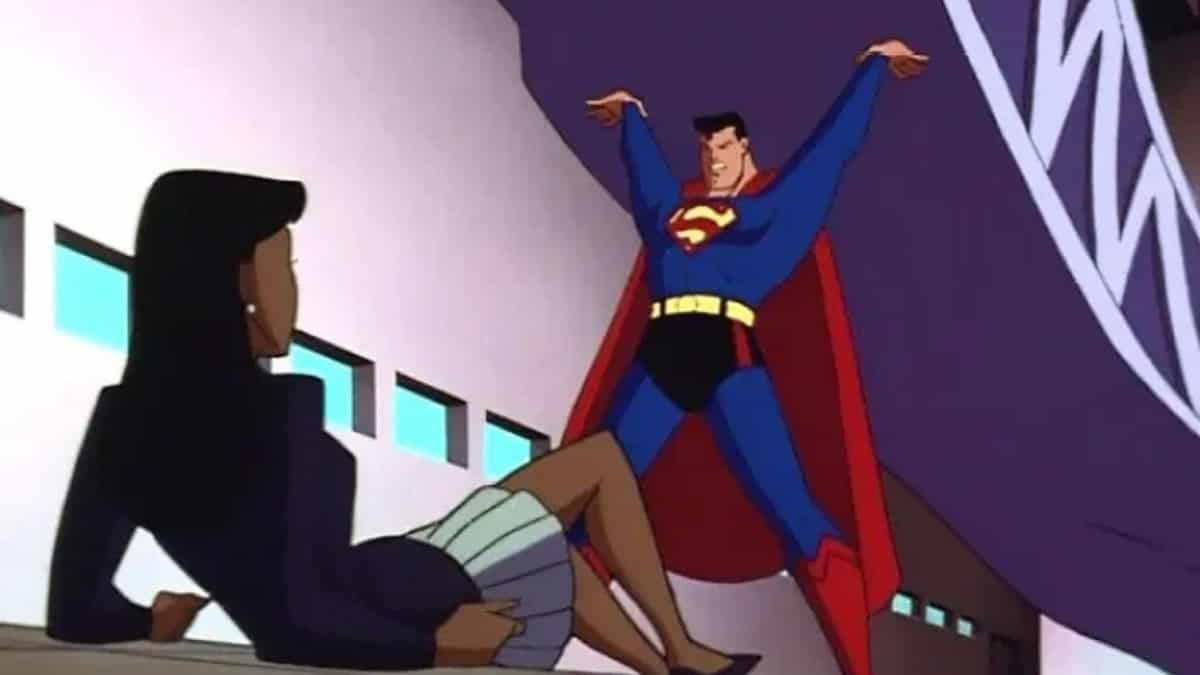 A child-friendly ranking is not suitable for a film targeted at adults. However, that is precisely what this animated version of Superman's origin story is. Serving as the premiere for Superman: The Animated Series, it sees scientist, Jor-Kel, send his son, El-Kel, to planet Earth for safety after being shunned by the leaders of Krypton for his theories concerning planetary destruction. Here, El-Kel is raised as an American named Clark Kent while living a seemingly normal life. That is until he begins developing unusual superhuman abilities.
Based on Elliot S. Maggin's 1978 graphic novel of the same name, the film can easily be praised for its accurate portrayal of Superman. In fact, some critics believe the film to be the most accurate representation of the DC Comics version of Superman. And while that's great and all, the problem lies in the fact that it seems more appropriate for a child than it does an adult. This should not be a problem, but unfortunately, it ruins the immersion in the story by holding back on the graphic nature of the darker DC universe. This means many of the action sequences are underwhelming because it feels like fade-to-black violence.
10. Reign of the Supermen (2019) – Ranking: Sequelitis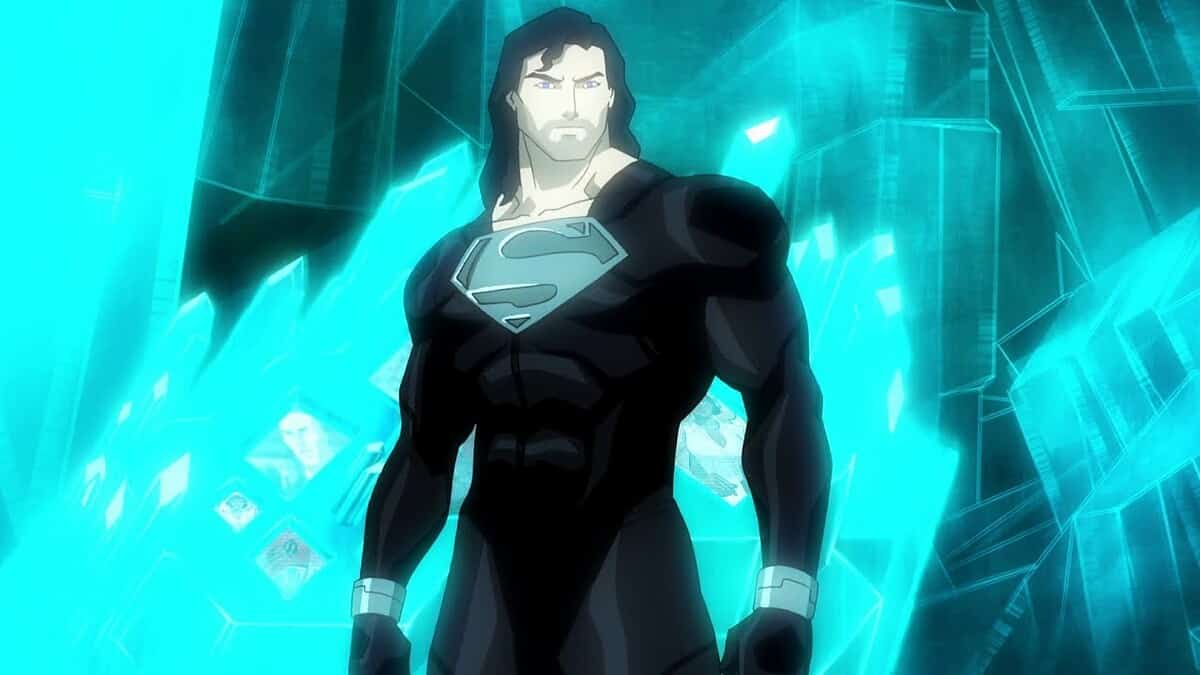 As a direct sequel to the hit 2018 animated movie Death of Superman, this movie dove headfirst into the sequel trap. This essentially means that the sequel film was not as good as the first film, a trend with many movie sequels. A large part of this film's failure lies in the fact that the film creators spent little time on Clark and Lois' reunion following his return from the dead. And as the sequel suggests, the movie is not supposed to focus on him much until the last act, but this could have been executed in a better manner. Instead, all we get is an immense amount of action but an absurdly small amount of plot.
Based on the "The Death of Superman" arc from the comic books, the story takes place six months after Superman's defeat at the hands of Doomsday. During this time, four new 'Supermen' have emerged to take his place. They consist of Lex Luthor's clone, Superboy, Eradicator, Steel and Cyborg Superman, all of which sparked controversy amongst the general public. After Lex announces the arrival of Superboy, the heroes all battle, each believing they are the true Superman. Meanwhile, the real Superman has barely survived his battle against Doomsday and is recuperating at the Fortress of Solitude. Ultimately, he returns and teams up with Steel and Eradicator to take out Cyborg Superman, who turns out to be the villain.
Now, it is important to acknowledge that the film adapts the story very accurately from the source material. Therefore, the bad writing can be attributed to the comic book instead of the filmmakers. But Warner Brothers could have done a better job of revitalising the story so that there was more depth to the characters. And then just…what was the point of bringing the Justice League into this film? It is really concerning to think that they would not play a bigger role if Superman were actually to pass away. This is one of the few Superman films this low on the list that had the potential to be great.
9. Superman/Shazam!: The Return of Black Adam (2010) – Ranking: Thumbs Up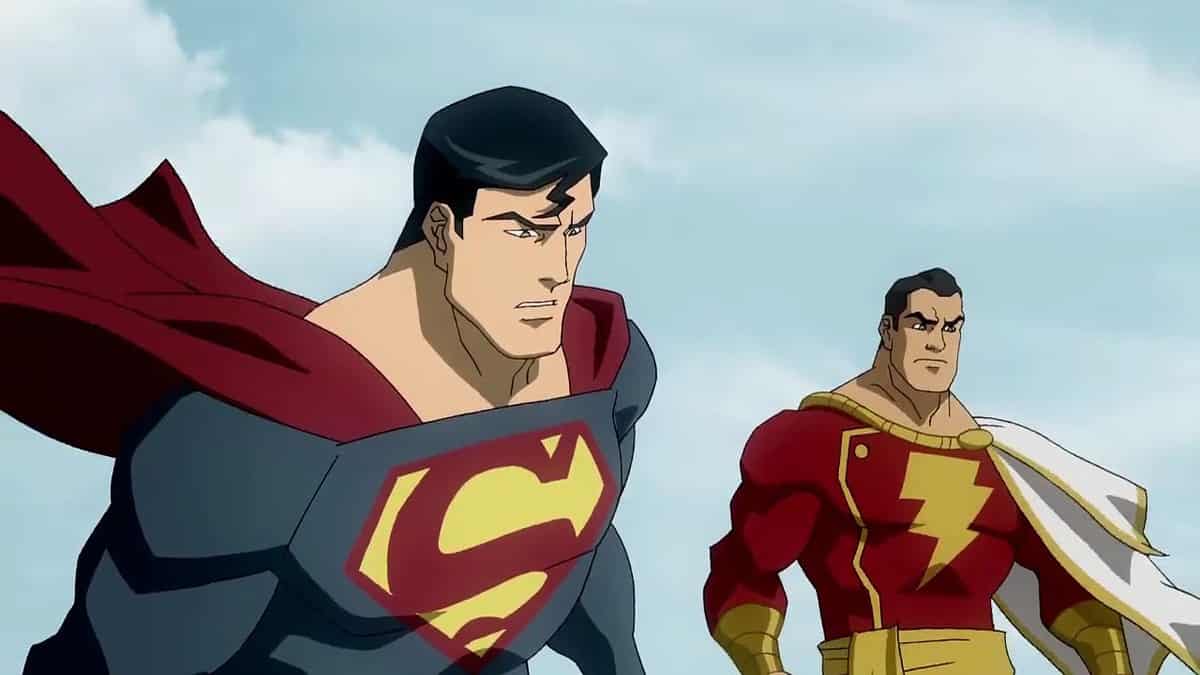 This short film was actually not half bad. With George Newbern as Superman, Jerry O'Connell as Captain Marvel, and James Garner as Shazam, the film did an impressive job of condensing the comic part counterpart of the story into a 25-minute runtime. The film features the three heroes teaming up in an attempt to take on Black Adam. Directed by Joaquim Dos Santos and written by Michael Jelenic, this film, unfortunately, proved to be Garner's last performance before the actor passed away in 2014.
The film begins with Black Adam's crash landing on Earth, which people mistake for a meteor. Simultaneously, Billy Batson, an orphan boy whose parents abandoned him, is on his way to meet Clark Kent at a nearby diner. Upon arriving, Black Adam descends on him with the sole purpose of defeating him, so he does not gain his powers as the next champion from The Wizard.
Superman intervenes, and the two battle as Billy escapes into the subway station, where he is granted his powers. But, unfortunately, Superman is vulnerable to Black Adam's magic and requires Billy's help. In his new adult-superpowered form, Billy and Superman are an even match for Black Adam. But it is essentially Tawky Tawn's bluff that defeats the villain by having him revert to his human form and then turn to dust.
The animation was decent, with a plot perfect for its episodic runtime. The only criticism could only be its runtime because even though the filmmakers managed to fit so much plot into this story, it may have been in their best interests to make a full-length film. That way, more of the plot could be explored, specifically Billy and Clark's relation to one another. While it is explained that Clark is writing a story on Billy, it would be interesting to see how this came to be and where their relationship goes following the narrative's events.
RELATED: Superman Awakens: Fan-Made CGI Film Looks Absolutely Unreal
8. Superman: Man of Tomorrow (2020) – Ranking: Decent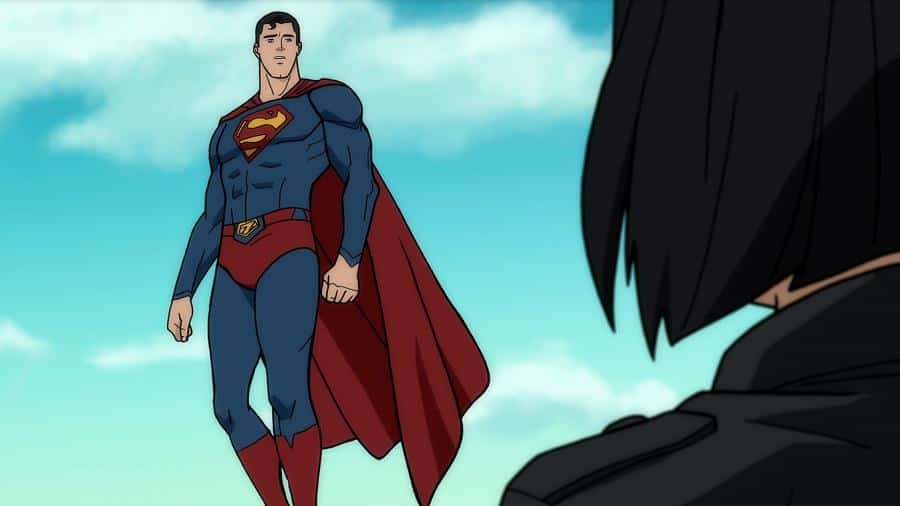 Directed by Chris Palmer and written by Tim Sheridan, the film serves as the first instalment of the soft reboot Tomorrowverse. The narrative revolves around Clark Kent discovering his origins and that he is actually the last Kryptonian alive. We get to see him up against the bounty hunter, Lobo, but the ultimate foe in this film is a human-turned-monster named Rudy. There are some interesting dynamics to the film, and it really fleshes out the human side of Clark Kent, truly giving audiences the sense that he was raised among humans.
Furthermore, the animation style is very good but different from the usual comic book film style. There are bolder lines and brighter colours that pop off your screen. More importantly, it brings us a fresh take on Superman's origin story with the introduction of Martian in the narrative. But despite the many praises one can give this film, there is one flaw that is very hard to overlook. And that is the movie's horrific sound design. This may be a subjective aspect, but unfortunately, all the awkward silences and bad sound effects break one's immersion in the narrative. It is especially bothersome in the action sequences as it is pretty distracting. This film would be much higher on this list if not for that.
7. All-Star Superman (2011) – Ranking: Above Average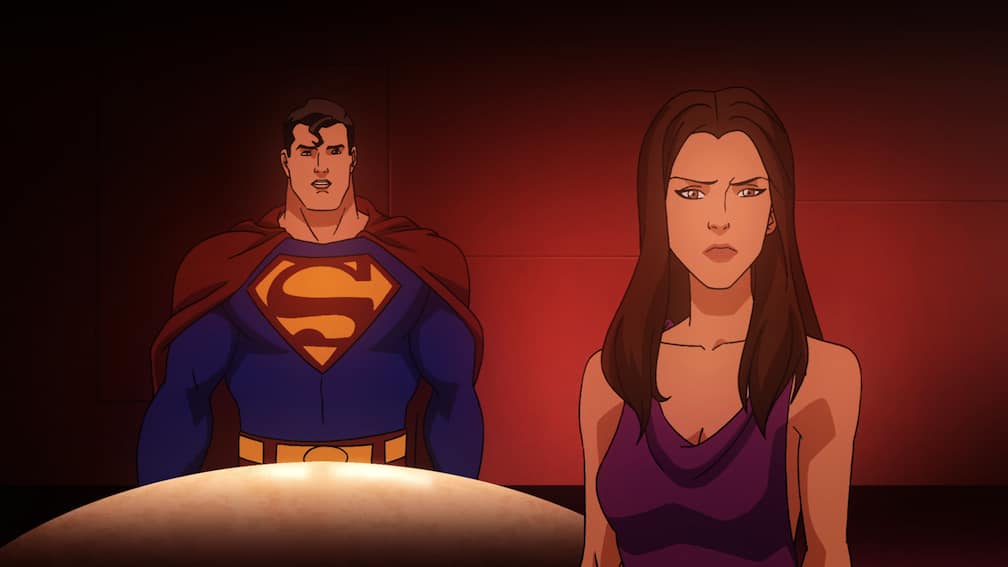 This film is a bit of a difficult one because while the comic book is extremely good, the film does not necessarily do it justice. Many fans might be upset at the low ranking of the film; however, it might just be a matter of preference or differing opinions. The story follows Superman being exposed to radiation which, in turn, leads to him gaining heightened abilities. Unfortunately, this does not come without consequences, as it means that he is passing away soon. As he learns this heartbreaking news, he reveals his identity to Lois Lane and takes her to the Fortress of Solitude.
Here he grants her superpowers for 24 hours as a birthday gift that she gains from a special serum he has acquired. The two combat crime before he inevitably leaves to find a new home planet for Kandor despite the city being shrunk. Upon his return, he battles multiple villains, including Lex Luthor, who has stolen the serum used to grant Lois superpowers. Superman defeats him before ultimately succumbing to his illness. Now, while the story is decent, and the animation and action are good, the problem lies in Superman and Clark's portrayal.
On the one hand, Superman is portrayed as cold and feels like the alien he actually is despite being raised among humans. Some might argue that this results from knowing he will pass away, but the contrast between his caring demeanour and this is jarring. And this is made worse by how Clark's persona is represented as a goofy, incompetent reporter. Perhaps others find this to be funny, but it was not a great choice on the filmmaker's part, as Clark is the person behind the hero. Another annoying aspect is how Lois falls in love with Superman, not Clark. This makes her character feel very vain, as Superman feels more like Clark's superhero persona than a real person. However, overall, the film is decent, definitely above average, and deserves its spot this high on the list.
6. Superman/Batman: The Apocalypse (2010) – Ranking: Impressive
Despite this film focusing more on Batman, it turned out to be a really great film. The animation was impressive, and the combat and action sequences were even better. We get to see more of the members from the Justice League, such as Wonder Woman and are granted a decent villain in Darkseid. The film follows "The Supergirl from Krypton" comic book narrative, which sees Kara Zor-El on Earth. When Darkseid learns of her arrival on Earth, he takes action and goes after her.
Meanwhile, Superman welcomes her with open arms and teaches her English while helping her spar. However, Batman remains suspicious of her despite Superman's warm welcome of her. When Darkseid's clones eventually arrive, the group teams up and does everything possible to protect her. As a standalone sequel to Superman/Batman: Public Enemies (2009), the film is better than the other sequels included on this list.
Not much criticism can be given here, but it is only fair to comment on Superman's reaction to finding out another Kryptonian survivor has landed on Earth. Immediately he is accepting of her and treats her warmly. This is what his response should have looked like in Superman: Unbound (2013). But, then, there is also the highly entertaining dynamic between Batman and Superman that carried over from the previous film.
RELATED: The Day the World Watched Muhammad Ali Fight Superman
5. Superman/Batman: Public Enemies (2009) – Ranking: Bromance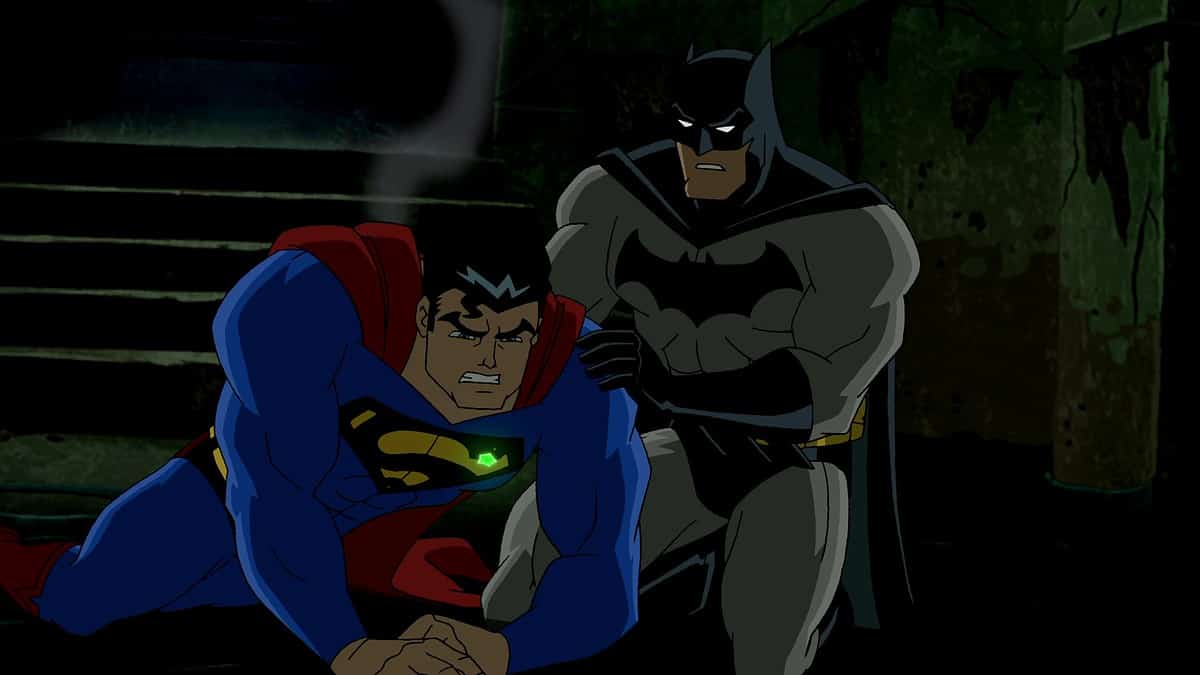 This film is terrific and is made better by the fact that Superman seems to be the titular character despite Batman's name being in the title. The plot is simple, mainly focusing on Superman and Batman having to deal with Lex Luthor in his new position of power as the president of the United States. Upon his election as president, the previously failing economy begins to strive, and he seemingly has good intentions to make the world a better place.
As can be expected, this is not the case, and he tries to pin the tragic events of Metallo on Superman using altered footage. Before long, Batman and Superman have teamed up and are on an intense mission through the city to prove the Man of Steel's innocence while being attacked by multiple enemies. The film's highlight is the chemistry between Superman and Batman as they try to survive their hardships. With great animation and fast-paced action, this film was one of the better Superman films on this list and deserves its spot in the top five of this list.
4. Superman: Doomsday (2007) – Ranking: Good Job!
This film is set apart as another iteration of the Superman origin tale because it also manages to fit Superman's passing into its 80-minute runtime. This is an impressive feat on its own, but it is further accompanied by the fact that it is the best singular adaptation of this story arc so far. While yes, Death of Superman (2018) did a good job; it was split into two films, with the sequel not living up to the first half of the story in Reign of the Supermen (2019). However, despite its flaws, this film has much to praise.
However, a minor flaw of the film is how it does not set up Clark Kent as a person. Although this is understandable considering the short runtime. As a result, Doomsday is upon us very quickly. Another criticism of the film is its short runtime. Perhaps if it was longer, it might have bumped this film up to the number one spot, as it has the potential to be the best adaptation of this story arc.
And in terms of what the film got right, the first thing is Lois Lane's story arc in the movie. She quickly figures out that Clark is Superman, which brings out a more human side to his character. So, before he passes, we see Clark's softer and more caring side because of Lois. Then, there is Doomsday, who made for a terrifying villain alongside the brutal final battle between himself and Superman.
Superman: Doomsday is definitely one of the best animated superman movies of all time.
3. Superman: Red Son (2020) – Ranking: Very Good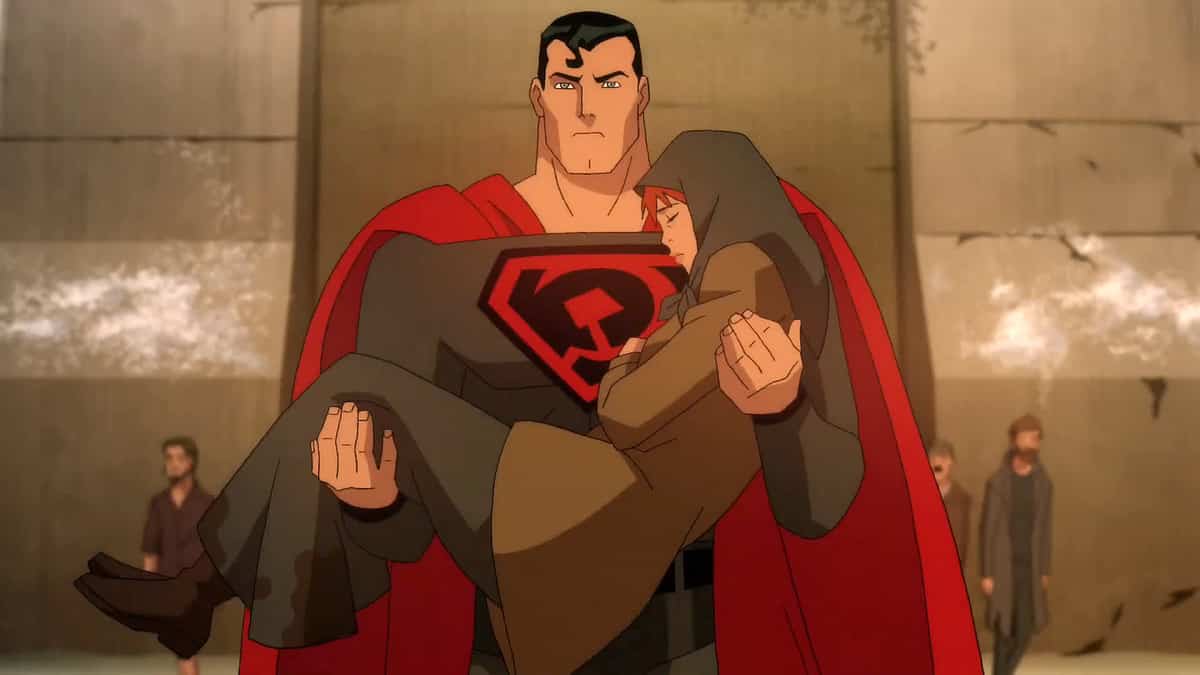 If you have ever wondered what would happen if Superman had crash landed on Earth in a different time period, then this film is for you. In fact, what makes it so good is the fact that we not only get to see a darker Superman retelling but also one where he isn't necessarily evil but highly conflicted. In addition, it explores what would happen if Superman were alive during the Soviet Union and takes place in 1955 when we see Superman as a Soviet soldier.
With great animation and a unique storyline, the film does not hold back on its darker themes. It sees Superman taking on communist ideas and spreading them across the world in an attempt to stop civil conflicts. However, he is conflicted by some of the more questionable tasks he is given, which shows Superman's true nature. We also see him with Wonder Woman and what his journey through these changing times looks like. And, of course, there cannot be a Superman film without Brainiac making an appearance, so there's that.
Superman: Red Son tops many lists as one of the best animated movies featuring the Man of Steel.
2. Superman vs The Elite (2012) – Ranking: Excellent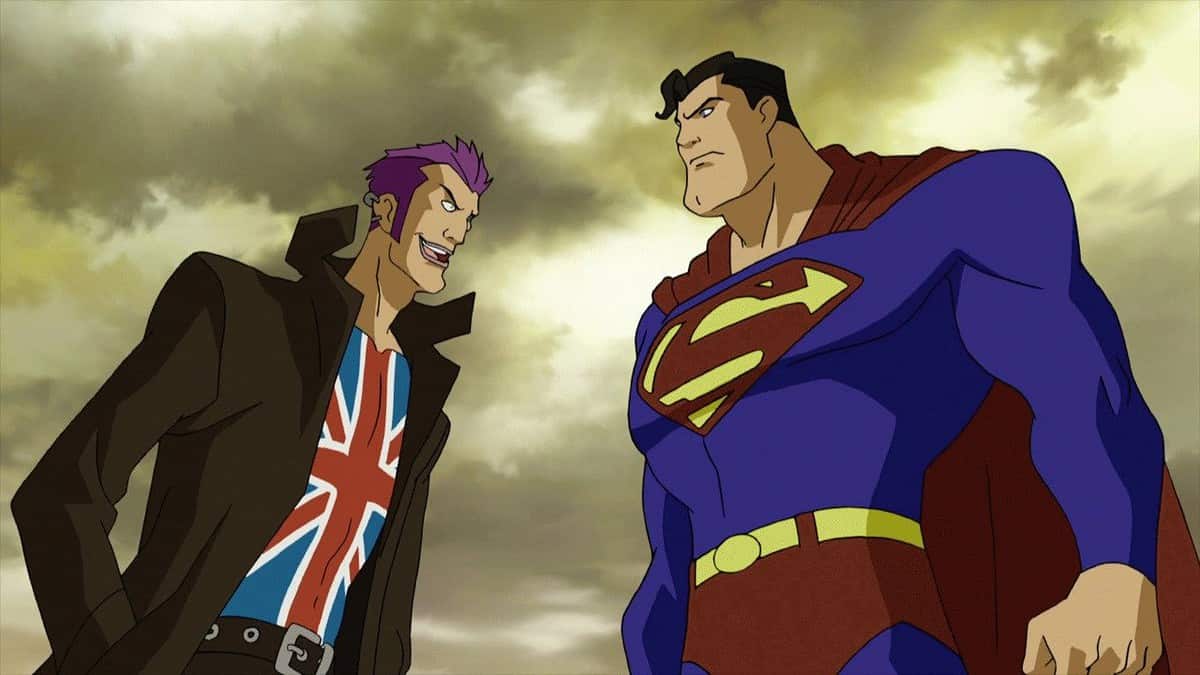 While many people believe that Superman's character is boring, this film takes steps to address this issue. Within the film's narrative, the general public has grown disdainful of Superman and his method of combatting crime. They believe he should do more when defeating a villain, as imprisoning them does not help. As a result, many of the villains escape and become problematic again. Everyone insists that Superman should have a more…permanent means of eliminating his enemies. This goes against everything he believes in and, in turn, is considered boring.
Generally, many people in real-life also have this view of the caped hero hence why anti-heroes such as Deadpool and Lobo are more enticing. The more morally grey the character is, the more the audience loves them. And that is why when The Elite takes over for Superman and begins dealing with villains more permanently instead of imprisoning them, the public falls in love with them. What makes this film so good is that we see Superman really struggle against his newfound foes, but they aren't villains in the eyes of the public. He believes they should not harm, but they do not see a reason to show mercy. And if the people believe they are not doing anything wrong, the only person seen as a villain is Superman.
However, when The Elite mortally wound two world leaders to stop a civil conflict, it is apparent that they have gone too far. Superman steps in, and we are gifted one of the best and most brutal final battles seen in an animated superhero film. Too quickly do people realise how scary Superman would be if he decided that he wanted to throw his morals to the wind and go crazy. This film was great, with very few flaws to point out.
Superman vs The Elite is definitely one of the best animated superman movies of all time.
RELATED: Will James Gunn's Superman Be Getting Trunks?
1. Death of Superman (2018) – Ranking: Top Tier
As the first half of the sequel film, Reign of Supermen (2019), it is insane to think about how much better this movie is in comparison. As this narrative has been discussed multiple times in this article, let's jump straight into why Death of Superman (2018) has earned its spot as the best animated Superman movie of all time. In fact, this film could arguably and easily be one of the best DC animated films in existence.
As mentioned above, this film adapts the first half of Superman's passing from the comic book storyline of the same name. What makes this film so great is how the focus is on Lois and Clark's relationship instead of Lois and Superman. It makes their relationship feel more sincere, and Lois seems less vain. Likewise, this adds to the emotional impact of Superman's inevitable disappearance as their time together sees Clark's genuine personality and character development. Their romance adds more to the narrative than it takes away, and this is very difficult to find in many other forms of media, not just films.
Another great thing about the film is how well Doomsday is set up as the villain. Despite Superman being seen as the OP member of the Justice League, the group of heroes are extremely strong on their own. But they struggle to take down Doomsday alone, with him destroying them (not literally, of course). He is menacingly strong, and super terrifying, and his presence makes the reality of Superman's impending passing seem more real. Not only is the way he takes Wonder Woman down ruthless, but when he goes up against Superman in the movie's final act, it is so brutal you have to turn away. Doomsday's portrayal was the most villainous it could possibly be and perfectly encapsulates a true antagonist.
Finally, Superman's final battle is the absolute best. Even though he is literally battling for his life, he still tries to protect the people around him. He intercepts Doomsday's attack on Lois and saves multiple civilians about to be caught in the crossfire. The little boy he saves on the bridge further elevates his status as one of the greatest heroes. Ultimately, he stands well until his unfortunate end. The film's best part is that he ensured the threat was neutralised before his passing. The only honest criticism that can be given is how Doomsday was defeated. However, despite that, this film deserves a solid five-star rating for its fantastic storytelling, action sequences and animation. Definitely, it deserves first place on this list of best animated Superman movies.
RELATED: Here's How Henry Cavill Could Return As Superman in Exactly 10 Years
What do you think is the best animated Superman movie of all time?