Game of Thrones Funko Pop! vinyl figures… you got to get them all, right?
There are many fans eagerly counting down to the eighth and final season of Game of Thrones, with just about a week left (14 April 2019) until it hits HBO's network. Having first released in 2011, the fantasy drama has amassed one of the biggest fan bases in the world, as well as officially being the most illegally downloaded show, spiking every Monday after it airs in the U.S. on Sunday evenings.
RELATED: The Guinness World Record For Largest Funko Pop Collection Goes To…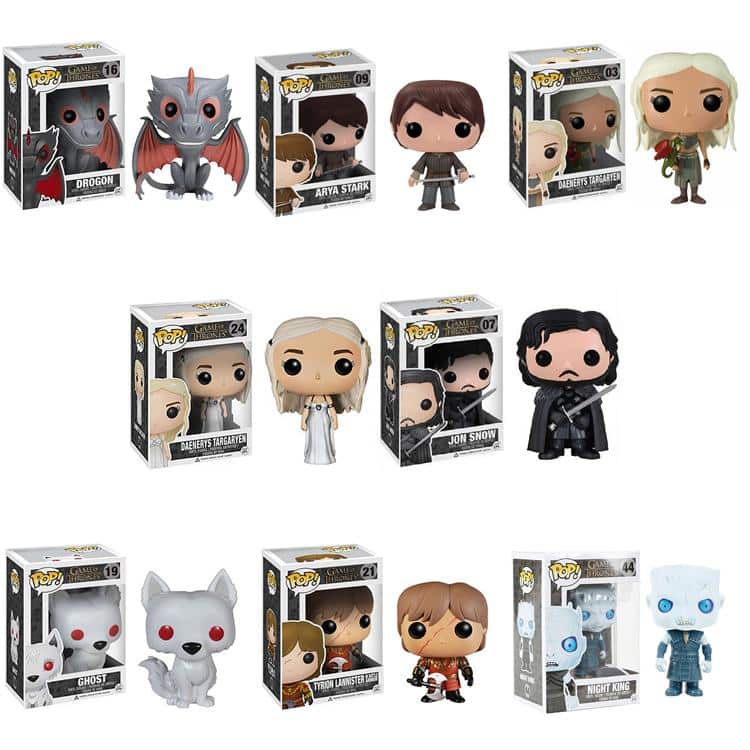 Interestingly, in the same year that Game of Thrones launched its first episode to the world, Funko also launched its first publicly available Pop! Vinyl line of figures at the New York Toy Fair, having previewed them at the San Diego Comic-Con the previous year to great excitement. So, when Funko partnered with Game of Thrones for the release of their first Pop! Vinyls, they were immediate fan favourites.
Over the years, there have been around 100 or so figures released in the series, with various levels of enthusiasm from fans, success on the shelves, or rare collectables. If you're interested in collecting a few Game of Thrones Funko Pop! Vinyl figures, here's a small list of some of the coolest items – in our opinion – to kickstart your collection.
Note, however, that some of these may be quite rare, so if you manage to spot a good enough deal, be sure to know exactly what it is you're looking at.
RELATED: Funko Exclusives Announced for Comic Con Africa 2022
8. Ghost
As one of only two direwolves of the Stark family still alive – the other being Nymeria – Ghost (19) is quite a popular 'character' in the series as Jon Snow's direwolf. As such, fans are excited whenever he's in action. Similar to the show, Ghost is also one of two direwolf figures in the Pop! lineup, with the other being Grey Wind. It may not be on the list of rarities on the list, but does make for a good addition to any fledgeling collection, especially with its piercing red eyes.
7. Wun Wun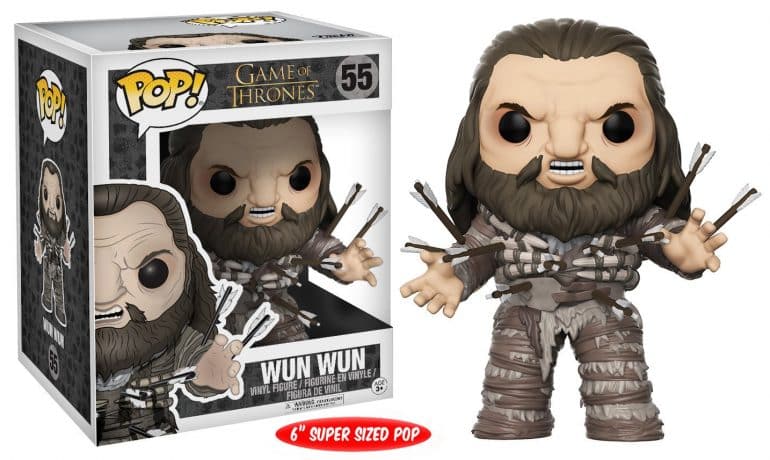 Similarly, to Ghost, Wun Wun isn't a rare item. In fact, if you're looking for a rare giant from the series, you may be better off with the Mag the Mighty vinyl. If you're going down the latter route, be aware that Mag the Mighty was one of the select few San Diego Comic-Con 2016 exclusives, which will set you back a pretty penny. For this reason, we'd recommend adding Wun Wun (56) to your collection instead. This figure isn't your conventional 3.75″ tall vinyl, but instead measures a cool 6″, towering over the majority of the range.
RELATED: A Funko! Movie Is In Development At Warner
6. Drogon, Rhaegal, and Viserion
The trio is much-loved among fans of the show, considered the children of Daenerys Targaryen. The set is still in circulation and, hence, not as rare as many others, but is a tad difficult to get your hands on due to being out of stock in many a store. As a result, you're most likely to pay up to 10 times the standard vinyl price for this set. Who wouldn't want a trio of dragons as part of the collection?
5. The Night King and Icy Viserion
Another set that includes more than one figure, the Night King and Icy Viserion (58) set provides a range of mixed emotions among fans, for obvious reasons. Despite this, there's no denying how cool the figures look. Its launch at SDCC in 2017 created quite a buzz and was quickly sold out, which led to demands of fairly high prices on eBay and the likes. However, in a decision against the norm, Funko restocked this figure in various markets around the world, which dramatically drove down the price, which is now only slightly higher than a regular figure.
RELATED: Funko POP Arrow: Deathstroke Review
4. Jon Snow (Castle Black)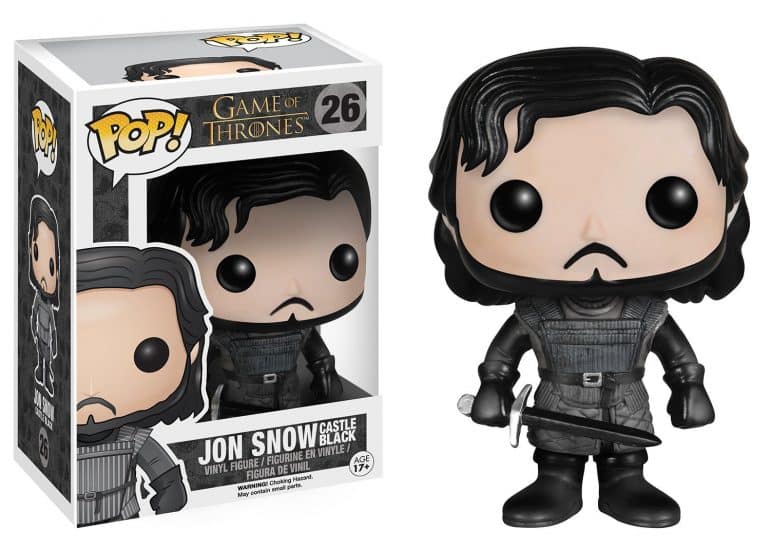 Neither rare nor expensive, Jon Snow figures are still among the most sort after for fans, holding a special place in the hearts of all. With 11 different variants, some of which have been paired with two or three other characters from the show, Jon Snow is a feature in almost all fan collections.
The Castle Black (26) variant is one of our favourites because of the detailing from the outfit, along with his famed sword, Longclaw.
3. Tyrion Lannister (Scarred)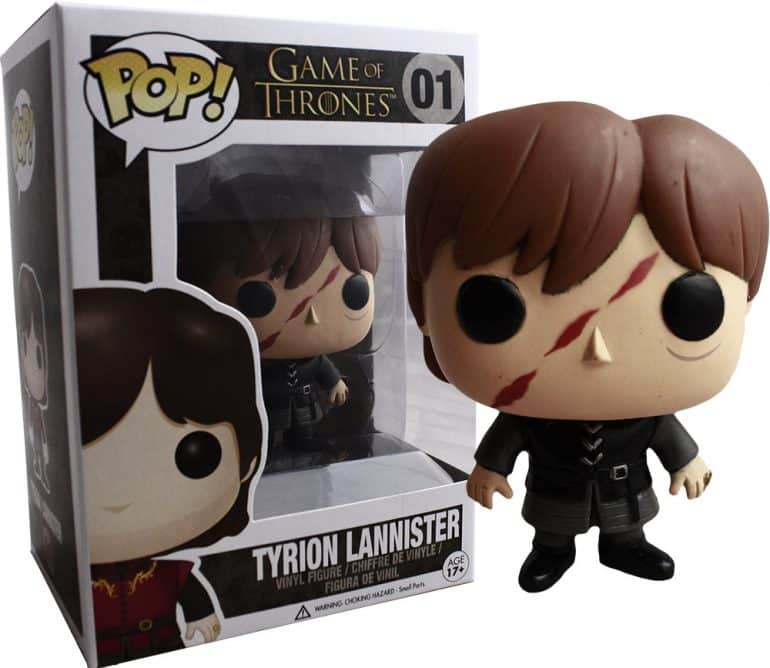 Tyrion has four Pop! Vinyls dedicated to him, which include the Battle Armour and Essos versions, which are very cool items. That said, it's the scarred Tyrion Lannister (01), one of the first-released figures from the series, that has all the buzz surrounding it. The vinyl was sold as a Popcultcha exclusive some eight years ago.
As such, it's not an easy figure to get your hands on and even if you do manage to find one for sale, be prepared to more than $500 (R7000+) for the pleasure of adding it to your collection. It's worth pointing out that this figure is also one of the most popular custom- or homemade units, which sell for a more considerate $80 (R1100+). Be sure not to be fooled by one of these creations.
2. Daenerys and Drogon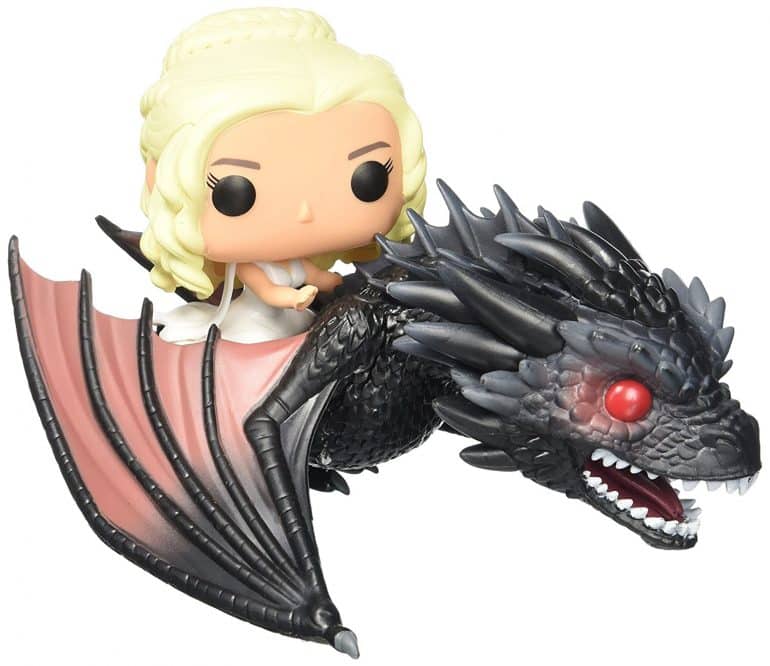 As with Jon Snow, Daenerys is one of the most loved characters as the heroine of Game of Thrones. As the Mother of Dragons, it would make sense that one of the best-selling figures would be one featuring her. Our pick for one of the coolest figures to add to your collection is the Daenerys and Drogon (15) set. Again, this isn't an exclusive set, but rather difficult to get your hands on one.
1. Ned Stark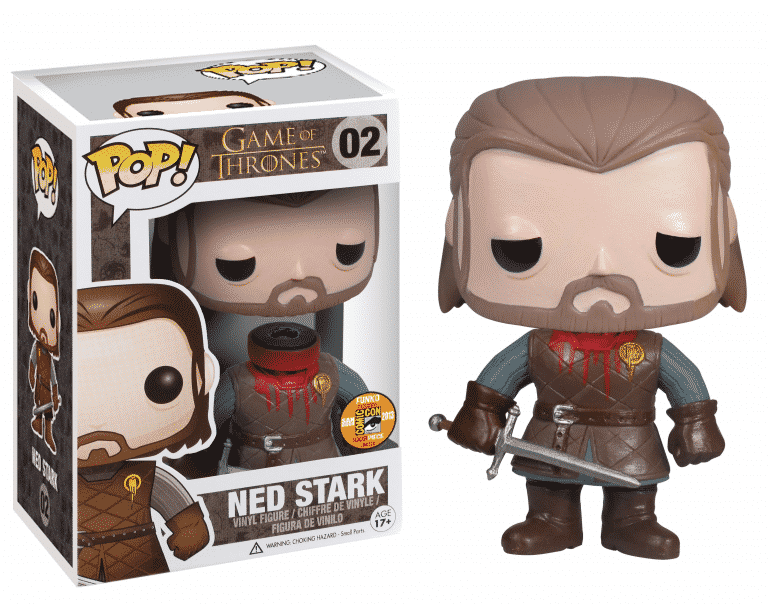 In almost every notable collection across numerous genres and brands, there's bound to be one that stands out from the rest. The Funko Pop! Vinyl's most rare and sort-after figure has to be Ned Stark. Regarded as one of the most shocking television deaths ever, Ned's beheading made many fans question whether they wanted to continue watching the show.
The Ned Stark Pop! figure is extremely rare, with only 1,008 units produced by Funko, which was also exclusively available at the San Diego Comic-Con in 2013. The highest reported sale of this figure sold for a whopping $1,400 (R20.000+) on eBay a short while back.
There are a few options posted on eBay every so often for prospective buyers, many of which are listed around the $1,000 mark. What's interesting about the figure as well is that it comes fully equipped with a detachable head – a bit morbid, but also very cool.