"What we have to really do is just make him a hero to believe in rather than a hero to make fun of." – Christopher Reeve on Superman IV
2021 will see the release of the Snyder Cut version of 2017's ill-fated (and poorly received) Justice League film, a move that should please the many die-hard believers in the project.
However, what they'll be seeing won't be the actual "Snyder Cut" which was apparently shown to Warner Bros. executives – and deemed so terrible that serious changes were demanded.
Instead, they'll be seeing a new version that's re-edited, re-worked, re-scored, and with new effects at the very least, and has the help of an extra $30 million… plus the benefit of hindsight to avoid the mistakes of the original release.
While it's a Snyder Cut, it's also technically not the original Snyder Cut, which is why it's still going to take a while for it to appear as it's still being assembled.
As Bob Greenblatt, the head of HBO Max and WarnerMedia put it, "It isn't as easy as just going in to the vault and there's a Snyder Cut sitting there to put out… it does not exist."
It's likely this latest Snyder Cut will have its run time expanded from the existing two hours back to the original three and a half hours, a different story structure, a different end credits scene, and improvements to Superman's awful CGI non-moustache'd upper lip.
Will it be better? Hopefully. Presumably it can't be worse.
But what about another superhero film's "Director's Cut" version that could save the failed original?
No, not Josh Trank's self-proclaimed "fantastic" version of Fant4stic; instead, it's 1987's Superman IV: The Quest for Peace, from acclaimed director Sidney J. Furie.
On the surface of it, so many things about Superman IV should have worked. With the global superpowers of the world threatening nuclear war, a young boy begs Superman for help to dismantle the weapons of mass destruction – theoretically bringing about world peace.
Meanwhile, the Daily Planet is bought out by a soulless media mogul who immediately turns the newspaper in to a sensationalist tabloid which peddles fake news.
Clark Kent also has to deal with the loss of the Kent family farm, and struggles to keep the balance between his public and private identity.
And Lex Luthor escapes from prison and clones the man of steel, whilst exploiting the nuclear arms race for his own devious ends.
There are plenty of interesting themes there, one of the most fascinating being the potential for Superman to question how much of a role he should play in humanity's future.
Despite it being forbidden for Superman to interfere in history by Jor-El, he dismantles the worlds' nuclear arsenal with little opposition… but does he have the right to? And would removing the weapons actually bring about peace amongst those who would use them?
Sadly, almost none of those issues are touched on.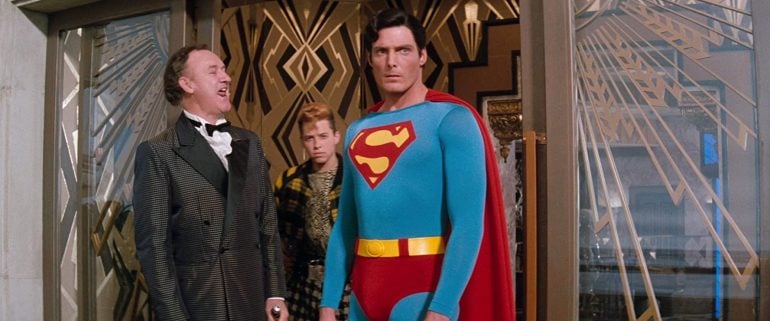 The film was never that smart, nor that good.
In fact, legendary Superman actor Christopher Reeve described Superman IV as "a catastrophe from start to finish… that failure was a huge blow to my career".
Superman IV was made on the cheap by action B-picture studio Cannon Films for a paltry $17 million, its weak script made worse by constant budget slashing and dismal effects. Flying shots for Superman were recycled repeatedly throughout, while some poor, unconvincing location work.
Actor Jon Cryer, who played Lenny Luthor in Superman IV and who currently appears as Lex Luthor in CW's Supergirl, has claimed that Cannon ran out of money while filming, resulting in the release of an unfinished film – and about 45 minutes was apparently hastily chopped from its running time following poor test screenings.
A box office bomb, Superman IV barely turned a profit and flopped with both critics and audiences alike.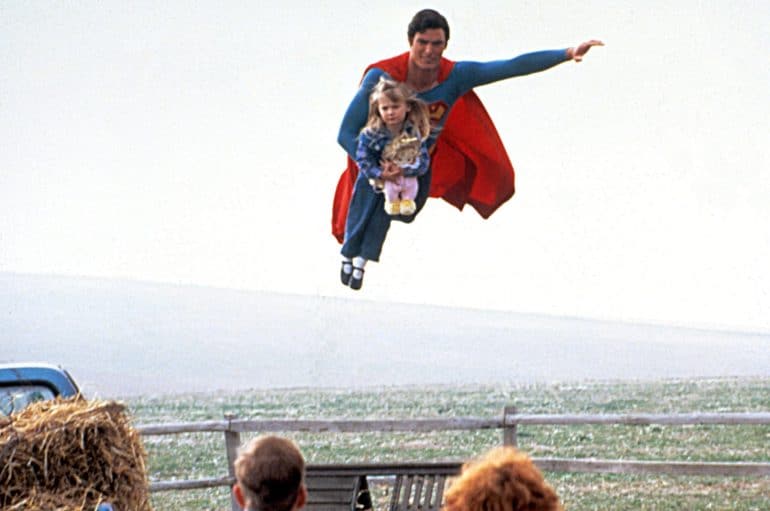 At present Superman IV holds a dismal 11%/16% on Rotten Tomatoes, while on IMDb it has a slightly more generous 3.7 out of 10. Hailed by Empire as one of the 50 worst movies ever made, it was nominated for two Golden Raspberries – exposing how far the franchise had fallen from the brilliance of the original Richard Donner Superman film.
Superman IV demolished the Man of Steel's cinematic future.
However, thanks to the release of the Snyder Cut of Justice League, a handful of fans out there are calling for the release of a special "Furie Cut" of Superman IV which could restore those missing 45 minutes of footage.
In the time since, Superman IV has seen new – but still unpopular – life on DVD. In this format, it's also been featured alongside some of the deleted scenes (although sadly not all of them) as bonus features. From those, along with still photos of other cut scenes (and the comic book and novel adaptations of the film), it's able to understand their placement and what the original film was meant to be.
Most notable are Superman's fight against an earlier, Bizarro-like prototype of Nuclear Man, an expanded fight against the actual Nuclear Man, more focus being put on the relationship between Clark Kent and Lacy Warfield, the business takeover of the Daily Planet, and an alternate ending which reinforces Superman's message of unifying the people of the world in global peace.
Based on some of the cut scenes, it's hard to say that adding more to Superman IV would make it any better.
The low budget, bad writing and general cheesiness of them match the poor quality of the existing released version, and odds are that even a Furie Cut wouldn't do anything to improve the general quality; however, at least it would allow audiences to see what the full plan was for the movie.
Whether the people calling for the Furie Cut of Superman IV are serious about it or if it's meant to be a parody of the Snyder Cut outcries, it's clear that the released version of Superman IV wasn't the full story which was intended.
It's always possible that an alternate version similar to Superman II: The Richard Donner Cut may come out in the future, which could allow Superman IV to be seen in a new light.
Like with the upcoming Snyder Cut, presumably it couldn't be worse.
Do you want to see a Superman IV Furie Cut?