Think you know all there is to know about Spirited Away's No-Face? Well, there's a lot more to the mysterious, transparent spirit character than what meets the eye.
Produced by the very popular Studio Ghilbi in the year 2001, the cult classic Spirited Away, one of the highest-grossing Japanese anime feature films of all time, is also considered one of the most influential films, thanks to its beautiful art style and very intricate underlying themes. Written by the insanely talented Hayao Miyazaki, the coming-of-age tale explores the connection of the human world with the spirit world. And while there are many intriguing characters in Spirited Away, No-Face, the film's secondary antagonist, is probably the most popular among fans.
Let's discuss things you didn't know about Spirited Away's No-Face:
1. No-Face's Footprints In Spirited Away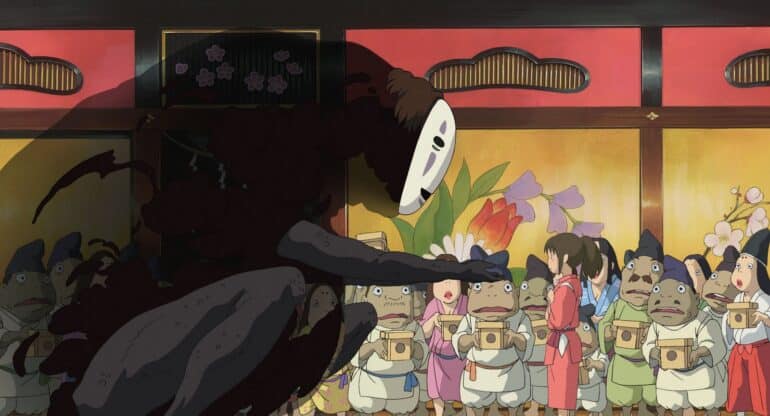 Pay close attention and you'll notice that No-Face leaves footprints.
Of course, this gives rise to the question: Why does No-Face leave footprints when his existence is so hollow and transparent that even the other spirits are not able to detect his presence?
The reason behind this, according to some fan interpretations, is that the footprints exist as proof that the entity was not just a fragment of the imagination of Chihiro.
Regardless of whether or not this is actually true, we imagine the filmmakers didn't add the footsteps in the film unintentionally.
2. His Real Name
To non-Japanese viewers, the spirit character is simply known as "No-Face". However, in Japanese, he has a proper name. His name is "Kaonashi".
And the name perfectly fits the character too. "Kaonashi" means "Faceless".
Although No-Face has the ability to absorb other people's faces around him and inherit their personalities and attitudes, the spirit also has no physical body. Kaonashi has a stretched long black transparent (shadow-like) form that seems empty and could be filled up with the thoughts and feelings of the people he absorbs.
3. No-Face's Gender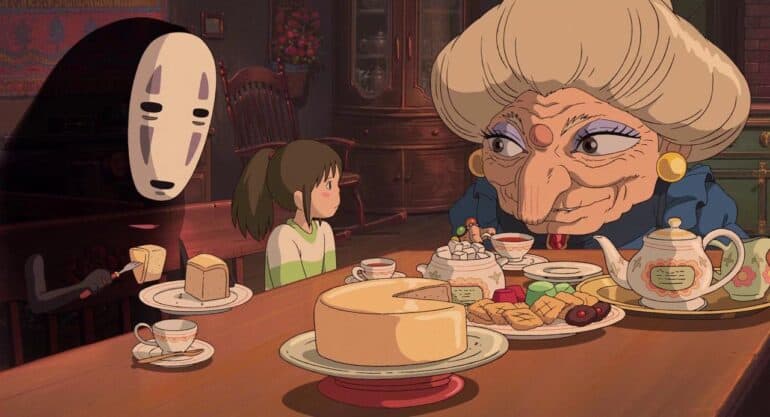 From the very beginning of Spirited Away, No-Face is always considered and mentioned as "He". However, after further analysis (and an unhealthy amount of multiple viewings), it can be concluded that this spirit is actually genderless.
This fact becomes acceptable when we consider that the anime character wears a mask that doesn't have any features that will associate him/her with any gender.
In short, No-Face is just a spirit wandering around.
4. Noppera-Bo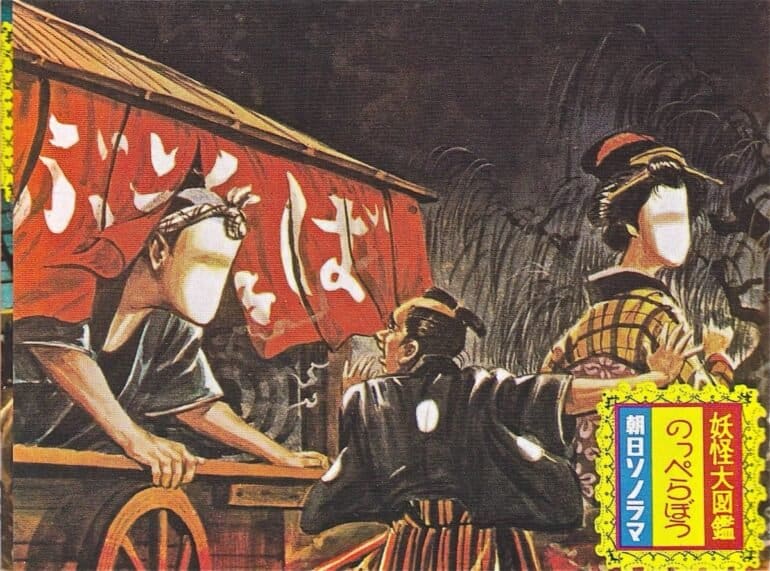 Ancient Japenese folklore about yokai and other supernatural beings suggests that there is a faceless ghost that resembles the No-Face character.
A Noppera-Bo disguises itself as a human but doesn't pose a threat to humans. Instead, they enjoy teasing and trolling humans. According to folklore, these spirits approach their victims in disguise, usually as a person they know, and make them comfortable before they terrify them.
It would be no surprise if Miyazaki drew inspiration from this when creating No-Face.
5. Inspiration by Babette's Feast
When Miyazaki was asked about the inspiration behind the massive gluttony of No-Face in Spirited Away, he revealed that he was inspired by the film Babette's Feast.
No-Face is not the only greedy being in the film either. Many of the anime characters have a hard time controlling their appetites, for some reason. Even Chihiro's parents are transformed into pigs due to their gluttony.
6. His Mask Hides Something Horrendous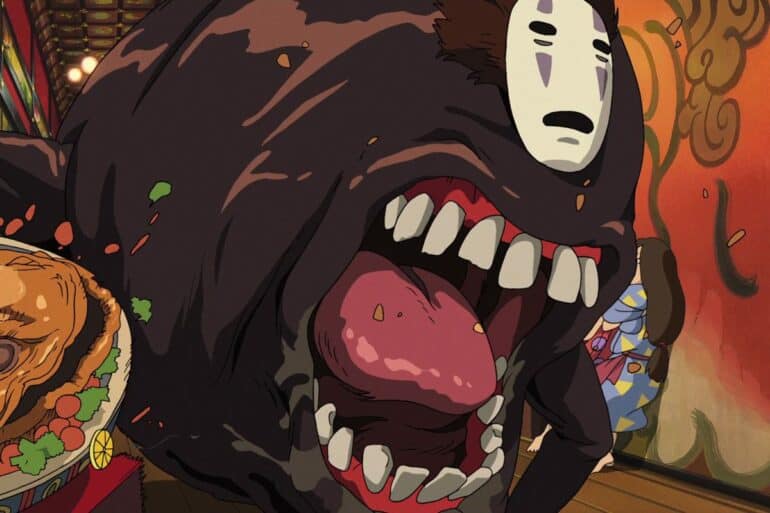 Look closely and you'll notice that No-Face's mask is actually a piece of aesthetic Japanese art.
His mask also contains a mouth that changes its shape with his mood. However, the mouth doesn't belong to No-Face but it hides his fearsome molars, which he only shows when he is about to devour people.
But don't worry, these molars don't do any grinding on the swallowed people. In fact, many are able to get out unharmed from his hellish mouth.
7. Bob Bergen Voices No-Face In Spirited Away
While No-Face is not entirely famous for his voice, he does have a few lines in Spirited Away.
In the dubbed version of the film, Bob Bergen (famous for his voice acting in popular animated shows, including the Looney Tunes cartoons) is the voice behind No-Face. In the original version of the film, Japanese actor Akio Nakamura voices the character.
If you listen carefully, you'll also notice that whenever No-Face appears on the screen Balinese Gamelan music is to be heard in the background.
8. Personality Absorption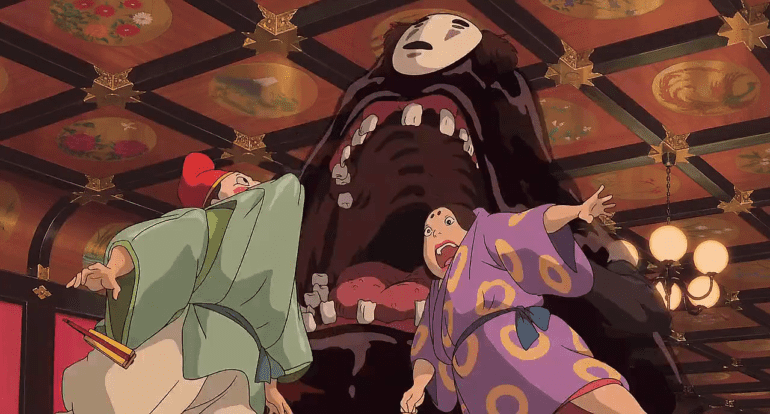 No-Face has a unique ability that allows him to exhibit the abilities and personality of his prey. This ability is showcased when he swallows Aogaeru (a frog wearing blue kimono). Kaonashi develops frog-like legs with which he uses for his movement. He could even communicate in the swallowed frog's voice.
As a lonely spirit wishing to connect with others by eating and gaining their personality, he swallows a bathhouse employee and impersonates him to gain the attention of others, mainly the affection from Sen/Chihiro.
9. Fan Theories
It is a natural thing for fans to deduce backstories and strange theories about their favorite characters. Naturally, fans a few fun theories about the popular Spirited Away character.
One theory is that No-Face is actually a human being trapped in the Spirit World with no way out. His transparency, along with the see-through nature of Chihiro when she first enters the Spirit World, and the transparency of the passengers on the train, is what people use as evidence to support this particular theory.
Another crazy theory is that No-Face is actually symbolic of child slavery in Japan. Strangely, this theory has not been denied by the writer of the film.
10. The Star Wars Connection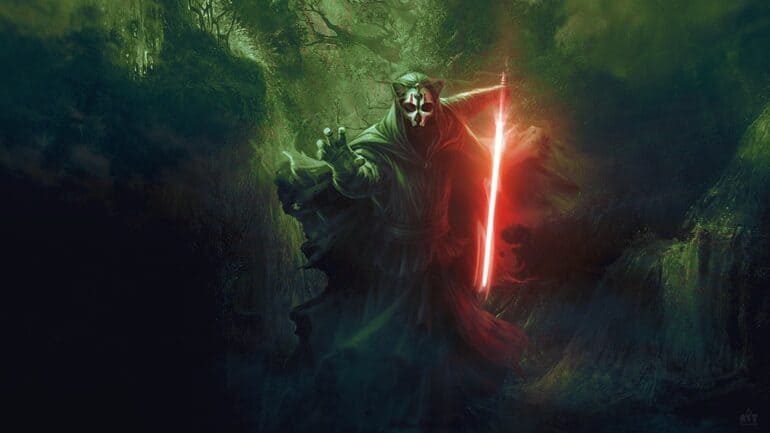 If you are a die-hard Star Wars fan there is probably a chance that you have played the globally acclaimed game called Star Wars: Knights of the Old Republic II: The Sith Lords. If that is the case, then you might be familiar with Darth Nihilus, the Dark Lord. Well, No-Face served as an inspiration for the character design of the Dark Lord of the Sith.
The resemblance is uncanny. The only real difference is that Darth Nihilus' mask makes him look more frightening and expresses his hatred perfectly.
How many of these interesting facts did you know? Do you have a bigger appreciation for Spirited Away's No-Face?