Today, we take a look back at one of the most controversial Superman comic books, September 1970's "I Am Curious (Black)" as part of DC Comics' Superman's Girl Friend, Lois Lane run.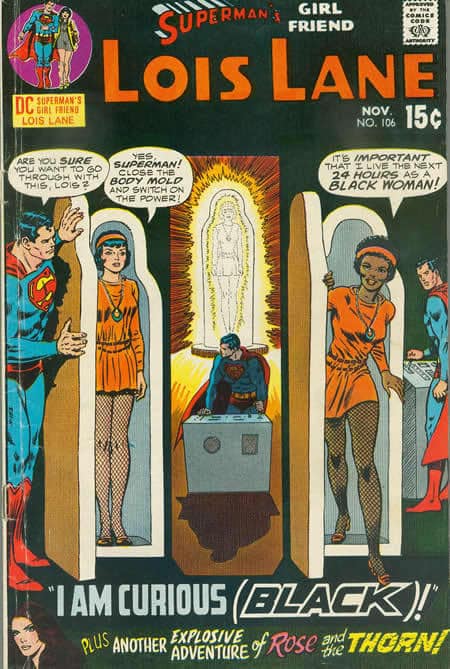 Superman's Girl Friend, Lois Lane #106
In Lois Lane #106 (by Robert Kanigher, Werner Roth and Vince Colletta), the famous reporter travels to Metropolis' "Little Africa" to interview some of the residents for a story she's keen on writing. She is ecstatic about her report and boasts that she "should win the Pulitzer Prize for capturing the 'nitty-gritty.'"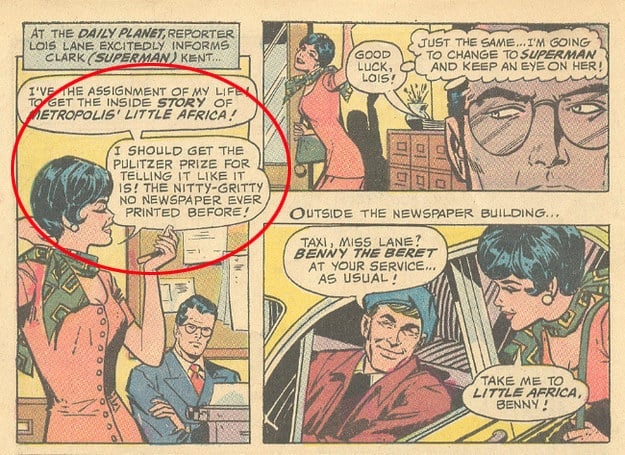 She hires a cab and is dropped off in the ghetto, fully expecting to gather all of the information she needs to write her piece, but to her astonishment, no one wants to talk to a white woman. Adults and children alike turn their backs on her and slam their doors in her face. In fact, the only person that speaks to her is an elderly blind lady who is plainly unconcerned by her skin tone.
Lois Lane feels defeated when she hears a black man, Dave Stevens, denounce white people for continuing to discriminate against black people. "Never forget, she's whitey!" he adds. "She will allow us to polish her shoes and clean her floors… but refuses to admit us to her lily-white schools!"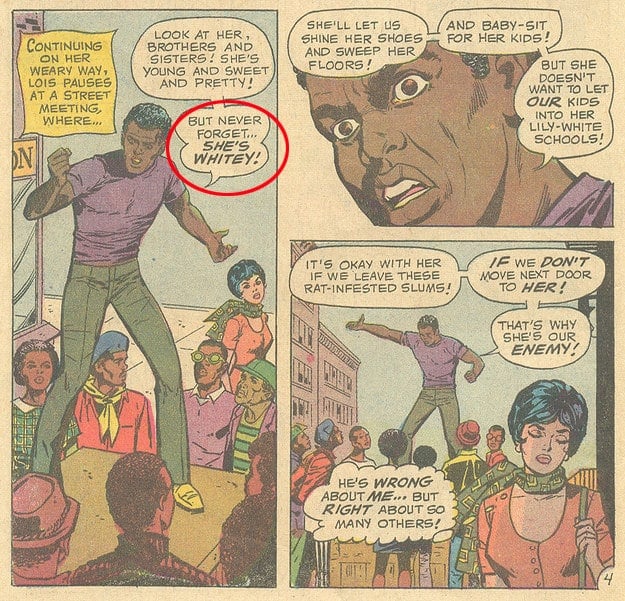 This bothers her since she doesn't see herself as a threat, and she believes that she's only trying to help. I can see why Robert Kanigher, the author, believed this was a good idea; he wanted to use Lois as a vehicle to demonstrate how white people might comprehend racism. I understand, but being ignored for a few hours is a lot different from being treated as a second-class citizen your entire life!
So, while it is an excellent attempt, it doesn't quite hit the nail on the head.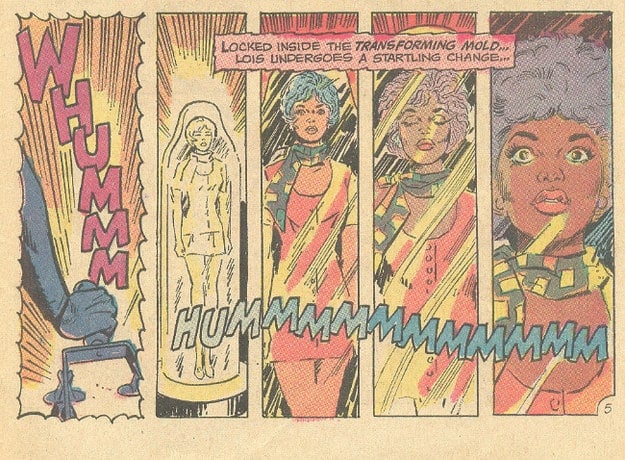 Superman swoops down to locate Lois in the park and transports her to his Fortress of Solitude, where she inserts her body into the "Plastimold" machine. Lois suddenly emerges from the machine many shades darker, her straight raven-coloured hair having been changed into a curly brown afro. That's right, Kryptonian-powered blackface!
Of course, Lois Lane chooses to ditch her office skirt and jacket in favour of an African-inspired ensemble. She calls a cab for the second time, but this time it zooms straight by her! "The colour of my money isn't good enough," she adds. "I've had my first lesson on the significance of being black!"
Lois Lane encounters Dave Stevens once more, who now interacts with her because she is black. They hear a commotion coming from an alleyway and discover a gang of white thugs selling narcotics to black youngsters. Dave slams them for peddling their "poison" to his other brothers. A brawl breaks out, and a gunshot hits Dave, sending him to the hospital.
He's lost so much blood that he needs a transfusion, and Lois volunteers to donate her blood. He is only alive because of her. The White Savior Complex trope gives birth to the mistaken assumption that, despite black people's shown toughness and perseverance, they still require a white person to play the role of saviour at the end of the day.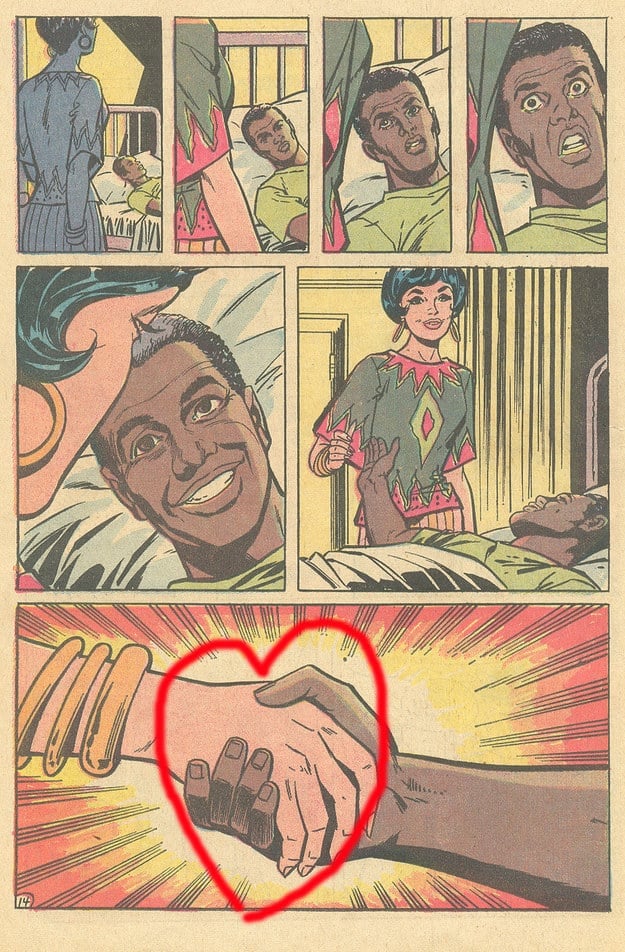 Lois eventually transforms back to her white self when the Plastimold's effects wear off, and she's afraid of seeing Dave as he might not wish to speak to her as a white woman. Superman encourages her and Dave is happy to see her and offers a thankful handshake for her help with the blood donation. End.
This comic might have had some good intentions, but the approach and lack of awareness or possible reference from black authors on the best way to tell this sort of story made it a surface-level attempt at tackling a bigger issue. Still, it's an appreciated attempt, and something that wasn't the biggest trend in the 70s.
The Message?
Racism is bad. But that's something everyone knows deep down. It's what we do about it and how we're going to change that should be the real message. Sadly, this comic only highlights the issues of the time. There's little to no solution here.
It's 2022 and Warner Bros. is planning on releasing a "black" Superman movie set in an alternate universe. It's been more than 50 years since that 36-page comic and not much has changed. If you look at the reaction to the news, and the fact that a black actor will be playing Superman in a live-action film, we've still got a very long way to go.