I'm always complaining that nothing ever happens in Durban, that geek culture in KZN needs a kick in the pants to get going. It seems the tide may be turning however. It's fantastic that Durban creative talents like Deon De Lange are flying the flag for comic book art in South Africa. It couldn't be in better hands.
The first time I met Deon De Lange I was 17 and it was our first day at Tech, studying for a Graphic Design diploma.
His mom followed him out the car and gave him his lunch and a hug as they spoke quietly to one another. At the time, all I could think was, "This kid is far to young to be going here!" Little did I know that this young boy was actually an artistic prodigy that would cause many of us to weep over our art supplies in the coming months. At one point, for a class project, he painted a portrait of Richard Dreyfuss as his character from Close Encounters Of The Third Kind. It was so lifelike and so far beyond anything the rest of us could produce, that I'm sure we all knew right then and there – this is what greatness must look like.
It was only recently that our paths crossed again and it seems I was right – Deon has been a busy man and artist over the past few years. I attended the Four Shots Comic Book Exhibit at The Collective in Durban, where Deon was showcasing his first-ever comic book, Gofu, along with three other comic book artists – Luke Molver, Alastair Laird and Michael Croeser.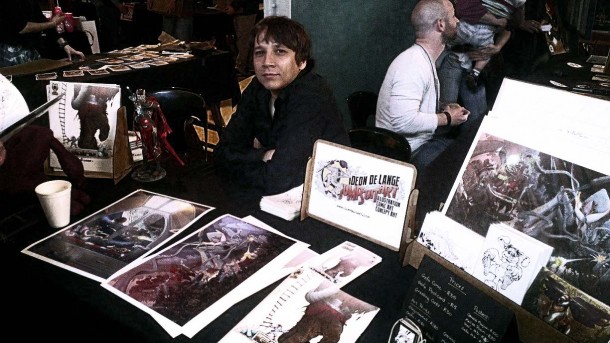 A real surprise was how well-attended it was. Not only that, the crowd was actually handing over hard-earned cash for locally produced comic books! I was impressed. The Collective in Florida Road provided a brilliant, creative venue to showcase the varied work of all the graphic artists featured.
After wandering around and soaking up all the comic book goodness, I was interested to know a little more about Deon and what he had been doing since the old days. Here's what I asked him.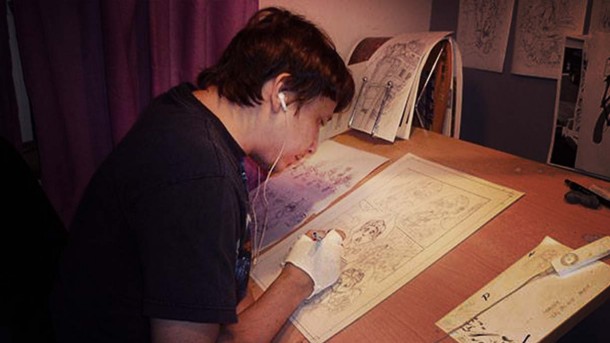 What's your earliest geeky/arty/comic book memory?
Deon De Lange: I actually used to be a Dinosaur geek first, but then I discovered Asterix. When I was a kid I used to make plasticine Asterix figures of every character in the books. And I mean every single one. My room was filled with the little guys and I remember doing a scale Viking ship from Asterix and the Vikings and taking it to school. Kids thought it was cool, but they also thought I needed to get a life. At one stage I remember every square inch of my room walls being covered with movie posters that I would collect from video stores and clip from the newspapers. And then the ceiling when I ran out of wall space. I have vague memories of doing an enormous mural in my room of the Enterprise D. It was epic! I can't actually believe my parents allowed it.
Would you describe yourself as a geek?
Deon De Lange: I guess I would. Does a long history of over-the-top cosplay efforts count? I tend to get overly-obsessed with things the way only a true geek can. I used to be able to speak more than just a little Klingon! I frequently find myself defending the fantasy genre, to the point where rather heated Star Wars debates actually became a normal thing at my old work. I guess I've just always gotten carried away by science fiction and comic culture. If I decide to get involved in something I do it properly, or not at all, so yeah – I'm a geek!
Who or what has influenced your illustration style?
Deon De Lange: Asterix and Tintin were a huge part of my childhood. My mom used to take us to the library all the time and that's where I discovered comic books. Later she would take me to Long street and we would go up and down to all the book shops and buy second hand Batman comics. Those were the Norm Breyfogle days and his art made a huge impression on me. Readers Den was at the top of Long street and that's where I became aware of a larger world of European and adult comics. I discovered Heavy Metal magazine and European artists there and the fact that comic art didn't just have to be superheroes and Asterix. This all led me to dig deeper into the history of comic art and illustration and I discovered the greats like Frank Frazetta, Wally Wood, Berni Wrightson, Will Eisner, Moebius, Otomo. The detail of these works amazed me and the classical realism of their work is something that I continue to aspire to. Today's artists that are a huge influence on me are Frank Cho, and Juanjo Guarnido.
After Tech, what did you do next?
Deon De Lange: After Tech, I freelanced a little. Then I ended up taking my first job as a DTP operator at a T-Shirt company in Durban. That lasted 3 months because I got offered a full-time illustration job at a small gaming company. After that I took a job doing 3D models for small simulation company in Durban. I did that for a few months and then moved to London with Megan, my wife, where I did the usual odd jobs before I landed a spot at Sega testing games for Dreamcast. The simulation company I'd previously worked for realized they couldn't live without me and made me an offer to move back to Durban and work for them full time. I ended up working there for over 12 years.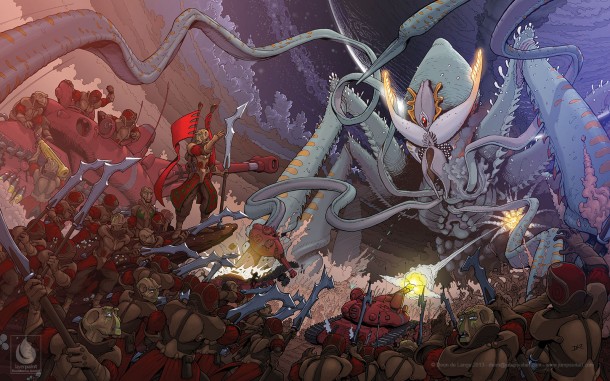 When did you realize you wanted to make comics for a living?
Deon De Lange: To be honest. Probably only while I was doing Gofu. I'd always been interested in doing comics, and I had been developing my own comic world since I was in high school, but I only really realized that it is something I want to do when I actually did it for the first time. Talking about doing comics and actually doing them are two very different things.
What have been the highlights of the last few years?
Deon De Lange: I started drawing again. Believe it or not, but I got so involved in my career that I didn't draw for 8 years. Not a thing! After I started actively drawing again, I created Jumpsuit Art and I started taking on freelance work. One of the highlights was working on Nando's World – an Italian indy game. But the biggest thing was leaving my job of 12 years behind to start my full-time illustration and comic art career and especially the way it happened. I got such a wonderful send-off from work that I will never forget.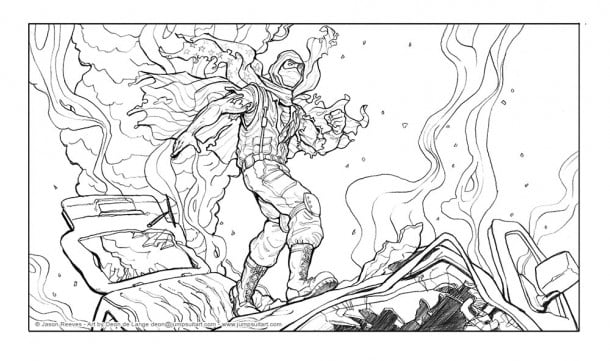 Tell us more about Gofu.
Deon De Lange: I originally wrote Gofu as a 6 page submission for DC's Zuda in 2009. Unfortunately, Zuda was discontinued before I could finish the project, but maybe that was a good thing. I did one or two pages of Gofu back then and I look at them now and they are so terrible. So Gofu stayed on the shelf for years. Late in the day I decided I wanted to do a comic for Open Book Comics Fest 2013, and Gofu was a perfect fit, so I re-formatted the script for print format and expanded it to 12 pages. I also updated the character and environment designs. Gofu is really a way for me to easily explore the comics medium and figure it out.
Where to from here?
Deon De Lange: Well…At Four Shots I announced that Gofu will become a limited miniseries and that I will be working on Gofu Issue #2 soon.
Other than Gofu, I will be working on the Velocity Graphic Anthology Alpha Initiative project next year which is a collaborative project involving 64 comic artists from South Africa and Australasia…
—
For more info, follow Deon's blog – http://jumpsuitblog.blogspot.com
Also, visit The Collective's Facebook page – https://www.facebook.com/thecollectivedbn