When it comes to superhero comic books, fans are spoilt for choice. What is difficult, though, is identifying which series is worth your money. Sometimes, a book starts off strong, then dips in quality. Most times, it's blamed on writer-artist combos, or the audience's reluctance to let legacy characters evolve in new directions. One book that's broken the mould, however, is IDW Publishing's Teenage Mutant Ninja Turtles.
Funny enough, not many people were convinced that Teenage Mutant Ninja Turtles required a resurgence at IDW Publishing. After all, there have been endless reboots of the Heroes in a Half Shell, and did the world really need another one?
Turns out that it was the greatest idea, ever. Collaborating with TMNT co-creator Kevin Eastman, writers Tom Waltz and Bobby Curnow and various artists created a new version of the Ninja Turtles that combined all the best aspects of the different eras into a cohesive and absorbing story. It's like the Turtles from the original comics, movies, video games and TV shows all merged into one.
While Teenage Mutant Ninja Turtles is split into smaller arcs like traditional comics, it's overarching storyline has been meticulously planned and executed. It feels incredibly fluid and as if it's all part of one big design, rather than jumbled-up pieces trying to fit together on a monthly basis. Not only does this allow for intense character development for Leonardo, Donatello, Raphael and Michelangelo, but it also provides a suitable platform for supporting characters such as Karai, April O'Neil and Casey Jones.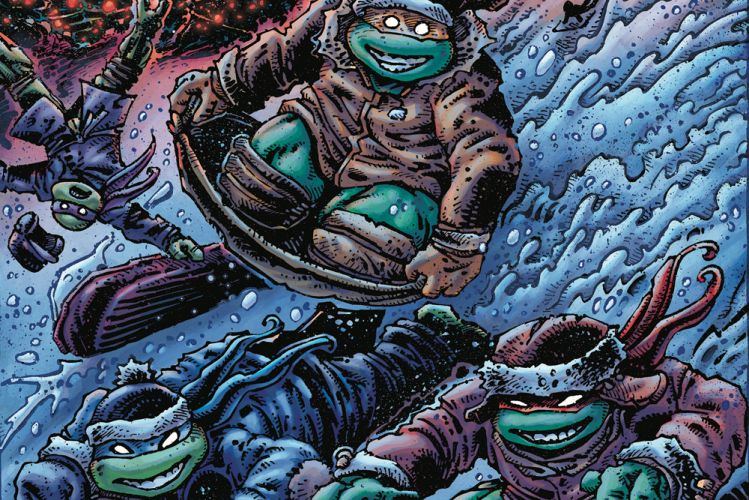 At the same time, the creative teams haven't been afraid of turning the mythology on its head. The series respects the original canon and doesn't deviate too much, but it's also introduced its own spin on things. Throughout the 100-issue run, fans have seen Splinter kill Shredder, Splinter become the leader of the Foot Clan, and a new Ninja Turtle named Jennifa join the team. More importantly, the book has added to the lore by injecting new blood into this world, with the likes of Old Hob and Alopex becoming fan-favourite characters.
What's truly remarkable is how the team has maintained the same stamina and quality over 100 issues. Consider this: The series launched in 2011 and is still going today, and how many reboots has DC Comics experienced in that time? With so much detail and care placed into every single issue, there's a hope that this series never stops. Quite frankly, it doesn't have to, as IDW has other TMNT series running at the same time, which don't always impact the main series.
Waltz told SYFY what he believes makes the book successful. "A consistent creative team helps a lot—Kevin [Eastman], Bobby [Curnow], and I have had a fairly specific storytelling plan from early on and have been given the wonderful opportunity by IDW, Nickelodeon, and our many awesome fans and retailers to see it through up to this point," he said.
"And having the advantage of standing on the shoulders of giants—the many successful iterations of TMNT that have come before us—and being able to 'cherry pick' from so many cool characters and concepts to incorporate into our new version has been key to the longevity as well. There's a kind of comfort in the familiar that keeps long-time TMNT fans coming back, but giving the familiar a few new twists and turns helps to keep it interesting for everyone, including the creators."
Currently, the Teenage Mutant Ninja Turtles fandom finds itself at a crossroads. Older fans aren't too enamoured with the new direction of adaptations such as Rise of the Teenage Mutant Ninja Turtles, while the younger generation hasn't quite embraced the Turtles like the older fans did. A book like IDW's Teenage Mutant Ninja Turtles is not just the perfect middle ground; it's easily one of the best comic books on the market right now—for fans (both young and old) and even non-fans. It's something that every comic book fan should be reading.
Tell us, have you read IDW Publishing's Teenage Mutant Ninja Turtles? Let us know in the comments.