American pretty-boy Zac Efron braves the wilderness and shines in Anthony Hayes' Gold, a minimalist survival drama that highlights the dangers of greed. Set in the deserted and unforgiving Australian outback, this is a nerve-wracking, compelling and visceral tale for the brave only.
Efron is possibly the last actor you'd imagine in a bleak, minimalist and grim film set in the darkest parts of Australia's Red Centre. His good looks would be a sharp contrast to the harsh and dry wasteland setting. However, Zac Efron sheds all the Hollywood glamour (hidden behind a full beard, dirty exterior and crawling insects) in Gold in order to deliver his most powerful performance to date. With only a handful of characters on screen, the sun-frazzled 34-year-old (and his piercing blue-ish green eyes) carries the story.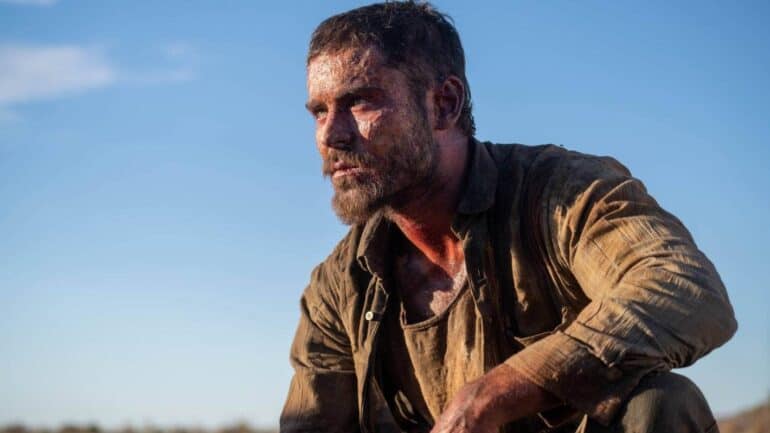 Gold has a simple but absorbing premise: two unnamed strangers (a traveller and his guide) set out across the dustbowl landscape to a place called The Compound. When their truck breaks down, they stumble upon a gold nugget buried underneath a sea of sand. After negotiating terms, it is decided that the traveller (Efron) will stay to watch the gold while the guide heads back to retrieve an excavator. Left alone, the traveller must face harsh sandy storms, a pack of wild dogs, drought, and illusions in order to survive and protect the immovable lump of riches. But how far will he go to claim his prize?
Gold is shocking and, at times, very difficult to watch. This isn't Tom Hanks in Cast Away. It's brutal and unnerving. Throughout the film's duration, Anthony Hayes never allows you to relax. One threat follows the next. This is hell.
But the film has something deeply important to say. It's a blunt morality tale about greed and how we put our lives at risk to find riches and glory.
If Gold is a turning point in Zac Efron's career, we're in for a very promising career ahead.
The Review
Gold
Great performances and great cinematography make Gold a must-see. Dark, grim and satisfying.