The Contractor might sound like the name of a film about a construction job gone wrong, but it's not about a rogue plumber or dodgy architect. Formerly known as Violence of Action, it's a brand-new action flick following a discharged U.S. Army soldier who joins a private military operation to provide for his family. With a star-studded cast featuring Chris Pine, Kiefer Sutherland, Ben Foster, and Gillian Jacobs, it promises action-packed thrills and spills—but does it deliver?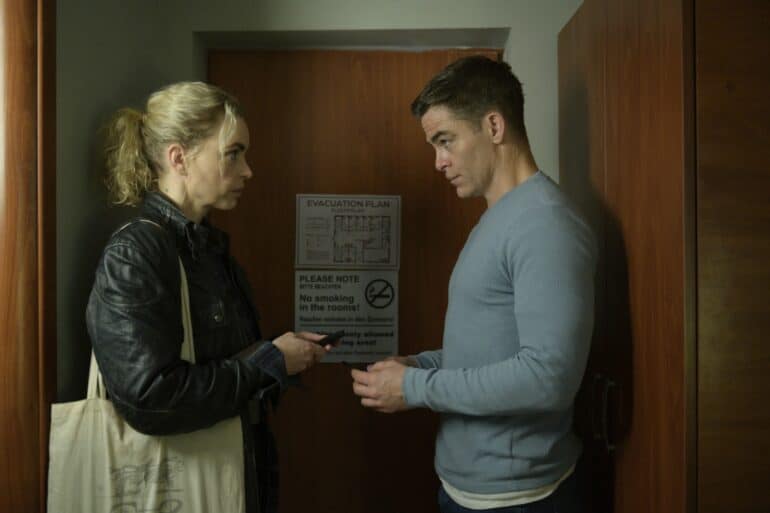 Visually spectacular
Directed by Tarik Saleh, with cinematography by Pierre Aïm, The Contractor looks spectacular from beginning to end. It's a film that's easy on the eye, with several picture-perfect shots that will live on in memory after the credits roll. More importantly, Saleh understands the importance of the quieter moments, giving them as much equal weighting as the action scenes.
Speaking of the action, that's something that The Contractor doesn't skimp on either. Whether it's fast and furious hand-to-hand combat or tactical military warfare, there were a few instances when it felt like this could be a big-screen adaptation of Call of Duty.
A tale as old as time
If you're an action junkie, then you might overlook the lacklustre storyline. The Contractor isn't a film you have yet to experience for the first time. It's a tried-and-tested formula of a desperate man doing questionable things to support his family. There's nothing innovative here, as you can predict the final act within the first 20 minutes of the film.
At the same time, the trailer did the film no favours. While not every film needs to have an M. Night Shyamalan swerve, the trailer gave away everything, including the pivotal beats and story jumps. It's probably best if you walk into the film without seeing any of the promos, since you're likely to be more surprised than the rest of us.
The Contractor is a precarious film. If it had positioned itself as purely a B-movie action spectacle, it might have been easier to forgive some of its other shortcomings. Unfortunately, it tries to be more than what it is, which makes it comes across as a highlight reel of better action thrillers haphazardly stitched together. At the end of the day, it simply isn't that deep of a story…
Additionally, the film feels oddly long, even if it's only 103 minutes. Yes, it's beautifully shot and packed with high-quality moments, but it's evident that the story is far too paper-thin to carry this for its entire running time.
Ultimately, your enjoyment of The Contractor will depend on what you're looking for. If it's straight-up action, then it might quench your thirst. If it's something a little more, you might walk away disappointed.
Tell us, are you looking forward to watching The Contractor? Let us know in the comments section down below.