We've all thought it: Daemon Targaryen looks awfully similar to the White Walker King. And many viewers from around the globe believe there might be something to the theory.
RELATED: House of the Dragon Finally Answers a Mystery About the Night King
Game of Thrones may be over, but House of the Dragon still serves as a building block to a lot of historical context we missed on Westeros. One of the many things this show could explore is the Night King and the origins of White Walkers.
Before we get into it, yes, we understand that Game of Thrones actually gave us an "origin" on the White Walkers, even showing the first man that eventually became the White Walker King. Yet, in classic TV fashion, some of the things that are established can either be revised or even retconned. If the opportunity for a more engaging origin presents itself, the writers are definitely getting on top of that.
There's also the problem of an unreliable narrator as the origins we were shown might just have been a way for the Targaryen legacy to stand without the taint of such a barbaric fate for one of their own. The Targaryen who might have been the victim of this cruel fate is none other than Daemon Targaryen, played by Matt Smith.
RELATED: Game of Thrones Was Wrong. Targaryens Aren't Fireproof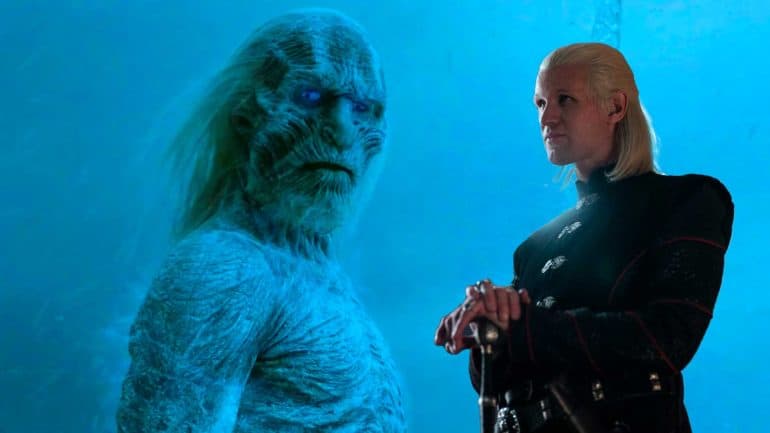 Smith's character seems to have some similarities to the Night King that we can't ignore. First is his wavy mane of hair that is similar to the first look we got from Game of Thrones for the White Walker king. This style of pure white hair doesn't seem to be shared with any other White Walkers or people from Westeros. Therefore, it isn't too much of a stretch to assume that it is a Targaryen spearheading the wights.
Another interesting clue involves the attire worn by Daemon. Not many people in Westeros seem to enjoy the studded vest-like piece, so it is a bit odd that the final look of the Night King is similar to what Daemon wears in the series. Once again, this is just speculation, but he seems like the type to keep his sense of style, even with the whole mindless zombie thing going on.
House of the Dragon is still a pretty new entry in the grand scheme of things, so it's safe to say that the doors for exploration are wide open. Daemon seems like a snobbish Targaryen right now, but there's a good chance that his character arc could completely change the audience's sentiment toward him before a tragic downfall into his frosty throne. It would be quite poetic for the writers to have him become king, but not in a way he may have anticipated.
Our final hint towards his White Walker status lies in his Targaryen blood and the ability to ride dragons. The Night King wasn't only able to steal a dragon from Daenerys, but he could also bend it to his will, making it his own zombie-like steed. Sure, it is cool to assume that the ancient magic in its blood allowed him to control dragons, but that feels kind of flimsy compared to an explanation involving Daemon's unique Targaryen blood mixed with whatever the White Walkers have going on. That combination may have been potent enough to conquer and zombify the dragon!
RELATED: Daemon Targaryen Is The Best Reason To Watch House of the Dragon
What do you think, is Daemon Targaryen the White Walker King?