The Souvenir is a comic book that will be released this FCBD at Readers Den in Cape Town. The creative tag team of Jason Geland and Daniel Hugo are the talents behind the development of this graphic novella. We caught up with them to find out a little bit more about this pending release.
1) How did the two of you end up working together in order to create The Souvenir?
Daniel Hugo: Jayson and I collaborated on a previous project, A Genesis. Upon completion of that story, Jayson expressed interest in doing another collaboration and so I mentioned an idea of a possible story that had been brewing in the back of my mind.
Jason Geland: I've long been a fan of Daniel's artwork, and after finally having had the chance to collaborate with him on a science fiction story prior to this one, I was really interested to see what we could conjure up next.
RELATED: Kay Carmichael's Sophie the Giant Slayer Is Bigger & Bolder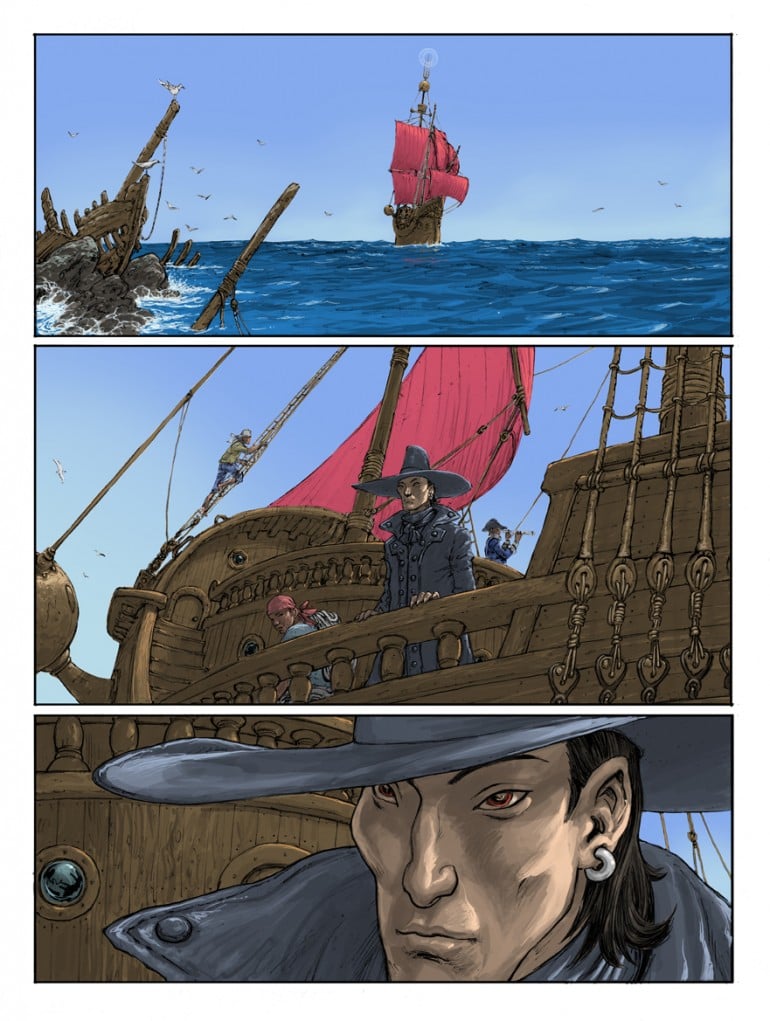 2) How did the two of you come to the conclusion that a re-imagining of local stories is the way to go for this project?
Daniel Hugo: It wasn't so much a conclusion we came to. Rather it was an organic development through discussions, research, sketching & writing.
Jason Geland: I don't think either of us were consciously aware of doing something based explicitly on local myth when we first started talking about a new tale for us to tell. During one of the earliest discussions we had about the comic, I remember Dan alluding to a concept he'd been contemplating for some time, one which I really liked, and from there on out we went about expanding it into a story.
3). Can you tell us what the Souvenir is about?
Daniel Hugo: Without spoiling the story too much, The Souvenir is a re-imagining of a classic tale from the Cape, incorporating other folklore, myths & legends of the region to create another world altogether that only echoes our own.
Jason Geland: In short, The Souvenir is a marriage of various fables and disparate strands of lore, most of them Cape-based. The story itself draws on these early yarns, blending them to present a fresh perspective on near-forgotten legends; a new vista of fiction influenced by, but not reliant on or restrained by, its assorted sources.
4) Another important aspect of Cape tradition was the telling of tales through the use of pictures. Will the art in this comic follow suit in creating picturesque environments that will get the imagination going?
Daniel Hugo: The emphasis of the story doesn't focus on any actual historic people. One aspect I enjoy tremendously in the development of a story is the creation of worlds. So, yes, great care was taken in the environment in which the story plays drawing inspiration from different sources.
Jason Geland: Dan has done a superb job of creating an incredibly immersive and vivid world for The Souvenir, I cannot say that enough. The backdrop he's drawn practically drips with atmosphere and charisma on every last page, lending the narrative a rich dimension of historical familiarity while also, intriguingly, one of utter detachment from its origins. I'm lucky just to have been around to witness the fruition of the immense realm he first envisioned all those months ago.
5) The Souvenir is based on Cape Folklore and Fables, how did you go about finding the references used in the comic?
Daniel Hugo: Research on the net & specifically my local libraries.
Jason Geland: Once the idea was initially settled upon, we began exchanging whatever cautionary fables, myths and fantasy pertaining to Cape Town we had prior knowledge of. After that, I asked around some more, spent long hours at the library and googled like a man possessed! We came across loads of fascinating material, leaving us with a wealth of information with which to adapt and condense into a story of our own.
6) In all of the preview illustrations a certain individual always seems to be in the frame; who is the trenchcoat-wearing captain?
Daniel Hugo: One will need to read it to find out…
Jason Geland: His identity is revealed within the pages of the book, to tell you here would only ruin the surprise!
7) What would you say has been the most challenging aspect of putting this issue of The Souvenir together?
Daniel Hugo: To date, this is the longest story I've worked on that includes the page planning, pencils, final linework & digital colouring (except for a freelance project where I had to pencil a 66-page graphic novel, which to date has not been published). The whole process from planning to completion took about 6 months, in between doing other freelance work.
Jason Geland: The only real challenge, if you'd even call it that, for me was to adjust to the style of writing we'd decided on for the story. Remaining consistent over all 18 pages, especially while leaping almost blindfolded between projects, seemed a touch daunting at first. However, this concern was swiftly allayed when I eventually started scripting; the approach became fun, words flowed and the story unfurled. Apart from that, I had no qualms to mention.
8) With a total of 18 pages, is The Souvenir set to be a one-shot, or is it simply testing the waters in the hopes of setting sail with further issues?
Daniel Hugo: Not quite sure on this one yet… Wouldn't mind exploring this world some more.
Jason Geland: Who knows? I don't like returning to stories I've previously written to be honest, as I feel I have by then already said everything I wanted to say on the topic at hand, but this one would definitely be interesting to visit again should the time come.
9) What is the one Cape Town myth that you think is realistic enough to believe in?
Daniel Hugo: None.
Jason Geland: Every single myth I've encountered regarding Cape Town is implausible, sometimes laughably so. That does not mean they are completely frivolous or without justification. The beauty of all fables is that they are still able to elicit genuine responses centuries after their inception; be it delight or fear, awe or indifference. Myth is capable of this without having to be credible in the slightest.
RELATED: 4 South African Comic Books That Are Seeing International Success
10) The Souvenir has been placed in the genre of horror and mystery. What is your favourite tale from this same genre?
Daniel Hugo: Quite a number of them with classics & comics… Pushed for an answer I'd have to say "The Call of Cthulu", there is just something to it.
Jason Geland: I've always maintained a morbid sort of fascination with this genre. Having been exposed to the short stories of Poe and Lovecraft early on, I've since grown to love the work of writers such as Ambrose Bierce, whose 'An inhabitant in Carcosa' is still a favourite of mine. Other practitioners of the genre whose work I enjoy include Jack Ketchum, Angela Carter, Algernon Blackwood, Ramsey Campbell, Clive Barker and Thomas Ligotti. It'd be impossible to pick an all-time favourite, but the story I'm currently enjoying most upon a second reading is Henry James' engrossing classic ghost story, 'The Turn of the Screw.'