Unless you happened to read some of the recent excellent comic books, it's been a looooong time since we last saw the '80s/'90s time-travelling wannabe rockers The Wyld Stallyns, Bill S. Preston, esquire, and Ted "Theodore" Logan. Recapturing that old magic of the cult movies Bill & Ted's Excellent Adventure and Bogus Journey is like trying to catch lightning in a bottle, and while this film may not have snagged the entire bolt it's certainly nabbed some sparks that could become something special.
One of the most fascinating aspects of Bill & Ted Face the Music is that Bill and Ted have aged alongside their fans. They've gone from being irresponsible-but-enthusiastic young adults to world-weary boring suburban dads. For a dim-witted duo who were destined to be the biggest thing ever and be handed the universe on a platter, being ordinary has to be the biggest knockback imaginable and at times it makes for uncomfortable viewing seeing them kicked down so harshly. However, the film raises an intriguing twist on the original premise: what if greatness never achieved its potential?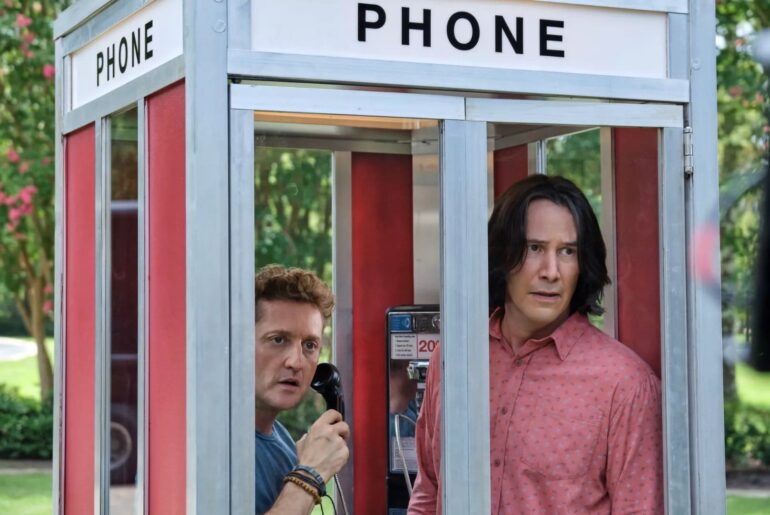 Once upon a time, Bill and Ted were destined to write the song that would unite the world in peace, bringing the universe into cosmic alignment. It was meant to be most excellent.
Now, they're history. They never wrote that song.
As the years have gone by, their chances of success drifted away. Wyld Stallyns, potentially the greatest band of all time, are now two washed-up rockers reduced to playing weddings and taco nights. Their wives, the Princesses, are on the verge of leaving them while their daughters – Billie and Thea – have absolute blind faith in them. Now, with the future of all existence in danger, comes a race against time for the unlikely duo to achieve the unthinkable at long last.
Yet how can they fulfil their destiny when they've failed as a band and their personal lives are a mess? With the clock always ticking in San Dimas and a new killer robot sent to destroy them, their only solution is to embark on one more excellent adventure through time…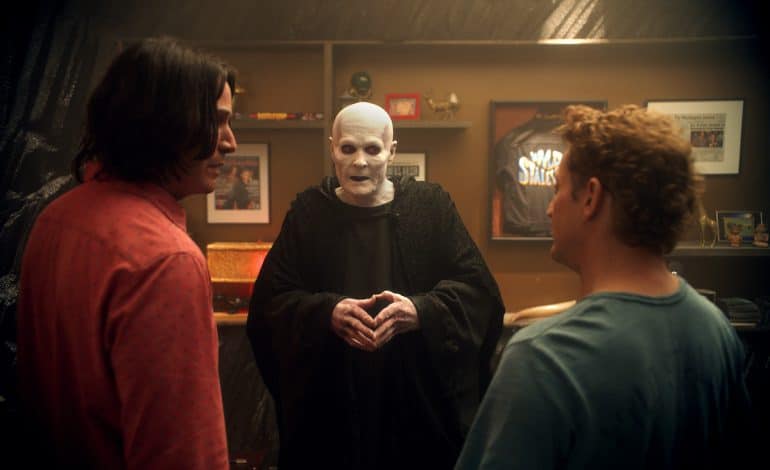 They've had the bar set so high for them over the years that they've failed miserably – not through lack of trying, but instead the opposite. They've tried too hard. Having accepted their destiny, they finally listened to all the criticism and got off their lazy asses, attempting to do exactly what was expected of them. They tried so hard to appeal to everybody that they've won over nobody, and have become increasingly desperate. Their latest song is a painfully pretentious number full of indigenous throat singing and artistic theremin playing, called "That Which Binds Us Through Time: The Chemical, Physical and Biological Nature of Love; an Exploration of The Meaning of Meaning, Part 1".
It's all a good metaphor for the film itself. After so much anticipation, they've tried so hard and hurled many intelligent, inspired ideas at the fans with this film, but it doesn't really feel true to itself a lot of the time.
If all of this sounds a bit heavy… well, it is. Face the Music is certainly the most adult of the trilogy, and by extension initially the least fun. The smarter plotting witnessed in Bogus Journey goes even deeper here, as the nature of their destiny is explored – although unfortunately never fleshed out fully. The film sets up an awkward balance, attempting to blend a more mature nature with its long-established ridiculous tone, meaning that the limited number of jokes on offer fall flat, while the adventure never really feels exciting.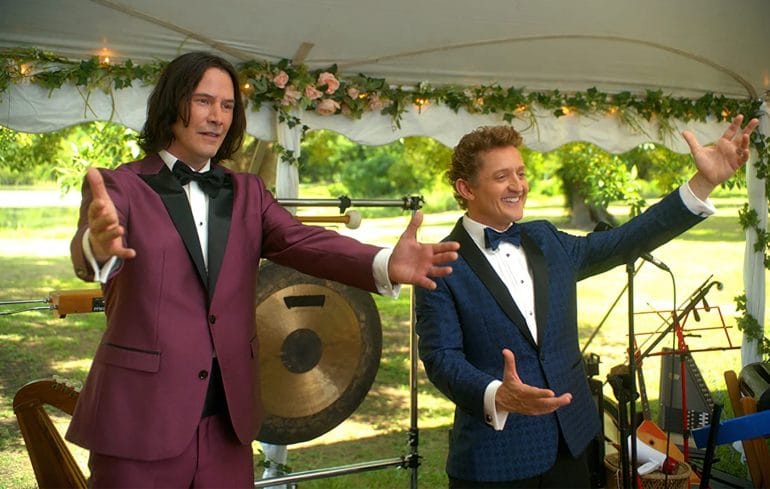 Again, this all sound incredibly dry and doesn't do the better elements of it justice. Because when Bill & Ted Face the Music works, it really does work.
Alex Winter's comedy timing has always been spot-on, keeping Bill on point, while Keanu Reeves' Ted is even more wrapped up in self-doubt than ever before. When they aren't playing it painfully straight, their antics can be laugh-out-loud funny; their way of preventing themselves from knowing what they'll do next, for example, is inspired lunacy. Billie and Thea are a welcome addition to the mythology, continuing the dumb/smart legacy of Bill and Ted with their own huge adventure, while the return of the Grim Reaper is triumphant. Ed Solomon and Chris Matheson's writing displays their creative genius, while the whole production is a smoother, slicker experience than the earlier films.
However, there are some sticking points. The pace of it grinds gradually, with scenes being too vast and quiet, conveying little sense of atmosphere. It's much like the hollow experience of Ghostbusters II in that way, and never seems to kick into high gear. Kristen Schaal, while a brilliant choice to fill in for the late, great George Carlin, is sadly given little to do. Dennis the robot goes from being hilarious to painfully unfunny in the blink of an eye, like he got lost on the way to an SNL skit. And while Ted's family tribulations continue, his breakthrough with his father feels forced.
Okay, this all sounds bad. The score rating reflects that too.
And yet it isn't. At least, not exactly.
Sure, some of Bill & Ted Face the Music's issues will never go away, much like those of the originals. But the real problem here is time. This is akin to the Blade Runner 2049 situation: it's a sequel everyone has impossibly high hopes for, forgetting that neither of the originals was an instant hit but were instead mild successes which gained cult status gained over time.
Given time to simmer, Bill & Ted Face the Music could go down as being the smartest, greatest Bill & Ted movie of the three and a triumphant conclusion to the series… or not. Fans need to watch it and process it first, and then see how it settles over time. As it is, it's hard to hate but also hard to love on the merits it has now in the present.
The Review
Bill & Ted Face the Music
If you're a Bill & Ted fan then you should watch it and give it a chance, even if only to learn how their story ends.