Let's be honest, the main reason why most people will be flocking to Riders of Justice is the stoic and debonair 55-year-old Danish actor, Mads Mikkelsen — also known as "that guy who repeatedly hit James Bond's testicles in Casino Royale". His impressive body of work (which includes his groundbreaking performance as the titular character in Hannibal) and his striking, stone-cold presence in the fast-paced trailer is all you need to sell tickets to this revenge thriller comedy.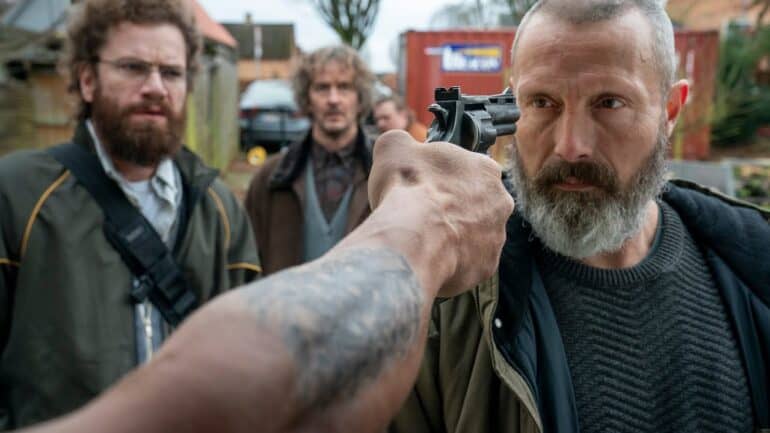 Liam Neeson had Taken. Keanu had John Wick. Denzel Washington had The Equalizer. Bob Odenkirk had Nobody.
And now, Mads Mikkelsen has Riders of Justice.
Except, this is a little different.
Mads' Markus is more than just a brutal, cold-hearted killing machine, and Riders of Justice (in Danish with English subtitles) doesn't play out like the usual shoot-em-up thriller. Instead, the filmmakers do a side-step and deliver what could be one of the most surprising action films in recent years. See, this is a film that doesn't just explore the gun-fights but it looks at the hearts of those individuals firing the weapons too.
The story in Riders of Justice begins with a series of small events that eventually lead to a disaster. Mathilde's bicycle is stolen. Her mom's car doesn't start. And her father, Markus, a Danish soldier, calls to inform them that he won't be home soon. As fate would have it, Mathilde and her mother end up on a train headed into the city. Along the way, a kind gentleman, Otto (a data analyst), offers his seat not knowing that the crowded train is about to collide with another. The tragic event leads to the death of Markus' wife, while Otto and Mathilde survive.
After studying the data, Otto is led to believe that the collision was in fact a terrorist attack. When he approaches Markus with the info, the data analyst and his small band of eccentric techie misfits join the stony-faced soldier in a quest to get revenge.
But before you buckle in for 2-hours of unforgiving badassery, you should know that the filmmakers behind Riders of Justice aren't letting you off that easy. Director Anders Thomas Jensen (Men & Chicken, Adam's Apples) never switches to autopilot.
Behind the composed and thoughtful performance of Mads Mikkelsen at the centre of the story, is a gut-wrenching tale of heartache and grief. See, the disarmingly sweet-natured film perfectly oscillates between comedy, action and drama before delivering its final lesson late in the 3rd act.
Sure, there's action aplenty. But, at its core, Riders of Justice is a deep story about the characters and their losses. It's superbly acted and well-thought-out.
Hell, I wouldn't be surprised if this was an action film written by a bunch of therapists.
The Review
Riders of Justice
The filmmakers elevate the genre to deliver something very special. Mads gives an amazing performance. Go out and see Riders of Justice immediately. Highly recommended!