Stop me if you've heard this before… Dumb kids decide to play around with supernatural elements and awaken a spirit that then offs them, one by one. Well, that's the basic premise of this horror, and Simon Barrett's feature film directorial debut, Seance. But if you've watched any of Barrett's other penned films, such as You're Next and Guest, you'll know that there's more to this story than meets the eye.
Mashing ghouls with gore, Barrett dances in between the supernatural and slasher genres as the director keeps us guessing what is real and what isn't. This suspense, though, is maintained largely thanks to the core cast led by Suki Waterhouse, Madisen Beaty, Ella-Rae Smith, Inanna Sarkis and Marina Stephenson-Kerr. The chemistry is off the hook here, and you can't help but think this is as good a cast as any teen slasher flick from the '90s.
Set in a private all-girls boarding school, Seance's isolated location sets up the tension nicely before any weird events start to happen. And as expected, the teachers do nothing to intervene when things go bad, so there's the sense of teenage isolation here. If the girls don't band together to get to the bottom of what's happening, no one will do it for them.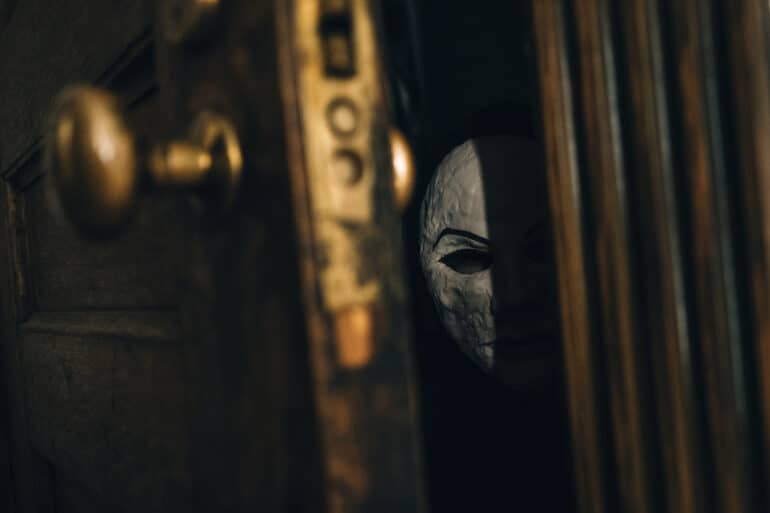 Like other films from the mumblecore movement, there's a lot more improvisation, natural acting and low-budget techniques here. Seance doesn't always flow the way you'd expect it to, which makes it far more unpredictable and adds uncertainty to the mystery. Barrett certainly has a talent for creative stories and fresh angles, and the same is delivered here. Plus, Karim Hussain's unique cinematography just complements the story and fits like a glove here.
That being said, you should be able to unravel half of the mystery by the middle of the film. There are dead giveaways littered throughout that point out what is actually going on—but stick around until the end because there's a little more to it than expected and it'll close the loop on several questions you might have.
What doesn't quite work, however, is the final fight scene. Without giving away spoilers here, it's understandable why Barrett went the clumsy route here—it makes complete sense when you consider the setting and characters. However, a bit more hide-and-seek tension could've made the hearts race faster and landed a bigger impact. Seriously, because for a good portion of the film, Seance prepares all the ingredients for a Sunday roast, but the final act turns it into a microwave meal. Still tasty, of course, but an anticipation buzzkill.
Overall, Seance achieves what it sets out to do, and that's entertain fans of the horror genre. There's more than enough here to keep you on the edge of your seat. Also, are we ready to talk about how Suki Waterhouse is set to be a huge movie star yet?