Having two young daughters running around our house means that I am quite familiar with Barbie dolls of all shapes and sizes. I can't remember how many times I've been told, "Daddy, we need to get this new Barbie doll!" Imagine my daughters' absolute delight when they were sent two brand new Barbie dolls to review, the Barbie Extra doll and a Barbie Cutie Reveal doll.
So did these dolls pass the high standards of a 6 and 11-year-old or are these dolls best left on the store shelves?
Extra in every way
The first doll my daughters speedily removed from its packaging was the Barbie Extra doll (number 9 in the series). As with most of Mattel's toys, the Barbie was well packaged. The only problem is that all the little plastic ties that tie the doll to its moulded plastic packaging proved a challenge for my daughters, and dad had to step in with a pair of scissors. Other than that, all the little accessories were neatly displayed in the packaging for little eyes to inspect.

Now, it is no surprise that dolls with pets sell better than dolls without and, being a brand new doll, our newly unpacked Barbie came with a little pet alligator. Theme-wise it doesn't make much sense, but that didn't stop my daughters from fawning over the little fellow.

Along with the alligator, the Barbie Extra doll came with a few accessories, including star-shaped glasses, a piano handbag, a lollipop for Mr Alligator (as he was quickly dubbed by my daughters) and, lastly, five hair clips neatly attached to the Barbie's hair. As expected, the accessories are all highly detailed.

As for the Barbie itself, she comes with a brightly coloured rainbow dress adorned with the words "shine bright like the stars" on it. It's actually this brightly coloured dress that drew my daughter's attention to the doll in the first place.
Along with the dress, she has some funky white boots and a blue ruffled jacket, which my daughters quickly removed so that they could see more of the brightly coloured dress underneath. I'm told by my daughters that one of the most important parts of a Barbie is its hair, and this doll impressed them with her stylish cut (long hair parted to one side and shaven on the other). It's a great looking style and one that fits with the doll's funky theme.

Something that impressed both me and my daughters was the fact that the doll had a surprising amount of articulation points — on her wrists, elbows, shoulders, hips, and knees. This makes her one of the most poseable Barbie in my daughter's collection.

Overall, my daughter absolutely loved the Barbie Extra Doll #9, thanks in part to her funky and modern design aesthetic and her multiple articulation points. It seems like Mattel has hit another home run with this new release.
Guess who?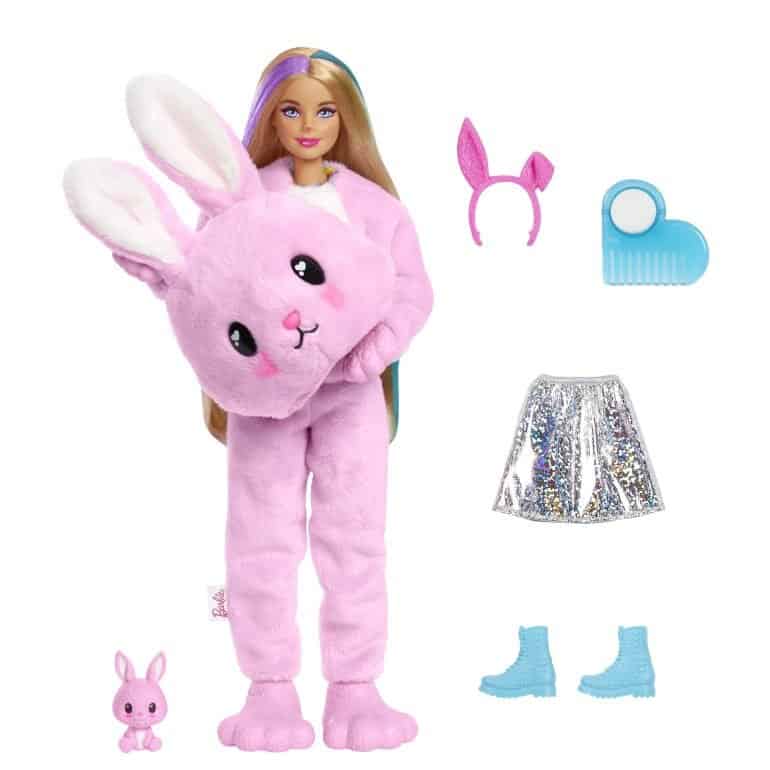 The second Barbie doll we received was literally quite a surprise. As part of the Barbie Cutie Reveal line, the doll was tightly packed into a unique cylindric pack. The packaging makes sure that you have no idea which of the dolls in the line you get, hence the name. The only clue is a little hole in the top of the packaging that lets you sneak a peek at which doll this could be. The packaging as a whole is very well done and includes all the information about the doll range, yet is still colourful and bright enough to attract the attention of those little prying eyes.

Once you open the top of the packaging you are greeted with your Cutie Reveal Barbie. In this case, my daughters were absolutely delighted to find out they received the Pink Bunny suit-clad Barbie.

Once removed from her packaging, my daughters quickly took off the bunny suit (consisting of a bunny head, jacket, pants and plastic hands and feet) to reveal a blond Barbie with pink and purple streaked hair. Unlike the previous Barbie, this one was less articulated and had the same limited range of motion as most Barbies on the market.
Along with the Bunny suit, the Barbie Cutie Reveal doll comes with a pet bunny, and a couple of surprise items neatly packed in separate paper bags. Our surprise items turned out to be a skirt, a pair of turquoise boots, some plastic bunny ears, and a hair comb.

The doll also has a few other surprises that had my daughters giddy with excitement. For one, the bunny jacket is reversible revealing a rainbow coloured design. The Barbie itself also has a little pink bunny nose that reveals itself when dabbed with icy cold water or disappears with warm water. The same goes for her pet bunny, which opens its eyes when they are dabbed with cold water and closes them when dabbed with warm water.

Although the Barbie Cutie Reveal doll is of the same high quality as the previous doll, it was the whole "not knowing what you get" gimmick that drew the attention of my daughters and made them want to go out and buy another. It's a doll that, unlike other Barbies, makes the whole unpacking experience a joy. Not only is it a surprise finding out what doll you get but it is also easy enough for small little hands to open up the package without too much effort.
Barbie Extra dolls are available online via Takealot and Toy Kingdom and typically retail for around R600.
Barbie Cutie Reveal dolls are available online via Takealot, Toys R Us and Toy Kingdom and typically retail for around R750.