Video gaming continues to grow each year. This is especially true when it comes to hardware such as your gaming rig and the very many options of peripherals that go along with it. The same can also be said in the mobile gaming industry, whether it be gaming on your smartphone or on your gaming laptop. A few weeks ago, ASUS launched an all-new lineup, one of them including the ROG Strix SCAR 17 G733 (2022).
At the start of 2019, I review my first Strix SCAR gaming laptop. At the time, it was the best unit I'd reviewed in this category. This was followed by the Strix SCAR III in late 2019, which brought quite a number of hardware improvements to the range. Since then, there have been regular updates to the range, with the most recent being the ROG Strix SCAR 17 G733 in 2021.
How does the latest ROG Strix SCAR 17 (2022) – specifically the G733Z- compare over previous iterations and is it worth yet another upgrade?
ASUS ROG Strix SCAR 17 Build and Design
As with many previous ASUS ROG laptops, the diagonal line is prominent across the theme. The diagonal line (or scar) is featured across the lid and finds its way to the internal panel and, once powered on, on the default wallpapers as well.
This design continues the theme from the previous generations as well, so it doesn't look out of place on the new Strix units. That being said, I'm not the biggest fan of some of the design changes when it comes to the diagonal line stylings. The diagonal line previously represented the change between the two distinct designs on either side, whereas this time around it's simply a thicker line with the design being the actual diagonal.
There are, however, two distinct changes in theme, pattern or colour, which comes from the interchangeable Armour Cap on the rear left-hand side, as well as a translucent are under the keyboard on the top right-hand side.
That being said, the ASUS ROG Strix SCAR 17 provides a good lighting show for those who enjoy their LED RGB effects. The lighting comes from the backlit Chiclet keys, as well as underneath the unit. There are also lights on the rear, as well as below the lid when it is lifted open. There are a few animated lighting effects scattered throughout, including powering on, loading Windows and more. Some of these can be customised via the Armoury Crate software.
In terms of the technicalities, the lid is crafted from a metallic frame, while the rest of the unit is from a solid plastic polymer. Both of these are finished off in a matter black finish. The lid is very susceptible to fingerprints, which isn't ideal.
It weighs a bulky 2.9KG, which is a bit on the heavier side but not unreasonable or even a surprise. It just adds a bit more weight in your laptop bag if you're going to be lugging it around. In terms of its measurements, it measures in at 395x282x23.4mm (23.4-2.83mm in thickness). This isn't bad either, all things considered.
It's not the best-looking ROG or Strix unit I've seen but it's very robust with very little flex, so you can rest assured all your components are well protected for everyday use.
Connectivity and Ports
Starting on the left-hand side, the unit features a pair of USB 3.2 Gen 1 Type-A ports and a 3.5mm audio jack.
Switching over to the right-hand side, you have the Keystone slot. This is ASUS' proprietary module, which operates like a flash drive, saving your ASUS device settings, themes and modes, allowing you to plug it into another ASUS unit to keep those same settings. This module is included in the contents.
The rest of the ports are fitted to the rear of the laptop. This includes a USB 3.2 Gen 2 Type-C port, Thunderbolt 4 port and an HDMI 2.1 port. There is also an RJ9 port as well as the power input next to it.
There is a nice balance of ports and its configuration on the ROG Strix SCAR 17. The placement of the power and RJ9 ports on the rear, which aren't required as plug-and-play options, are positioned neatly out of sight. Where you do require more access, the ports are then positioned on the left-hand side.
Screen and Display
As the name would suggest, the ROG Strix SCAR 17 has a 17" screen – or 17.3" to be exact. By default, the unit we received has a 1,920x1080px resolution and not 4K or even 2K. There is one variant in the line-up which sports a 1,440p resolution panel.
It may be down on overall resolution compared to many other units, but with its 360Hz refresh rate, it certainly makes up for it. This makes for the ultimate in smooth gameplay. The fast refresh rate does, however, take some getting used to once your GPU reaches anything beyond 120FPS. Our brains have been programmed to fill in some of the blanks when it comes to the number of frames we see in one second, so makes sense that the additional FPS and refresh rate doesn't quite compute at first.
The ratings on the IPS panel are reasonable, with sRGB at 100% and Adobe RGB at 87%. Compared to other gaming laptops in the same category, it is well above average in this respect.
In terms of real-world colour representation – or at least to my eyes – it was very good. The colours are bold and the contract great. With the additional Dolby Vision HDR support, it makes for really good viewing. It may be a bit down on overall brightness but isn't something to write home about while gaming indoors.
Specifications
When it comes to the specifications of the ROG Strix SCAR 17, it's clear that ASUS aren't leaving any stoned unturned when it comes to hardware. The unit I reviewed featured some of the most recent and high-end hardware available on the market in 2022.
Starting off the with processor, ASUS has gone with the 12th-generation (Alder Lake), Intel Core i9-12900H. This is one of the most powerful processors to date from the company for public purchase. This processor has a Tetra-Core configuration – or 14 cores. It features six performance CPUs and eight efficient CPUs. The performance CPUs have a clock speed of 2.5 to 5GHz with 1.8 to 3.8GHz on the efficient CPUs.
When it comes to the graphics card, it has an NVIDIA GeForce RTX 3070 Ti laptop GPU. Although it's not the top-tier variant, it's fairly close to the top and will very easily deliver on your mobile gaming needs.
It has 32GB DDR5 3,200Mhz RAM, which uses two slots. Memory is upgradable to 64GB, which can be achieved with a combination of two 32GB modules. However, you would have to get rid of or resell the two existing 16GB modules.
In terms of storage, the unit received comes with a 2TB NVMe m.2 SSD. This SSD is manufactured by Samsung, which supports PCIe 4.0 x4 with up to 7,000MBps read and 5,200MBps write speeds. This will definitely come in handy when performing specific edits, running games and any other heavy computations required from the storage files.
Being a newly released unit, it also comes standard with Windows 11 Pro OS pre-installed. So, no longer needing to upgrade from Windows 10 after your purchase.
Performance and Battery Life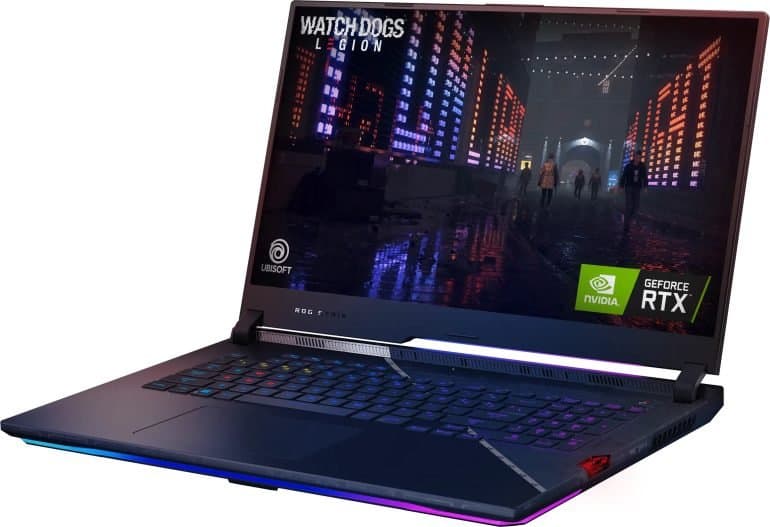 There's a lot of power under the hood of the ASUS ROG Strix SCAR 17 G733. When running on cable power, you're able to breeze through any tasks while achieving well above 100FPS on Ultra graphics in most AAA games. I was surprised at how quickly some menus loaded in-game and how smooth some of the gameplay was during a session. It's quite something to see it all in action.
Using the default settings, once the laptop is unplugged and running off its battery, the power drops significantly. The unit does also heat up a bit but was well within a respectable range. I managed to game at ease under default settings with graphics set to Ultra. The heat was also manageable when gaming under heavier load, which many previous units I've reviewed often had issues with this aspect.
Again, using those default settings while unplugged, you'll note quite a drop in FPS and increased load times. This is because the power consumption is set to efficient rather than performance. Turning this up to performance mode, however, brings about a slight increase in heat generated from the internals. The increased heat also impacts the battery life a little.
The 90Wh battery is good enough under normal loads. When using the laptop to watch videos, do some browsing or complete a few small tasks, battery life can last up to (and beyond) the seven-hour mark. This is well above the average for gaming laptops in its category.
However, when you switch to apps with heavier load or a round of gaming, this threshold is significantly dropped. You'll most likely eke out about an hour's worth of battery life when gaming in performance mode for Ultra graphics settings. This is about 40-50% reduction over other units.
Is the New ROG Strix SCAR 17 (2022) Worth the Upgrade?
As with the previous editions of the ASUS ROG Strix SCAR 17 G733 (2022) gaming laptops, I loved the short time I spent with the unit. This was especially true when it came to gaming, with everything running smoothly and the graphics performance and increased refresh rates truly delivering a great experience.
At the end of the day, potential buyers will still have quite a few hard decisions to make before following through with their purchase of the unit. If you're looking for native 2K or 4K gaming directly from the laptop, you'll need to look elsewhere. If you're searching for longer battery life while gaming away from a power source, you may also find it difficult to bite the bullet. However, if you're looking for all-out power when needed, it definitely has what it takes to deliver on its promises.
Starting prices on this year's ASUS ROG Strix SCAR 17 are actually more affordable than the previous range when released. This is actually a welcome surprise when it comes to gaming hardware when compared to many other products year-on-year. That being said, it's still not the most affordable, with the unit we received for review being around R50,000 in value.
The Review
ASUS ROG Strix SCAR 17 G733
While it may still be quite expensive for the average gamer, the reduced cost year-on-year of the ASUS ROG Strix SCAR 17 G733 series is a really welcoming addition to a unit that already delivers such an incredible performance. With its all-out powerful CPU and GPU, it makes for excellent gaming, especially with the 360Hz refresh rate.
PROS
360Hz refresh rate
Great graphics capabilities
Crazy performance
Solid battery under normal operating modes
Large 17.3" screen
CONS
Poor battery efficiency under gaming loads
Only 1080p native resolution
Review Breakdown
Ease of Learning

0%

Ease of Use

0%

Design

0%

Performance

0%

Enjoyment

0%

Value for Money

0%