A few months ago, the Valve Steam Deck was announced and released to great fanfare. Fast-forward a few weeks, and other handheld consoles were also being launched. This included one from a titan in the gaming laptop space, ASUS, with its ROG Ally. The pivot in the industry was set in 2022 when the ideas and prototypes were the talk of the tech industry. And now that they've arrived on the scene, it's up to gamers to make the trend stick.
RELATED: The AYANEO Slide Is Yet Another Amazing Handheld PC
The latest slew of handhelds onto the market is a potential move in the industry as to where many see gaming heading into the future. And, with the continued success of the Nintendo Switch, which has sold many consoles over the years to keep reminding other console manufacturers that they're still around. However, it has done so by offering exclusive games on its platform. And with the massive success of the Zelda franchise in Breath of the Wild, it has carved out a niche market for itself. With the rest of the industry looking to cut itself a slice of that market share, it may change the industry, whether we like it or not.
So, the question on everyone's lips is whether the likes of the Asus ROG Ally are worth it and whether it's the next iteration of modern gaming. Let's find out.
Build and Design
As with many handhelds that have gone before, the concept isn't wholly new. However, the ROG Ally does enough to differentiate itself from the competition with unique design elements atop its matte white finish to look the part.
It fits comfortably in my hand as well. At first, it may feel a bit too wide, but a reasonably-sized screen with a 16:9 aspect ratio works out better than smaller 4:3 units. It also has quite a few buttons to go around. And being a Windows-enabled device, you can customise each button to your liking, especially in-game. As with most controllers, two trigger buttons are on each side (four).
After that, you also have the two sticks, the D-Pad and the four-button setup on the front. Added to this are two additional buttons on either side of the screen. The two top buttons on either side are similar to those on the Xbox controller, which opens the menu options. However, the other two buttons add significant value to Windows users, launching the quick menu UI and additional ASUS settings. These allow users to quickly navigate the environment without using a mouse.
Although it is pretty broad, the unit measuring 280x111x21.2mm is very lightweight. At just 608g, it is super convenient. It can easily fit into your laptop bag or even a jacket pocket if it's big enough. It's easy to carry around and comfortable and lightweight enough to keep you gaming for hours.
RELATED: PlayStation Project Q Should Have Been The PS Vita 2
Connectivity Options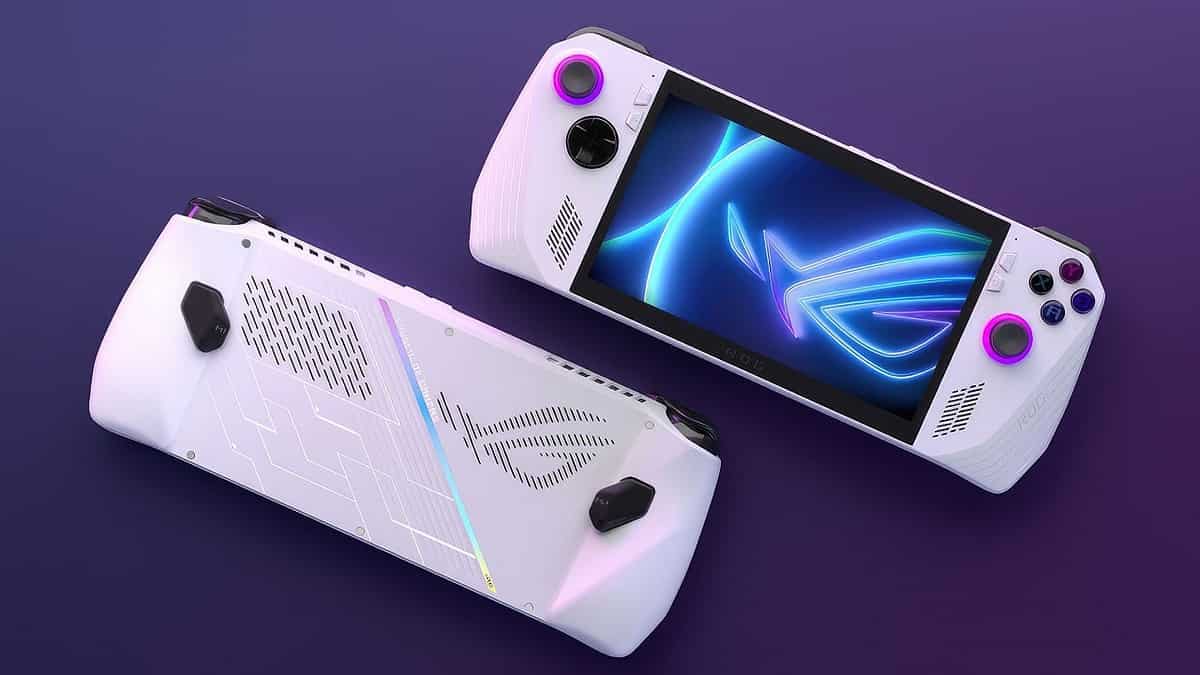 When it comes to keeping you connected, the Asus ROG Ally does a reasonable job. It offers a single Type-C port and a 65W AC adapter for charging. The rear port also doubles ASUS' proprietary connection, allowing you to plug in some of its other devices for easier integration.
Its wireless connectivity options include Wi-Fi 6E(802.11ax) and Bluetooth 5.2. Unfortunately, there is no Ethernet option, given the unit's size constraints.
It's not the broadest range of ports available, so if you wish to double up as a PC, you'll need to invest in a hub or similar if you don't have Bluetooth devices. One thing that's most missed is the inclusion of an HDMI port. This would've made it much easier to connect to your monitor instead of buying additional equipment since there are no additional tools to help you within its contents.
RELATED: You Can Make Your Own Handheld Xbox With An Old Smartphone
Screen and Display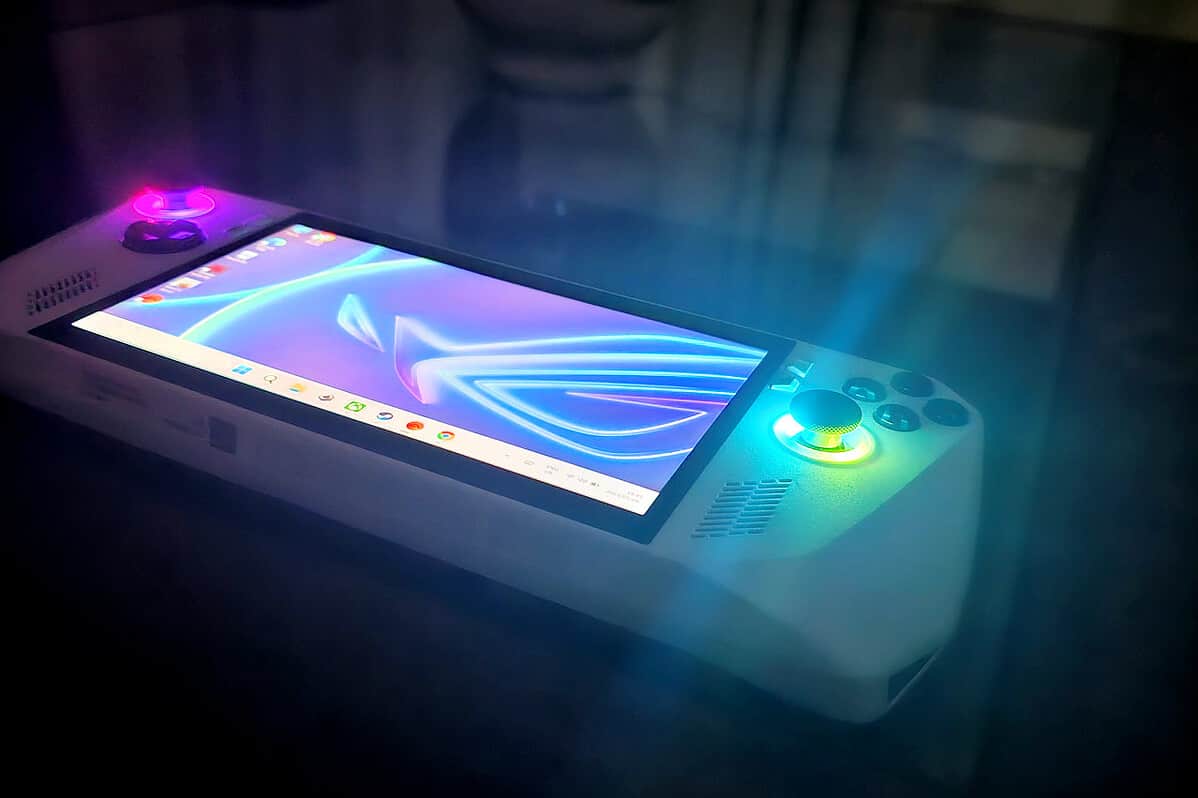 The ROG Ally screen packs quite the punch. It has a 7″ IPS panel with a glossy finish. Additionally, it has an FHD resolution of 1,920×1,080px with a 16:9 aspect ratio. In terms of the specifications of the panel, it has a 100% sRGB rating, along with 75.35% on Adobe ratings. It also has a screen refresh rate of 120Hz, brightness of 500 nits and Gorilla Glass Victus screen protection.
Given its size and portability, it also offers a touchscreen panel. This makes it easier to navigate the user interface. When you connect the device to a secondary monitor or TV, it features FreeSync Premium compatibility to minimise the latency.
Overall, the screen looks great. It may not be 4K, but the 1080p resolution on a 7″ panel is more than sufficient. The games are visually appealing, and the colours are bright and bold. I had no issues with the touch screen during the review period, and it worked well with Windows 11.
RELATED: The Ayaneo Air Is An Amazing $500 Ultra-Thin OLED Handheld PC
Asus ROG Ally Features and Capabilities
The ROG Ally has excellent specs and plenty of features to boast about. First thing first, the specifications.
It sports an AMD Ryzen Z1 CPU, Zen4 architecture with a 4nm processor and up to 4.90GHz boost in clock speed. This is paired with an AMD Radeon Graphics GPU. More specifically, an AMD RDNA 3, with 4 CUs and up to 2.5GHz clock speed. The unit has your computing and gaming needs covered.
In addition to this, it features 16GB LPDDR5 RAM (6400MT/s dual channel) along with a 512GB PCIe 4.0 NVMe M.2 SSD. The RAM and NVMe SSD combination substantially reduces your games' loading time, allowing you to boot up the next game in seconds.
The unit runs on Windows 11 OS. This is great news for PC gamers, allowing them to bring their entire library across. Where the Steam Deck is limited to Steam OS and its games, you're missing out on other options such as Xbox Game Pass, Epic Games, EA Play, UPlay, Battle.Net and more. Additionally, as mentioned earlier, the touchscreen panel works great on Windows. The ROG Ally has a unique interface through the Armoury Crate, allowing you to interface via the buttons on the device.
What's truly remarkable about the ROG Ally is that it can be paired with the ASUS ROG XG unit. Users can push their gaming performance to the next level and integrate their conventional work area with a keyboard, mouse and monitor. This has great potential going forward, with only the costs of both devices being a major stumbling block to next-generation modular computing.
RELATED: Valve's Steam Deck Handheld Is Not Coming To South Africa
Performance and Battery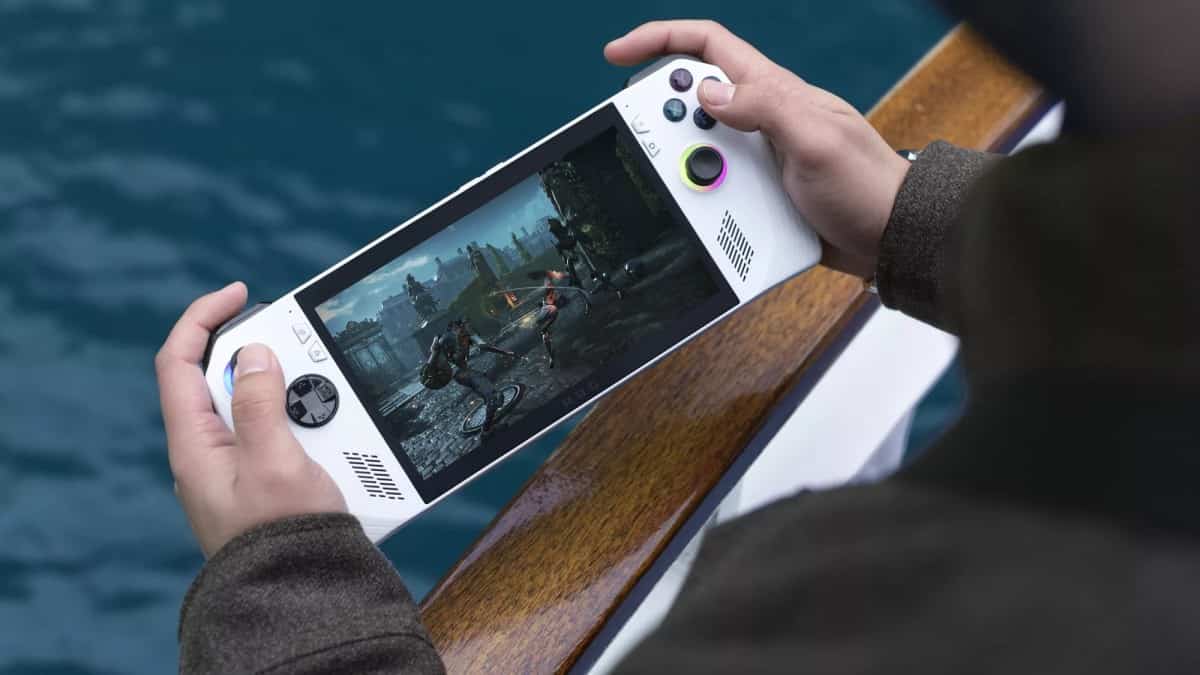 Regarding overall performance, the ROG Ally does adequately when doing what it's meant to, playing the latest AAA games. Running through my inventory of games across the various platforms, I was able to test many of the high-end games on various graphical settings.
I tested Marvel's Spider-Man Miles Morales on Steam with excellent results. The frame rate averaged over 60FPS on medium to high settings. Via EA Play, I could play Jedi: Fallen Order. Again, the device could easily manage above 60FPS for the most part.
There were moments when the FPS dropped slightly, with some lag for both games, but nothing major. However, these lags were only replicated when the unit was not plugged in. As a result, the unit doesn't perform as much when running on the battery. This is standard on such devices, even with many gaming laptops.
When plugged in, however, it ran like a dream. The frame rates increased between 10 and 15% overall, making for better visuals while playing. In the end, I could run any of the games in the inventory I had chosen.
For the most part, the device also ran reasonably cool. However, when plugged in and you crank up the graphics settings, it does create quite a bit of hot air through its vents. It's not unsettling or uncomfortable levels, and it's just noticeable over time.
The battery would always be a big talking point for any handheld device. With the ROG Ally, it's no different. With quite a bit of loadshedding during my review period, I was able to put the device through its paces. Thankfully, it managed to complete the standard two-hour cycle with ease. However, I tested the unit a few days during Stage 6's 4-hour stretch. Although it was more touch-and-go at the end, it could complete that, too. And that's as far as the ROG Ally could push gameplay without a power source.
RELATED: Glap Play Android Controller Review – Turns Your Smartphone Into A Handheld
Is the Asus ROG Ally Worth It?
The PC gaming industry is vast. Buyers have endless options to customise their experiences, whether they have the money to top-of-the-line parts and aesthetics or even on a tight budget focusing on personal preference. This, coupled with the dual role of converting into a daily work-horse for all your projects and day job, or even as a streaming device, scales massively. You can't deny the endless possibility when it comes to gaming PCs.
Whether we like it or not, handhelds are here for the next while. However, it'll come down to user preference if they'd want to fork out the R15,999 to own the ROG Ally or opt for one of ASUS' abundance of gaming laptops. The decider between the two platforms comes down to portability and versatility. If you're looking for more options to game remotely throughout your day, the ROG Ally is a solid option. However, a gaming laptop allows you to work effectively from anywhere. With both units being able to scale up with the addition of a screen, mouse and keyboard to various degrees, there isn't an issue on that front.
RELATED: ASUS SA Launches ROG Ally in South Africa with Local Pricing
The idea behind the Asus ROG Ally and other handhelds is excellent for me. As we move closer to a one-device-for-all approach (gaming unit, work unit and mobile device), we're finally making the necessary strides toward the modular experience. The ROG Ally is a solid unit in its own right. With a few firmware updates along the way and we'll have a great unit on the cards.
The Review
ROG Ally
If you're looking for the ultimate portable gaming unit, the ROG Ally would be your top pick. However, with its price and many other potential options in the form of gaming laptops, it may be hard to convince the prospective buyer. There is huge future potential for this and other handheld devices, once they improve the integration to other devices.
PROS
Portable Gaming
Windows 11 allows you to access your entire PC game library
Plenty of additional potential when connecting to other devices
Great visuals on its 120Hz touchscreen panel
CONS
Not the greatest battery life
A tad pricey
Review Breakdown
Ease of Learning

0%

Ease of Use

0%

Design

0%

Performance

0%

Enjoyment

0%

Value for Money

0%