Over the years, we've seen many partnerships and collaborations when it comes to technology. However, most of these collaborations are simply aesthetic changes to an existing product. As such, there are only a handful of meaningful collaborations in actual technological improvements. ASUS has been creating peripherals for many decades, with its ROG brand creating dedicated gaming products for more than 15 years. With the ASUS ROG Harpe Ace Aim Lab Edition Mouse's launch, it partnered with Aim Lab to raise the bar for competitive eSports.
RELATED: ASUS ROG Phone 06 Review – The Peak of Smartphone Gaming
The range of products is designed to improve your gaming performance. By creating an ultra-lightweight gaming mouse and pairing it with the Aim Lab technology, the products were designed to analyse your movements and patterns in your gameplay and recommend changes. The recommendations are aimed at improving your responses to create a more rounded approach to how you game. The question, however, is whether you can improve your performances, even after years, if not decades, of gaming. Let's find out.
For this review, the ASUS ROG Harpe Ace Aim Lab Edition Mouse was accompanied by the ROG Hone Ace Aim Lab Edition mousepad.
Build and Design
Unlike many other devices geared towards gamers, the ASUS ROG Harpe Ace Aim Lab is notably diminutive and lightweight. Upon lifting it out of its box for the first time, you'll feel this instantaneously.
Another aspect that catches your attention is its shape. The Aim Lab Edition presents a very unique build compared to many other ASUS gaming mouses. It has a narrow body, which makes it easier to grip for most users. However, if you have much larger hands, it may feel a bit too compact and uncomfortable as a result. Its size and weight do make it so much easier to move around but it takes a bit of getting used to in terms of control with its fluidity. Some practice is required, as a result, but that's where the Aim Lab Edition takes over. More on that later.
The two thumb buttons are positioned relatively high compared to other units as well. This makes it less prone to accidental clicking and actually more comfortable to use during those hardcore gaming sessions.
As stated previously, the unit came paired with the ASUS ROG Hone Ace Aim Lab Edition mousepad. This was designed in conjunction with the Harpe Ace Aim Lab for better movement. Harpe's PTFE feet at the bottom and the hybrid cloth surface make it easier to glide across for an even faster and more precise aim.
Lastly, it uses the ROG Micro Switch in its left and right-hand buttons. These minimise the switching force between the two buttons while also having gram-force deviation. The features make for more accurate clicking, ensuring a consistent feel every time.
Overall, the design and build, while unique, work really well. It may take some getting used to, but after a few days, you'll be at your accurate best.
RELATED: ASUS ROG Strix XG32UQ Review – A Premium Gaming Monitor
Setup and Configuration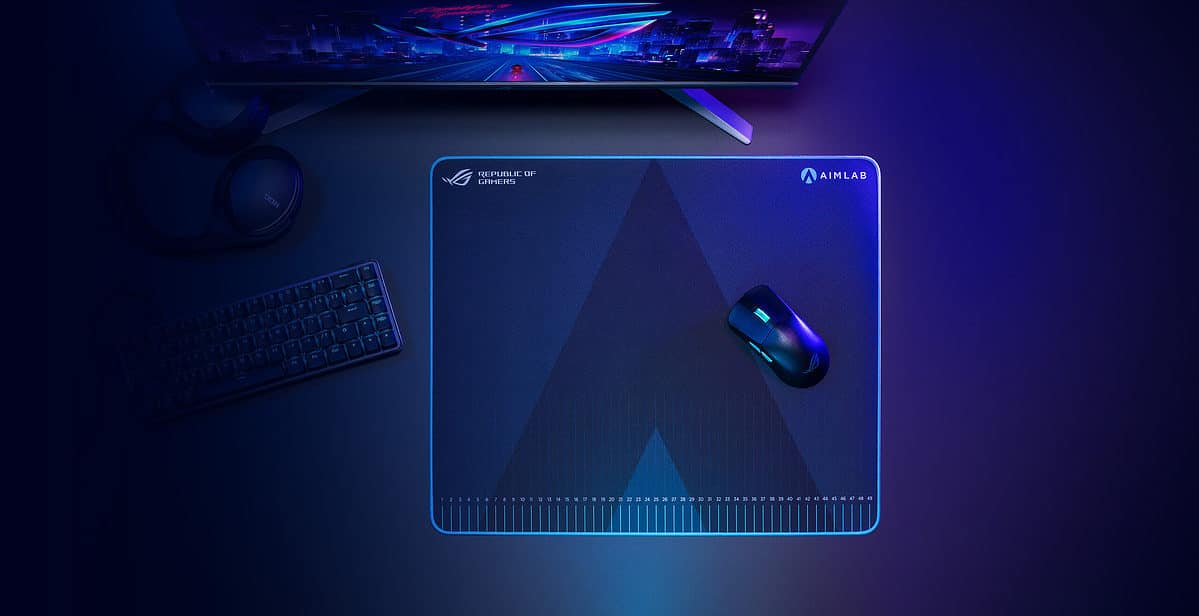 On the surface, the ASUS ROG Harpe Ace Aim Lab is quite easy to setup. As with many modern devices, it offers multiple options for connectivity. In this case, it includes the removable USB cable, the WiFi dongle, as well as through Bluetooth. These are all fairly straightforward to setup and no different from any other device.
Where the device does stand out in terms of setup is its fine-tuning. Firstly, by means of the Armoury Crate, you can configure its buttons, DP modes and more. However, the real fine-tuning comes from the Aim Lab game via the Steam store.
Via the Aim Lab software, you can view the Settings Optimizer. Here, the first objective is to run through a series of tests, and thereafter, it'll configure your most optimal setup for your style. Further to this, you can then start adjusting this further with more tests available within the game. These are a series of shooting and movement objectives. Some of them can run quite long, up to or even beyond the 30-minute mark.
Overall, the aim of the training is a repetitive task. Irrespective of the first run-through that adds the suggested configuration, the more you practice, the better you'll become. These tests record your sessions as you hopefully get better over time while it continues to add suggestions.
While the Aim Lab game can be used with any mouse to improve your performance, it is streamlined for the ASUS ROG Harpe Ace Aim Lab and ROG Hone Ace Aim Lab Edition products. The latter can also add to your testing by measuring your movements across the mousepad designed to track your movement better.
Performance and Battery
The performance of a gaming mouse is sometimes relative. In many cases, its size, dimensions, weight and adding elements may not be to everyone's taste. That said, when the device is designed to ultimately improve the performance of most of its users, then it makes the task easier to recommend it.
For starters, using the device natively is great, regardless of anything that accompanies it. However, adding in the ROG Hone Ace mousepad as well as the Aim Lab software makes for quite an improvement. With the smoothness offered by the mousepad and the optimised software to gradually improve your performance, it makes the entire configuration quite useful.
In terms of the battery life, while using two wireless options, it lasts around 80-100 hours, depending your setup. Keeping the RGB light on, you'll tend towards the former while closer to 100 hours with it turned off. There's also fine-tuning with the DP and other options. That said, this is a pretty extended period of time to use between charges.
RELATED: ASUS ROG XG Mobile Radeon RX 6850M XT Review – Powerful Mobile Gaming
Does the ASUS Harpe Ace Aim Lab Improve Your Gaming?
At the end of the day, the ASUS Harpe Ace Aim Lab Edition Gaming Mouse does a good job of improving your skills somewhat. Using the tools available, I was able to get higher scores and more accuracy during the few weeks of testing. That being said, there are no measurements when it comes to actual gaming performance outside of the Aim Lab software, so you can only really base that on a self-evaluation.
It's a non-complicated design with an ambidextrous approach in a lightweight shell. It feels good in the hand and even better gliding across the ROG Hone Ace Aim Lab Edition Mousepad. If you're serious about your gaming and looking at ways to optimise your gaming, whether for eSports or as a casual gamer, then the unit is definitely worth your attention.
RELATED: ASUS ROG Flow Z13 Review – Powerful But Not Practical
The Review
ROG Harpe Ace Aim Lab Edition
A rather simple mechanism to improve your overall gaming – and it works. The ASUS Harpe Ace Aim Lab Edition Gaming Mouse does a great job of suggestion improvements to your movements to up your accuracy, while offering a lightweight and sturdy build making it super easy to use.
PROS
Super lightweight (54g)
Multiple connectivity options
Long-lasting battery
Improved performance over time
Ambidextrous design
CONS
Takes a bit of getting used to at first
Costs a bit of a premium
Review Breakdown
Ease of Learning

0%

Ease of Use

0%

Design

0%

Performance

0%

Enjoyment

0%

Value for Money

0%