Towards the end of 2021, I reviewed the POCO M3 smartphone. It was a fairly solid unit at a ridiculously low price point. A few weeks ago, the brand announced the launch of the new POCO M4 range in South Africa. As such, I've received the all-new POCO M4 Pro for review.
Although it's not a like for like comparison between the two models, the POCO brand has improved on the M4 range across the board over the previously released M3 range. With a new screen, new chipset, new camera configuration and more, it's quite a significant jump in just over 6-12 months (depending on your location) since the previously launched units.
Build and Design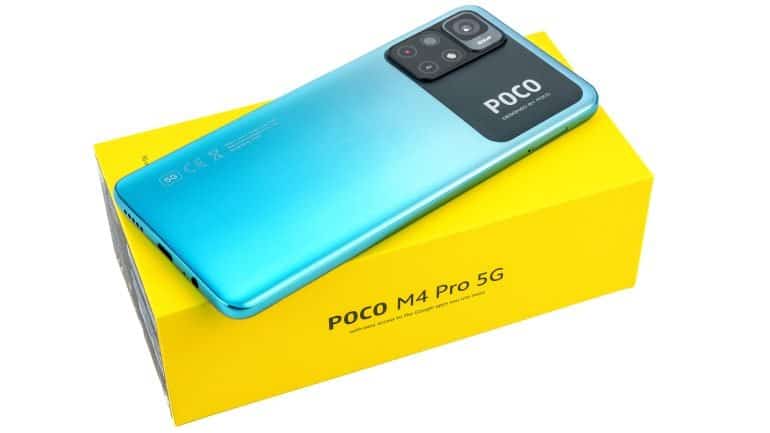 There has been a significant change in the design between last year's model and the 2022 variant. That said, it seems that Xiaomi is following a standard approach to its design ethos when it comes to all its smartphones. As a result, the POCO M4 Pro looks very similar to that of the Xiaomi Redmi Note 11 Pro reviewed just last week.
That's not to say it's bad. In fact, with the Note 11 Pro being quite a sleek looking smartphone, having those same looks on the lower-budget M4 Pro is definitely an achievement. But, it's not all a copy and paste from one designer to the next. Instead, the frame remains intact, while there are a few subtle differences to spot.
For starters, while the Note 11 Pro was all about the squared feel in hand, the POCO M4 Pro has a noticeably rounded rear. While the edges are still squared, the rounded rear cover feels a lot softer in hand. Being a more affordably-priced unit, Xiaomi has also swapped out the premium elements such as the glass rear and the likes, opting for a more low-profile plastic finish. And it doesn't look half bad either.
Another major difference lies in the camera configuration. Instead of the left-hand side array placement, the camera island sweeps across the top third of the rear from left to right. It has a more balanced look in this configuration choice.
The button and port layout are also very similar, with the POCO M4 Pro's only difference being the SIM card tray featured on the top left-hand side. With its smaller screen, it also brings with it a smaller frame, along with some 20g of weight reduction. Lastly, it features an IP53 dust and splash protection rating.
Overall, it's a good-looking design.
Screen and Display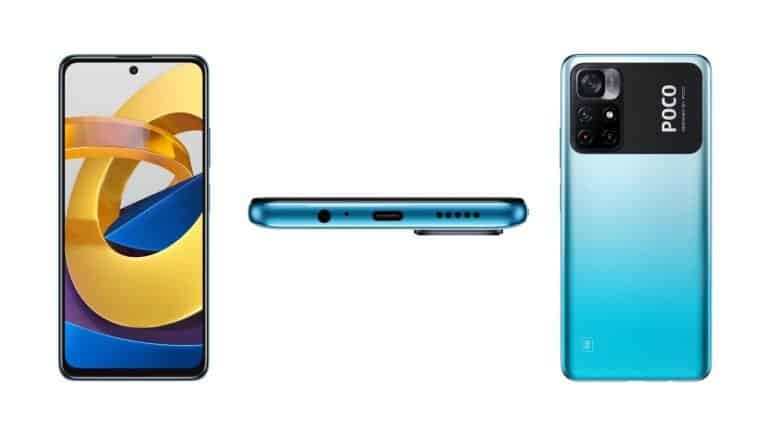 Another major upgrade, year-on-year, has been the changes to the screen. Moving away from the IPS LCD panel, the brand has fitted an all-new AMOLED panel instead. It measures 6.43" and features a 90Hz refresh rate. The brightness has also seen a peak level of nearly double, at 1,000 nits, which is impressive.
Further to this, the display has also seen an enhancement as a result. It has a 1,080×2,400px resolution with improved, 409ppi pixel density. Another improvement is also on the design, bumping up to a neat 84.5% screen-to-body ratio.
Lastly, it keeps the same Corning Gorilla Glass 3 screen protection, which should be more than sufficient for most users.
While these improvements are simply on paper, it's good to note that it extends beyond that. Real world usage shows a marked difference in quality. The colours are bright and the contrast is decent enough. There's no real comparison between the M3 and M4 range when it comes to the screen.
When compared to the Redmi Note 11 Pro, however, it is a bit down on overall brightness and colours aren't as vivid. That said, you won't have any issues with it considering the low-cost option it provides, while still keeping your viewing at the highest levels. You won't be left wanting, that's for sure.
Specifications
Further to the design and screen, there are improvements across the board when it comes to the internal hardware. For starters, the POCO M4 Pro now includes the Mediatek Helio G96 SoC. The chipset features an Octa-core configuration. This includes x2 2.05GHz Cortex-A76 and x6 2.0GHz Cortex-A55 processors. Additionally, it also includes the Mali-G57 MC2 GPU.
There are four variants for the device when it comes to internal storage and RAM options. This includes the 64GB internal storage and 6GB RAM, 128GB and 6GB RAM, 128GB and 8GB and finally, the 256GB and 8GB RAM option. The unit I received for this review was the 128GB and 8GB RAM variant.
The POCO M4 Pro has the same tri-lens camera configuration as its predecessor, although with upgraded lenses. This includes the following:
64MP wide lens, f/1.8, 26mm, 0.7µm, PDAF
8MP ultrawide lens, f/2.2, 118˚ , 1/4″, 1.12µm
2MP macro lens, f/2.4
Even with its smaller frame, the device still packs a 5,000mAh Li-Po battery. It supports fast-charging up to 33W, which roughly translates to a fully charged phone, from 0-100% in just under one hour.
POCO M4 Pro Performance and Battery Life
With the improvements under the hood, there are a lot of positives to take from the newly configured POCO M4 Pro. However, this is the same chipset found on the Redmi Note 11 Pro, which lacked a bit of oomph during that particular review. On the M4 Pro, there is still quite a bit of lag on some applications, although, multitasking is still very possible.
Gaming, again, sees a bit of a drop-off, and you're not always able to hit the 90FPS mark to take full advantage of the 90Hz screen. You can achieve this at a lower graphics setting but then you're also losing some of the quality.
Overall, however, you're not losing too much to be annoyed at your purchase when it comes to both computational and graphics performances. It does a solid enough job, perhaps better than expected at its price point.
Where the smartphone really let me down the most was the camera. While it has upped the megapixel count on the main camera to 64MP, it doesn't really deliver impressive results. Colours could be brighter and contrast could be bolder. That said, imagery in good sunlight produces clear quality, even with a bit of loss in reproduction. Nighttime photography is manageable but not great. So, it's possible to still make the most of the camera but requires quite the effort to pull it off regularly.
Another positive of the POCO M4 Pro is its battery life. Another of the Xiaomi smartphones that are capable of lasting well into a second day of usage before needing to reach for your charger. The 5,000mAh battery really does the trick. And even better than this, the charging time of about 55-60 minutes to fully recharge is a huge plus. You can get up to four hours within a few minutes of charge as well, making it an easy, on-the-go smartphone.
Conclusion
There are plenty of improvements across the board when it comes to the new POCO M4 Pro. The design has been tweaked, in keeping with the Xiaomi design philosophy, it features an AMOLED panel and has a great battery life. There's quite a lot packaged into this low to mid-range smartphone, punching well above its weight class.
With pricing starting at R3,999 for the base model and up to around R6,999 for the top, the overall pricing is a great selling point. The unit received for review is available at R4,499. If you can shake off a bit of the performance lag and don't really require pro-level imagery from photos, then you should be well on your way with the M4 Pro.
The Review
POCO M4 Pro
The POCO M4 Pro is a very solid unit. Year-on-year it has improved all around, both externally and internally. With a great set of features and very low price, it makes for a really good buy.
PROS
Impressive AMOLED screen for the price point
Decent design
Two-day battery life
Improvements over its predecessor
CONS
Lacks performance
Camera could be improved
Review Breakdown
Ease of Learning

0%

Ease of Use

0%

Design

0%

Performance

0%

Enjoyment

0%

Value for Money

0%