It's been a fascinating time in South Africa when it comes to mid-range smartphones. The market has seen a mini-influx of new brands, as well as new ranges from established brands. This can only be good for the consumer, as competition to rule the roost brings with it competitive pricing and enhanced features at that entry point. While Xiaomi has a few devices of its own in the mid-range category, most of these are on the higher-end. However, its sub-brand Poco has been plotting its own course in this category at a much better price point. With its latest Poco M3 smartphone, it aims to encapsulate the local market.
The Poco brand has been on quite a journey since its launch a few years ago. Last year saw the release of the very impressive Poco M2 Pro smartphone, which was then rebranded under the Xiaomi logo as the Redmi Note 9 pro. These were two identical devices launched in different markets under different brands – a sort of market test, if you will. However, this changed in 2021, where each of those device's successors were completely separate, even entering at different price points.
Having already reviewed the Xiaomi Redmi Note 10 Pro a few weeks ago, we turn our attention to the Poco M3.
As a unit marketed toward the lower end of the mid-range category, where does it fit in amongst the pack? But more importantly, how does it fare against other similarly-priced smartphones?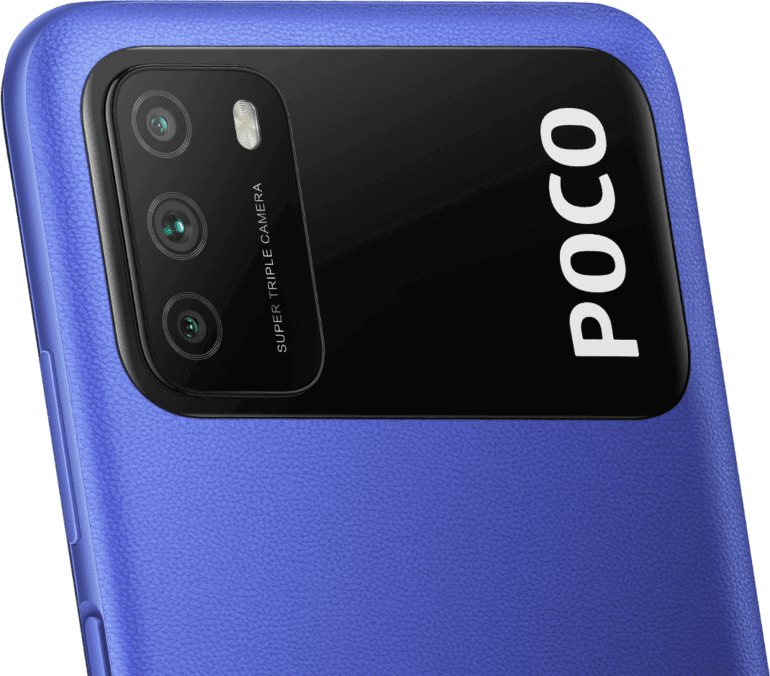 Poco M3 Build and Design
When you're competing in a tightly-contested market where budget is often the deciding factor, having a standout design isn't always the priority. Thankfully, that's not the case with the Poco M3. In fact, the smartphone embraces its design, offering a bold look and feel when compared to other units.
There are two aspects that differentiate it from the rest of the pack. The first, and most notable, is its large camera island. It's not large in the sense of bulk, but the glossy section sweeps across from the left to right-hand side with its rounded edges. On the left-hand side, the tri-lens camera sites in the actual camera island. The extension to the right sees the Poco logo presented in a contrasting silver against the glossy black. There are two others colours in the range, including the blue and yellow, with the latter definitely stealing the show.
The rest of the rear cover is crafted in a textured, polycarbonate finish. It is solid. It feels far sturdier than many of the other units in this range. Additionally, it also has the feel of faux leather, albeit a bit harder due to the plastic build. It feels more premium – not something you see very often at this end of the market.
Another of the features you don't see often is the stereo speaker configuration. There's a speaker grille at the top and another at the bottom to create the effect. And the volume gets fairly loud on top of that, which is a huge bonus.
The unit offers a dual power button with built-in fingerprint sensor. What's nice here is that you get to configure whether you'd like to have it unlock based on touch or whether you need to press the button for it to unlock with your fingerprint. This is great if you're annoyed by all those accidental touches.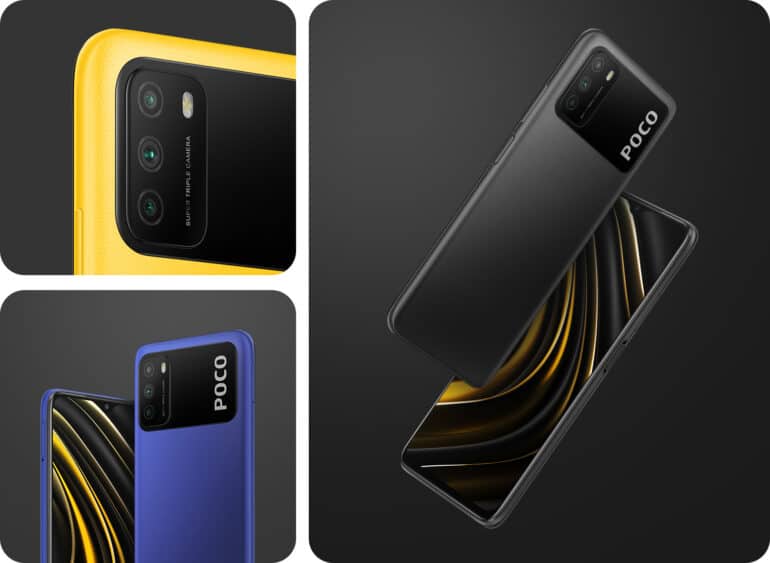 Screen and Display
The Poco M3 is fitted with a 6.53" screen, which has a IPS LCD. While it doesn't offer anything above the standard 60Hz refresh rate, it does have a decent 400 nits brightness rating. It also has an 83.4% screen-to-body ratio, which is in line with many other smartphones it's competing against.
The display features a 1080x2340px resolution, with a 395ppi pixel density. Compared against the competition, this is almost double the pixel density.
Colour reproduction is solid with a 70% rating on the NTSC colour gamut. As stated previously, it has a 400nit brightness level, which makes viewing inside and out in the sun a non-issue. The one thing it does lack is a higher refresh rate, especially when competing against many phones that do offer between 90 and 120Hz options.
Overall, the screen is somewhat in the middle of pack when comparing side by side. It falls short of the brilliant Super AMOLED screen of the Galaxy A22, but beats out the likes of the Tecno Spark 7 Pro. It does, however, beat both of these units when it comes to resolution and clarity.
Another of the aspects not notable in this market is that the unit is fitted with Gorilla Glass. It may only be Corning Gorilla Glass 3, but it's more than many other brands are willing to announce.
Lastly, the device also has Widevine L1 certification. This means that it can support the highest resolutions for streaming via apps such as Netflix, YouTube and Amazon Prime. Although it's not a necessity, it's a nice-to-have when consuming digital content.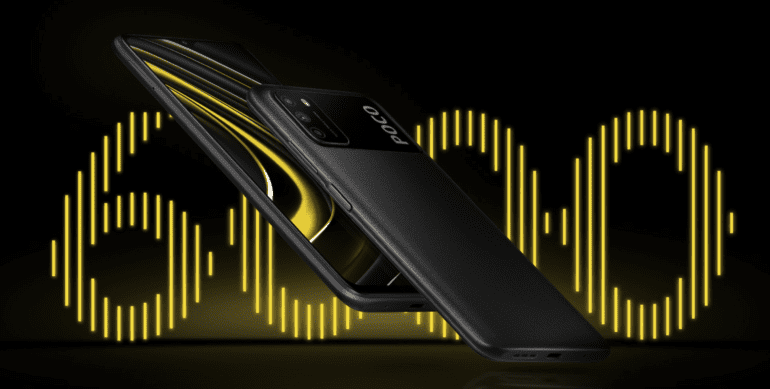 Specifications
As with most Xiaomi smartphones, the Poco M3 is powered by a Qualcomm SoC. More specifically, this is the Qualcomm SM6115 Snapdragon 662. It includes an Octo-core CPU with x4 2.0GHz Kryo 260 Gold and x4 1.8GHz Kryo 260 Silver CPUs. Additionally, this includes an Adreno 610 GPU.
In terms of RAM, there are two options available, 4GB and 6GB. The review unit we received featured the former. It also includes 128GB of internal storage.
The smartphone runs Android OS 10 with the MIUI 12 firmware on top of that. I found this aspect very interesting, as I've seen other Xiaomi smartphones running Android 11 with the same MIUI build.
Lastly, it has a 6000mAh Li-Po battery. This is larger than the average of 5,000 we've seen in recently reviewed mid-range smartphones. Needless to say, but it all still depends on how efficiently the smartphone operates to make the most out of the battery capacity. However, having a 6,000mAh battery won't hurt your performance.
Performance and Battery Life
When it comes to performance, there's a lot to consider. On the face of it, judging by the Geekbench scores of 340 and 1,350 for single and multi-core scores, respectively, it doesn't seem all that impressive. This is on par with the Tecno Spark 7 Pro, but lagging behind the Galaxy A22.
That said, the MIUI 12 firmware is fairly lightweight and is capable of running quite an efficient operation. Multitasking is a breeze, being able to jump between running apps without slowing down any of the processing. Moreover, navigating the phones menus, settings and more is also very snappy, with little to no lag or jitter to speak of.
As stated previously, the longevity of the battery all depends on the efficiency of the operating system. And having just spoken about MIUI's efficiency, it's not surprising that the battery results are impressive. As with many mid-range smartphones these days, the aim is to try to reach as close as possible to achieving a two-day battery life. And that's exactly what you should expect with the Poco M3.
It achieves this duration between charges with ease with a few percentage points still left after those two days are up. If you're not a power user, you can expect this to last well into a third day as well. Additionally, if you're using the unit as a secondary device, you'll be able to eke out over a week's worth in standby mode.
The biggest issue with the large battery, however, is the time taken to recharge. Limited to just 18W power draw from the charger, you're looking at a charge time of around 150 minutes. That's not ideal for those users who are always on the go. You'd be better left charging your device overnight with that amount of time.
Camera Quality
With the tri-lens camera the standard these days, it's no surprise that the Poco M3 fits into this mould. It has a 48MP primary camera, which has a 1/2″ sensor size, f/1.79 aperture, autofocus and more.
And again, as with many other cameras in the category, it features a 2MP macro lens and 2MP depth sensor. Both of these have an f/2.2 aperture. To round off the camera configuration, it also has a dual-LED flash.
It's clear from these specifications that the rear-facing camera doesn't sport an Ultra-wide lens for those panoramic shots. That said, the front-facing camera, hidden within the dewdrop design, has an 8MP f/2.1, (wide), 1/4.0″ and 1.12µm. Although not quite the same, the wide-lens camera here does make up for it missing on the rear – but only slightly.
Colour reproduction on images taken in sunlight are great. It is missing a bit of the dynamic range and missing a few details, but it's still fairly good. Night or low-light images, however, aren't as well-received. It introduces quite a fair amount of noise added to the shot, but the night mode AI does attempt to soften this, while also making the scene a bit brighter.
There are quite a few nifty features built into the softer in addition to the AI scene detection. This includes enhancements such as filters, bokeh and more. Each of these creates a better overall image quality, which is sufficient enough at the end of the day.
How Does the Poco M3 Hold Up?
At a retail price of R3,199, the Poco M3 is a very solid buy. It's one of the more cost-effective options on the market in the low end of the mid-range market, while still offering a lot to the consumer. It has an impressive battery life, while also having a great aesthetic and stereo speakers.
I'm hoping that the Android 11 update would be around the corner for the unit, which will bring a few performance upgrades for better efficiency with the MIUI user interface. Despite a few obvious shortcomings, there's a lot to impressive about the Poco 3 and is a good unit to have, both as a daily driver or as your secondary device.
Got to review the @Xiaomi_ZA Poco M3. A great-looking mid-range smartphone. Love that camera island and bold colours. 📱💥@FortressZAhttps://t.co/GHoSF9zZJn

— Evan (@evan_zar) October 16, 2021
The Review
Poco M3
The Poco M3 delivers quite an impressive lineup of features, while also performing them really well. It's more than capable of snappy multitasking while offering a good screen, decent performance and a great aesthetic.
PROS
Great-looking design
Impressive battery life
Stereo speaker configuration
CONS
Slow recharging process
No higher refresh rate
Camera quality is average
Review Breakdown
Ease of Learning

0%

Ease of Use

0%

Design

0%

Performance

0%

Enjoyment

0%

Value for Money

0%