The world of fitness tech has been largely dominated by news from the various high-end OEMs and their respective smartwatches. But premium fitness trackers are only the tip of the iceberg. There are far more mid-range and cost-effective trackers on the market, aiming to provide the basics with a few additional features to stand out from the rest. All of this is delivered at a price point many of us can afford. The Xiaomi Mi Smart Band 6 is one such fitness tracker.
The unit is rich with features, omitting only a few of the more premium features, such as built-in GPS, but still offers quite a lot to the end-user. All of this at a very respectable price point. With the brand still new to the fitness market in South Africa, there is understandably still a few sceptics on whether to trust it over other more engrained brands. I put it to the test.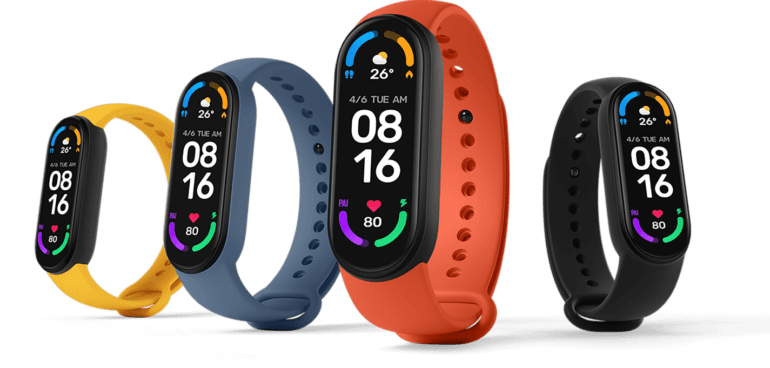 Build and Design
As the name suggests, this is the 6th iteration of the Mi Smart Band. Looking back at the range, it's nearly identical to its predecessor, the Mi Smart Band 5. There are quite a few additional features and underlying elements added since the previous model's release, but only subtle changes to the overall design.
The main component of the Mi Smart Band 6 is shaped like a large pill. The rounded top and bottom ends with their elongated and straight-edged sides give it this appearance. It's not the greatest looking screen I've seen but isn't over-the-top either. However, the elongated approach does have its benefits. I'll discuss more of that in the next section.
The strap has a TPU material with a rubberised finish. It features the standard secure fit, with the strap through a hoop on the opposite arm, which is then pinned into place by means of a few circular cut-outs. It clips quite securely into place and didn't come lose once during my review period, whether I was out for a run or playing football.
This basic approach to the strap makes it quite hard-wearing. Unlike other devices, which tend to loosen up slightly over time, the Mi Smart Band 6 always fit securely, even after some 20 days of continuous wear.
The default unit is available in a black colourway. But Xiaomi sells replacement straps in the form of a three-pack set, which is extremely affordable. These are available in black, orange and teal colours.
Screen and Display
Xiaomi has fitted a decent-sized screen to the Mi Smart Band 6. The 1.56" AMOLED screen features quite a bit more real estate than many other fitness trackers in its price range. Despite its obscure-looking approach to the screen, its 152x486px display is fully utilised.
As stated previously, the elongated appearance has its benefits. For many, the rounded top and bottom would mean less screen usage, with many brands using a rectangular screen, even on rounded designs. Xiaomi uses these edges brilliantly with its default layout. In addition, the bezels aren't as large, which means there's even more viewing real estate available.
The four sections of the rounded edges are used to display the progress of your steps, calories burned, PAI score and active minutes. In between these progress bars are the weather and heart icons, on the top and bottom respectively. This provides a quick view of the current weather as well as your heart rate. The centre is then left to display the time and date slightly above it. It works well.
The AMOLED screen is great. The blacks are completely darkened out, with the bright colours of the icons and text standing out even more as a result.
Not only does it look great, but it is also very responsive, too. There aren't any buttons surrounding the pill, so all the interactions with the Mi Smart Band 6 are via the screen itself. So, it had to get things right in this department, which it did.
Over and above all this, Xiaomi has added some shielding to the tempered glass. This layer provides anti-fingerprint protection. There are a few smudges that will appear over time but can't recall any leftover fingerprints while in use. This is a great touch, especially on a touchscreen unit with no buttons.
Setting Up the Mi Smart Band 6
For many smartwatches or fitness trackers, the inclusion of a button provides the default mechanism to power on or start interacting with it. That's not the case with the Xiaomi Mi Smart Band 6. Instead, it offers an always-on tracker. Although it does feel a bit out of place at first, it cuts out the process of having to turn on wait while using it for the first time.
Everything thereafter is fairly straightforward. As with most trackers, there is an accompanying app you'll be able to find on Google Play or App Store. Once downloaded, you can use it to pair with the device via Bluetooth. It's also a lot easier than many others, which often requires switching to the settings menu for pairing, while also needing to enter a code before this happens.
As a first-time user, once you've added all your details to the app and paired them to your tracker, you're pretty much good to go. It's a very efficient and easy process to follow.
Fitness and Health Features
There's a lot to love about the Mi Smart Band 6. It offers loads of features for fitness enthusiasts. This includes more than 30 different fitness modes to choose from when selecting your next workout. That's a very impressive lineup. This includes swimming, thanks to its water resistance rating of 5ATM.
Thankfully, you don't always have to run through the complete list of 30 workouts, as it keeps your most frequent and favourites near the top as it builds a profile of your preferences.
Other features to include in your day-to-day tracking includes the standards, such as heart-rate monitoring, calorie counting, tracking steps and distance and sleep. However, what's not standard on many affordable units is the SpO2 oxygen tracking, as well as stress monitoring. And for females, it also includes a menstrual cycle tracker via the app.
As mentioned earlier, it also keeps track of PAI or personal activity intelligence. This is an index calculated across multiple parameters, which includes each of the above-mentioned daily monitoring.
On the tracker itself, you'll have a small list of apps to choose from. This includes messaging, calendar, alarm, clock, stopwatch, timer, music controls, find your phone, unlock your phone (for MIUI devices), remote camera shutter and more. You can also personalise your goals and receive other app alerts and notifications on the device as well.
There are quite a lot more features and apps available on the Mi Smart Band 6 than I had originally anticipated. And they're not useless bloatware either. These are apps you may use daily, while also keeping you in touch with your phone without having to reach for it each time you receive an alert.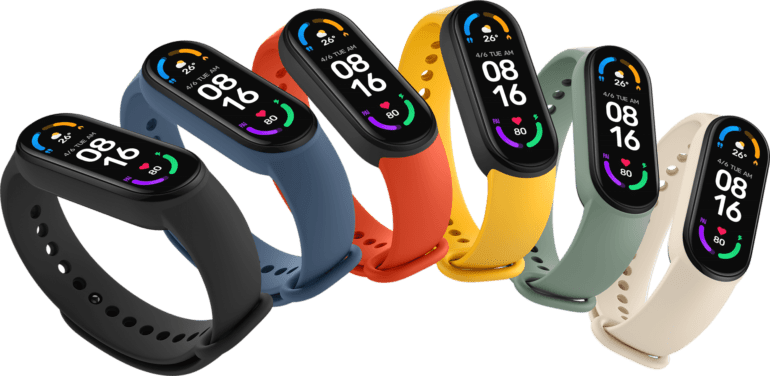 Performance and Battery
The performance of the Mi Smart Band 6 is just as good as the number of features it includes. They all work well, especially the automated features. It can accurately track when you're moving or running, as well as when you hit the hay and wake again in the morning.
I used the device in conjunction with my smartwatch during the first portion of the review period, concerned about whether it would accurately track each of my daily activities and measurements. I was more than surprised how accurate it was, sometimes better than the smartwatch.
When walking, it would measure steps equal to the count in my head, as well as the distance on the treadmill. However, it's slightly off when it comes to running, sometimes having a few too many steps (and distance as result), or too few. However, it wasn't too far off from the GPS-enabled smartwatch, which is great news.
Many of the features and automation are either turned off or on, depending on the type of tracking. For example, when performing any physical activity like running and the likes, the automated stop-start feature is on by default. This means that every time you stop or pause, the tracking also pauses. For some, this might be a useful feature, but when playing football, I kept getting the buzz on my wrist that the activity was paused, only to start again when I moved around in earnest again. This wasn't ideal, as I'm not moving 100% of the time when playing football.
When it comes to the battery life, the out-of-the-box settings are expected to reach up to 14 days on a single charge. However, when turning on all the additional tracking elements, such as continuous heart-rate monitoring, SpO2 and the likes, it drops to about half. However, a week's worth of charge is similar to many other fitness trackers, so it's not bad by any means. It is good knowing that you can reach the 14-day mark if you so wish, something that's not available on many of the other units.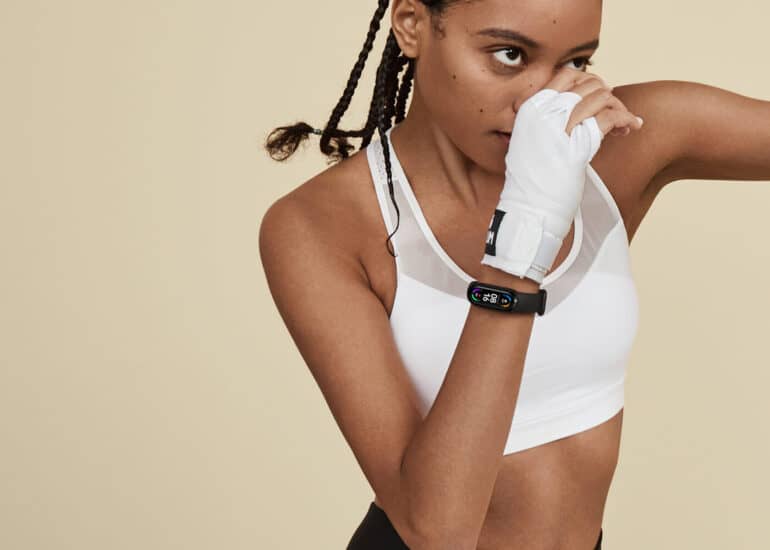 Should You Buy the Mi Smart Band 6?
When you compare to many of the other fitness trackers in its price range, the Xiaomi Mi Smart Band 6 easily stands out. In addition, when compared to mid-range units, it can more than punch above its weight class, oftentimes even higher. In all fairness, the only real omission here is a built-in GPS, but at this price point, it's hard to see that happening.
At a retail price of R699, the unit is very affordable. It's even more of a steal when you consider all the above-mentioned features and add-ons. If you're in the market for a new fitness tracker without a GPS and some other smart features, the Mi Smart Band 6 is a really great choice. The replacement straps are also inexpensive, retailing for R299 for a pack of three.
The Review
Mi Smart Band 6
Feature-rich and affordable. This is all you need to know about the Xiaomi Mi Smart Band 6. It offers great value as a fitness tracker, with plenty of features to keep track of all your daily activities and stats.
PROS
Plenty of features to keep track of your daily stats
Great price
Very good screen
Affordable straps
Decent battery life
CONS
Some lag between on-device apps
Takes some time to sync to Xiaomi Wear app
Review Breakdown
Ease of Learning

0%

Ease of Use

0%

Design

0%

Performance

0%

Enjoyment

0%

Value for Money

0%