Raiders of the Lost Ark is a classic action adventure film, and the film's hero – Indiana Jones – is one of the most iconic characters ever on screen. While he may be dashing and adventurous, it's his blundering and bad luck which charmed us because he comes across as a bit of a loser: if he's swinging on a rope, odds are that it'll be too short; put him in a gunfight and he'll have likely dropped his revolver by accident in the previous scene. He's a hard-luck hero, and even in this cynical era where social media reminds us that you could remove Indy from the entire plot of the film and things would still end the same way… well, it still hasn't changed our love of him and the films.
Well, three of the four films, anyway.
However, as rumours continue to do the rounds of a fifth film in the series being in the works, it's time to take a hard look at something: was Indiana Jones really as good as we thought, or was he just lucky?
A great example in Raiders was the scene when Indy's trying to evade the Nazis near the Well of Souls. He ducks in to a tent for cover, and discovers that it's where his romantic partner Marion is actually being held prisoner. So… there are hundreds of tents there that he could have hidden inside. But, of all the tents available, he just happens to go blundering in to that one where he finds a woman who he presumed was dead. That was a quite the coincidence, and the odds are astronomical. We can chalk it up to fate, the will of a higher power, or the lazy creative plotting of George Lucas and Steven Spielberg… but no matter what, it's pretty damn lucky.
For a guy who wins over the audience partly by being a hard-luck hero, Indy seems to have a lucky rabbit's foot jammed firmly up his archaeology degree – making his life seem even more like a rollercoaster of dismal lows being followed by insanely lucky highs, rather than the other way around. Here are some other examples of this from Raiders…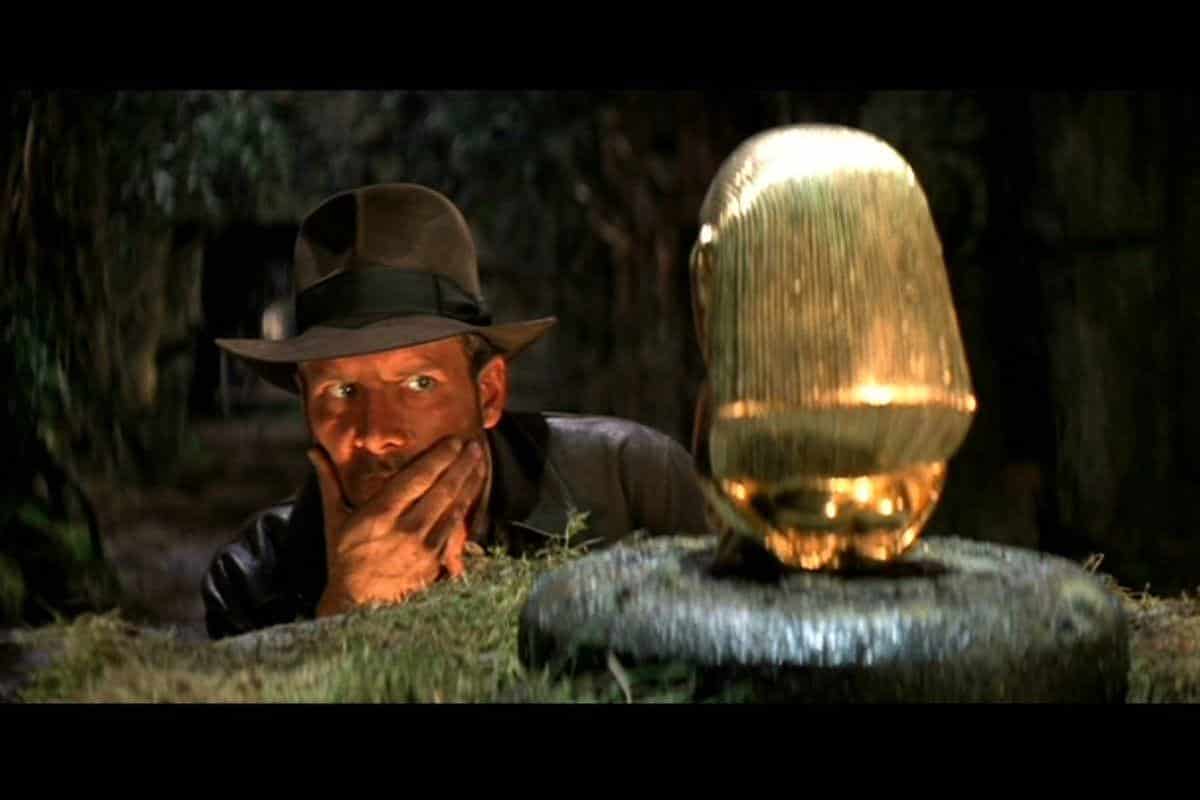 Bad luck?: The first time we catch up with our hero, his adventure has so many unfortunate events that you'd think it was Lemony Snicket. After miscalculating the weight of a golden FunkoPop, being double-crossed by his backstabbing guide (who he didn't actually need, since he led the expedition himself and did all the work), being trapped on the wrong side of a bottomless pit and then chased down by a massive boulder… he finally has to surrender his golden FunkoPop to "evil" rival archaeologist Belloq, who's backed up by a tribe of bloodthirsty locals.
Nope! Good luck!: Indy has no reason to complain. In a footrace against the locals, they're hot on his heels. But, astonishingly, as soon as he gets over the hill they all seem to develop a cramp because suddenly he's miles ahead of them! Also, all their years of spear-chucking and blowpipe practice are in vain because they have worse aim than a platoon of Stormtroopers. Oh, and upon returning back to the university where he works (and gets paid to travel the world for), it turns out that Indy can… just buy the golden FunkoPop back. Which, thinking about it, kind of seems simpler than all the effort he put in going tomb-raiding.
Bad luck?: In a sudden change of plans, Indiana Jones gets bossed around by the government and is forced to go on a mission to buy something new: the headpiece to the Staff of Ra, which is basically a mystical decoder wheel. It's a one-of-a-kind item, and the only thing on the planet that can help him in his quest to stop Hitler. To complicate matters further, it's currently in the possession of, uh, his ex-girlfriend who hates him so much that she punches him. Awkward. What's even more awkward are the details of why she hates him.
Nope! Good luck!: Regardless of their past, his ex-girlfriend Marion agrees to sell the headpiece to Indy. It's possibly because she's completely blitzed out of her head, having just been involved in a drinking game where she consumed countless shots of local booze. Or, alternatively, it's because she's now desperate for the money. That's because her bar, her business and her home have all now burned down, partly because of Indy – who helped start the fire in the first place, while trying to rescue her.
Bad luck?: So Indy is now forced to drag his ex along with him as his adventure continues. The problem is that those damn Nazis have made a copy of Marion's mystical decoder wheel, based on the imprint it left on the hand of sneaky bad guy Toht. In the race against evil, the Nazis have jumped in to the lead!
Nope! Good luck!: Aha! It turns out there were further instructions on the other side of the decoder wheel too, something the Nazis didn't know about! Even the, uh, brilliant archaeologist Indy didn't bother checking the medallion. Not only does it mean that Indy's actually ahead, but the Nazis have also wasted lots of time and effort looking in all the wrong places. Forget the race against evil, this has become more of a plodding jog against clueless morons. With all the answers handed to him easily, Indiana Jones gets to check out the Well of Souls and dig for the Ark at his own pace… although he doesn't do any of the actual digging work himself, because he just hires locals to do it all for him – and on Uncle Sam's dime, too!
Bad luck?: Throughout his travels in Egypt, there are Nazis everywhere. Spies are ratting him out, and to make matters worse he's adopted a monkey who's working for Hitler – based on the simian's evil salute, which proves once again that Planet of the Apes is a perfectly possible future and they're just waiting to take over. Indy's in a foreign land, totally outnumbered, outgunned and out-monkeyed. Plus, his delicious bowl of dates has been poisoned!
Nope! Good luck!: can you believe how lucky this guy is?! The evil monkey eats the lethal dates and dies instead, accidentally saving Indy! Doctor Jones's good luck doesn't end there, either: a boxing match against the toughest fighter the "master race" has to offer ends when the mechanic walks headfirst into a spinning aeroplane propeller; a top-secret Nazi island base turns out to be easier to break in to than a box of breakfast cereal; and, thanks to an endless supply of enemy soldiers, Indy's able to steal all their uniforms until he finds one which actually fits!
Bad luck?: No, not every fight is an easy one for Indiana Jones. In one of the most thrilling movie chase scenes ever, Indiana Jones hijacks a truck but gets shot in the arm. It gets worse when he takes a beating in the subsequent fight, gets punched on his gunshot wound, and is then thrown head-first through the truck's windshield. He tries holding onto the vehicle's grill, but it starts to fall apart in his hands. He's really suffering. Or… is he?
Nope! Good luck!: Unsurprisingly, he's okay! Despite all of his hardships, he slides underneath the truck and manages to latch his whip onto the undercarriage. After being dragged behind the truck, he comes back for round two of the fight with renewed energy. He dishes out some serious punishment, tossing his enemy out of the truck in the same way he was. But, because of Indy's lucky handiwork in dismantling all the parts of the truck that could save him, there's now next to nothing for this Nazi to hang on to. He drops, allowing Indy to drive over him and steal the truck like he's playing Grand Theft Auto. More astonishingly, given that Indy's "making it up" as he goes along, he still manages to park the truck in a prepared hideout that's been specially set up by locals who spontaneously disguise it as a market. To further confuse the Nazis, the locals attempt to sell them watermelons. And we know how Nazis hate watermelons.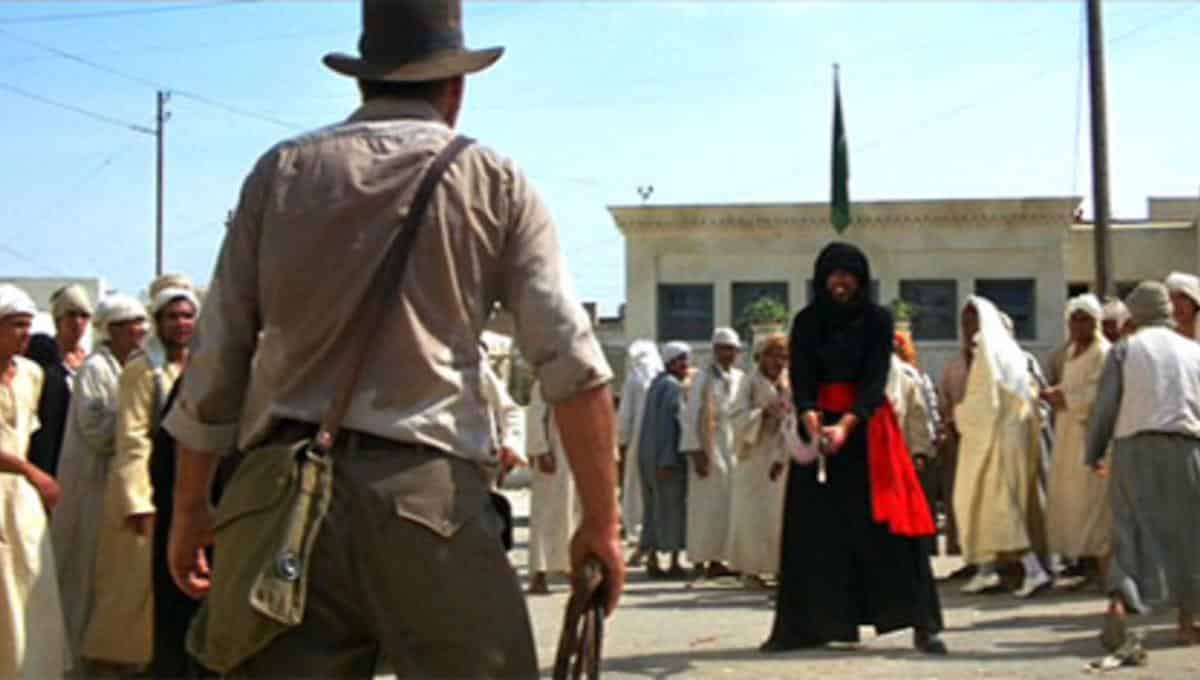 Raiders of the Lost Ark is, at the end of the day, just a fun romp and it's impossible to not get a kick out of the adventures of Indiana Jones. It is a modern classic (or, depending on your age, just a regular classic), but like all the best films it doesn't feel like a classic because as movies go it's actually timeless. Yes, the story is far-fetched, and it's true that the outcome would have been the same even if Indy hadn't been there, but it all still works and there's no reason to overanalyze it.
Yes, Indiana Jones is more lucky than good at his job; it's the same plot-driving luck that most big screen action heroes have, from James Bond to Harry Potter. There's nothing wrong with that, because that's how films work. They suspend disbelief and we can still love our movie heroes regardless. Indy's been ridiculously lucky over the years. It's just a shame that it took him surviving a nuclear blast in a fridge for some fans to declare him as being too lucky.