Shared cinematic universes are all the buzz in Hollywood. Everything needs to be connected. But you know what else is fun? Unexpected similarities between characters that appear to be polar opposites, such as Mary Poppins, Monsters, Inc., Pennywise the Dancing Clown from Stephen King's It.
According to Reddit user u/HumanoidMold5, Mary Poppins and Pennywise are part of the same species and adhere to Monsters, Inc.'s rules. Say what now? Let's unpack this wild fan theory a little further…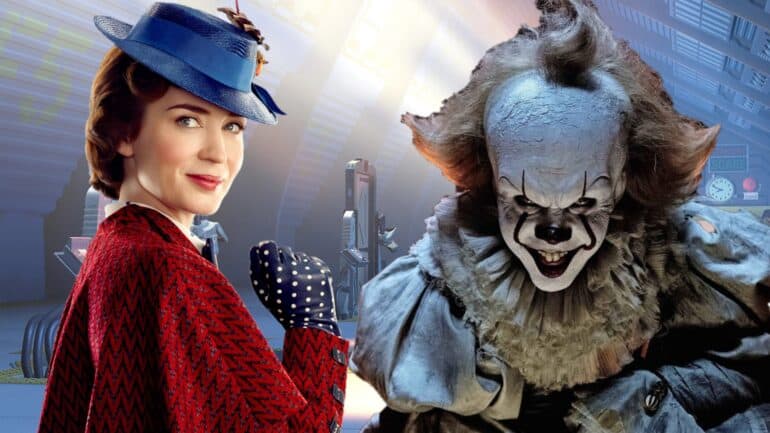 How Pennywise and Mary Poppins are too similar
Both Pennywise and Mary Poppins reappear after twentysomething years. In both cases, they return to the people from their last visit—in Pennywise's case, it's the Losers, while Poppins heads back to the Banks family. Both also target their respective Georgie to separate them from their siblings; however, Poppins' plan is far less nefarious than Pennywise's.
At the same time, Poppins' powers are forgotten by the Banks' children, while the Losers have put Pennywise out of their minds. So it makes sense that both the clown and nanny would need to suck some energy out of these people to regenerate their powers and be back at full strength. More importantly, why are both sets of parents so oblivious to what is happening to their children?
Where Monsters, Inc. plays a part
There is a major difference between Mary Poppins and Pennywise, though. While the dancing clown relies on fear to feed his power, Poppins uses their joy and imagination. And as we learnt in Monsters, Inc., harvesting children's laughter is 10 times more powerful than their fear.
Again, this is the reason that Mary Poppins is still alive and Pennywise turned into a giant fried egg. She understood where the real energy was and harvested it to make herself even more powerful, while Pennywise never discovered the secret.
The plausibility of this theory being true
Yeah, it's next to none. Plus, do you think that Disney would want to associate one of its most cherished properties with arguably one of the scariest horror stories of all time? Still, it's pretty fun to think about how Pennywise and Mary Poppins are essentially two energy sapping monsters, with only one of them figuring out the secrets of Monsters, Inc.
Tell us, what do you think of this weird connection between Mary Poppins, Pennywise, and Monsters, Inc.?