When you think of groups, there aren't many that are more solid than the Teenage Mutant Ninja Turtles. Those turtle boys are more than capable of laying the beatdown on Shredder or Krang on their lonesome and without the need for assistance. However, that doesn't mean that a TMNT crossover is completely out of the question.
The most famous TMNT crossover
Undoubtedly, one of the most recent (and arguably most famous) TMNT crossover featured Batman. Raphael, Michelangelo, Leonardo, and Donatello have teamed up with the Caped Crusader (and Robin) several times in the comics already, and even had their own animated team-up film and toy line. Needless to say, the fans have loved the pair-up here.
Though, this isn't the only mainstream crossover that the boys in green have been involved in. In the comics, they've partnered with the Ghostbusters in a four-issue series to save Casey Jones from Chi-You. Then, in the TV world, there was an epic TMNT and Power Rangers encounter that's become one of geekdom's most fond memories. Yet, there's still one more crossover that might top them all…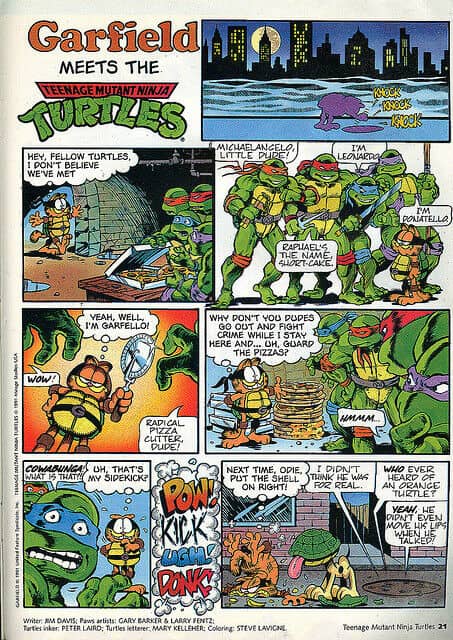 Meet Garfello
Garfield is famous for three things: eating, sleeping, and doing the bare minimum in life. The orange cat is undoubtedly a role model for all of us, but there was a time when he left his comfort zone for a good reason: Garfield decided that he fancied some pizza over lasagne.
So, what did he do? The Teenage Mutant Ninja Pussycat disguised himself as the fifth turtle, Garfello, went into the sewers, and tried to con the Turtles into giving up some of their pie. Of course when Odie shows up, hijinks ensued.
This furry crossover took place in the 1992 winter edition of TMNT Magazine in a one-page story titled "Garfield Meets the Teenage Mutant Ninja Turtles. Yet, it isn't the only team-up they've been involved in since then…
Garfield and TMNT's latest crossover
Nickelodeon All-Star Brawl is exactly like Super Smash Bros. but with Nickelodeon characters. While Garfield wasn't included in the launch of the game, he has been added as a new playable character recently. So that means you can have the orange cat facing off against Leo, Mikey, or even April O'Neil in combat. Maybe it's time that Garfello finally gets revenge for not getting a slice of pizza in the past?
Tell us, which is your favourite TMNT crossover and why? Let us know in the comments section.