While streaming services and major film studios are trying to discover innovative ways to get people to part with their money, director Brandon Slagle already has the surefire winning formula: Release a movie about alligators terrorising and hunting humans. The Flood stars Casper Van Dien, Nicky Whelan, and Louis Mandylor, but no one is here for the characters they portray – as this is all about those hungry alligators whose favourite song is undoubtedly Drowning Pool's "Bodies."
RELATED: What Is The Best-Reviewed Movie In Rotten Tomatoes History?
A hurricane sweeps across Louisiana and results in the city being flooded. As the water level rises, a congregation of alligators infests a local police station. It also so happens that this station is housing in-transit prisoners and guards as they wait for the nasty storm to pass over. Expectedly, when humans are meant to band together to stay alive, they do the opposite as the alligators find themselves with tons of snacks on offer.
Leave your brain at the door
Reminiscent of Lake Placid or Anaconda, The Flood is a low-budget monster movie that's all about man versus beast. There isn't an intricate subliminal message or deeper subject matter in Chad Law and Josh Ridgway's script; this is a straight-up survival film that's meant to be more entertaining than thought-provoking. It works, too, as Slagle has everyone on board with his vision here. The actors lean into their archetypal roles and ham it up when absolutely necessary, and there will be more than a few characters everyone will hope the alligators sink their teeth into.
As the leads, Van Dien and Whelan receive the bulk of the screen time here and more development of their character arcs. Van Dien's Cody is the typical prisoner-with-a-heart-of-gold trope – the person who has been locked up but has a justifiable motive for it. Whelan leans into her role as Sheriff Newman who is underestimated by the misogynistic prisoners, but she delivers beatdowns that will instil respect in them.
RELATED: Kizazi Moto: Generation Fire Review
Again, none of this is Oscar-worthy acting or storytelling that will revolutionise the genre. That being said, it's unlikely the audience tunes in to see how the human characters develop in a monster movie. Instead, they want to witness how many of these suckers will be chomped.
The Flood thrills more than scares
Let's talk about the alligators here for a second since they are obviously CGI. (Honestly, did anyone expect any union to sign off on having real-life alligators chasing humans on set?) The creature designs aren't about to win any award for outstanding CGI, so it's a good thing that Slagle decides to use them sparingly throughout the film. By taking this approach, it actually intensifies the thrilling factor of The Flood, as any sudden ripple in the water riles up the audience and makes everyone sit up in anticipation.
This isn't a scary movie that will have people shrieking in horror. The gore is restrained and the jump scares are minimal, as it becomes more about the humans trying to find a way to escape from a confined situation. The setup is simple: The sandbox is the flooded building they are in, so they can try to move to another room, but due to the environmental conditions, the alligators will always have the advantage. The only way out is to get to dry, higher ground where alligators can't reach them.
RELATED: Secret Invasion Review
Grab the popcorn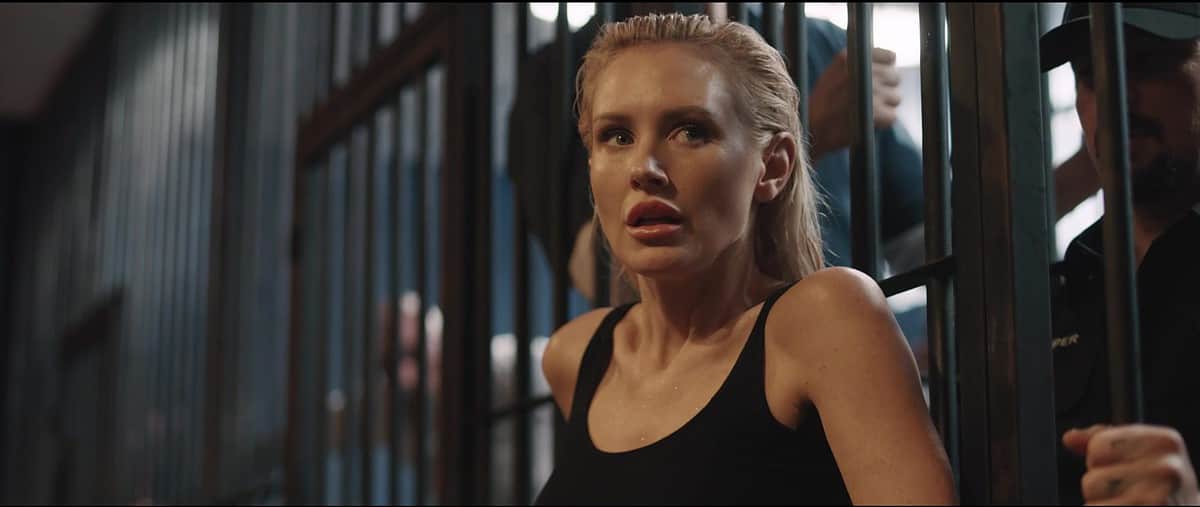 Look, no one should walk into The Flood expecting much more than what's on display. The film is more than honest about what it is about. With that in mind, it's a fun movie to kill time. Don't be surprised if it kicks off a plethora of sequels that eventually culminate with Lake Placid and The Flood vs. Anaconda and Python. Hopefully, at some point, someone sends these alligators into space, too.
The Flood will be available in select theatres, on demand, and digital on July 14.