You either love it or hate it: there's seemingly no middle ground when it comes to Luc Besson's unfortunately misunderstood sci-fi classic, The Fifth Element. The story of Korben Dallas (Bruce Willis) and Leeloo (Milla Jovovich) polarized critics upon release, with some calling it one of the greatest sci-fi flicks ever made, while others saw in the movie one of the cheesiest pieces in Besson's career.
Even if the movie is undeniably cheesy in some parts, there's no denying that it subverted many of the genre's conventions at the time, offering a fresh take on sci-fi that is still influential to this day. Whether you love it or hate it, The Fifth Element saw what sci-fi was becoming in the 90s and decided to run in the opposite direction – and that alone deserves some praise.
The 90s were a hectic time for sci-fi flicks. The decade started off strong with Paul Verhoeven's Total Recall, but some "questionable" blunders like Waterworld and Timecop soured the public's perception of sci-fi. Fortunately, 1997 was a fantastic year for the genre, thanks to the stellar success of both Men in Black and The Fifth Element.
While Men in Black felt more like a classic buddy cop flick with sci-fi elements thrown in to the mix, The Fifth Element was more like a modern space opera – with a dramatic story that audiences didn't quite know how to read.
Unlike many sci-fi films, The Fifth Element is not an adaptation of a novel or short story, but rather an entirely original story written by Besson. This might be the reason why the movie works so well in a vacuum, not needing any additional content to fully grasp the story or the mythos of the universe presented in the film.
Futuristic Looks
Another area where the movie distances itself from its contemporary peers was the idea it had of what a futuristic society might look like. The story of The Fifth Element takes place in the year 2263 – and you can tell that Besson was a visionary just by the overall look of the characters and their clothing.
Some other films of the movie's time (like The Bicentennial Man) imagined the future as a sterile place where white and silver colours prevailed. Besson went for the cyberpunk route instead, but New York in The Fifth Element has a unique "lived-in" look that makes the futuristic metropolis look like a real future city.
Sure, some genre clichés like flying cars and conspicuously absent mobile phones can be seen in the film, but the technology has a carefully-crafted look that sets it apart from the gadgets we see in nearly every sci-fi film. Let's not forget that this movie came out a couple of years before The Phantom Menace, and it wouldn't be surprising to hear that Besson's warm vision of the future partially inspired the design team of the upcoming Star Wars movie.
When it comes to the look of the characters, there's something uniquely magical about this movie that's never been replicated in any sci-fi movie since. Chris Tucker's outlandish garments aside, Gary Oldman is unrecognizable in his role as Jean-Baptiste Emanuel Zorg, not to mention Milla Jovovich's iconic white strap costume.
Though the plot of The Fifth Element might be one of its weakest elements, the sheer amount of creativity on display here is enough to recommend a watch to any sci-fi fan, if just for the incredible special effects alone. This is a refreshingly original flick that isn't afraid of trying new – and sometimes unconventional – things, and that's just the idea upon which the first sci-fi movies were made.
Original Fifth Element Concept Art Reveals Prince As Ruby Rhod
A fashion exhibit by Jean Paul Gaultier revealed The Fifth Element costume concept art that Prince (who was originally supposed to play Ruby Rhod) thought was "too effeminate". But wait, there is actually a funny story behind it all.
That's right, Prince was supposed to play the character Chris Tucker played, Ruby Rhod, in the 1997 mega sci-fi blockbuster, The 5th Element. Unfortunately, it wasn't meant to be. A busy schedule and complaints about the wardrobe kept the Purple Rain star from starring in the role. Jean Paul Gaultier explains…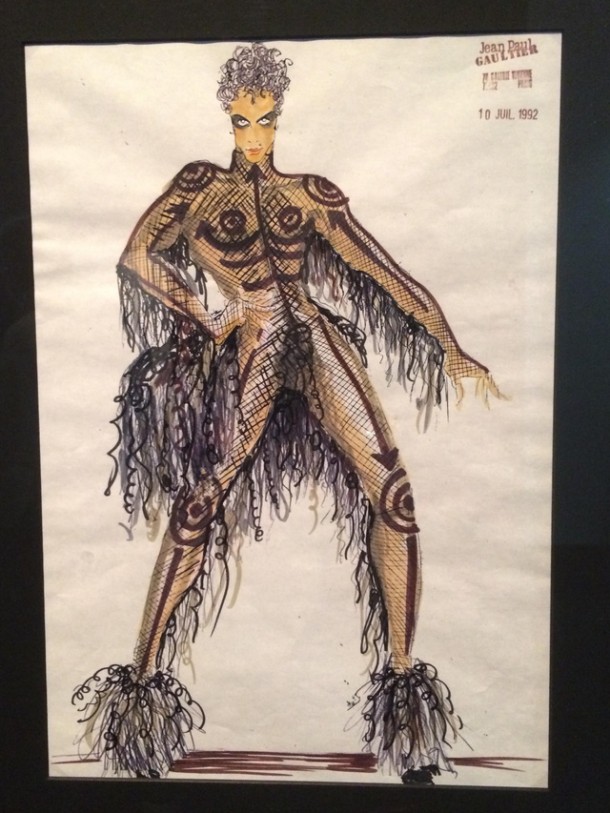 One of the thousand costumes in The Fifth Element, I took my inspiration for many of them from my own collections. Filming was originally planned for 1992, with Julia Roberts, Mel Gibson and Prince in the leading roles but due to a lack of financing the project was put on hold. At that time, the role of Ruby Rhod, the outrageous media personality finally played by Chris Tucker, had been given to Prince.

When the singer was giving a series of concerts in Paris, Luc Besson wanted us both to meet with him to show him my sketches. Prince had already attended my runway shows, but he came and went very quickly every time, so we had never been formally introduced. While I was waiting for Luc in his office, I saw this huge bodyguard appear, with Prince trailing behind him. As Luc hasn't yet arrived, I thought he must have wanted me to meet with Prince alone, so we could get to know each other a little bit. In broken English, and with my strong French accent, I tried my best to make conversation, something like "Hell-O Prin-ze, welcome to Par-isse! So for ze role I sink…"

I showed him my drawings, but he didn't say a word. I had had an idea for a really funny costume with netting which quite long body hair would pass through, and I had done front and back versions of it. So then I explained to Prince: "Eet eel fake 'air, you know, and eet eel beaucoup, beaucoup, airy, vraiment fun, and ze back is made of sat, and on ze back were eez ze faux cul, you know, a very big faux cul." and I slapped my buttocks to show him how the back of the costume would be designed.

Still not saying anything, Prince gave me this Charlie Chaplin kind of look. I could see that something had just happened, but I didn't know what, only that he had indicated to his body guard that he wanted to leave right then and there. I thought he was going to go and see Luc. Later, Luc told me that Prince had been very surprised and amused — by my presentation, but that he found the costumes a bit too effeminate. And, most importantly, he had thought he head "F**k you, f**k you!" when I was saying in my terrible English accent "faux cul, faux cul" [fake ass]!

—Jean Paul Gaultier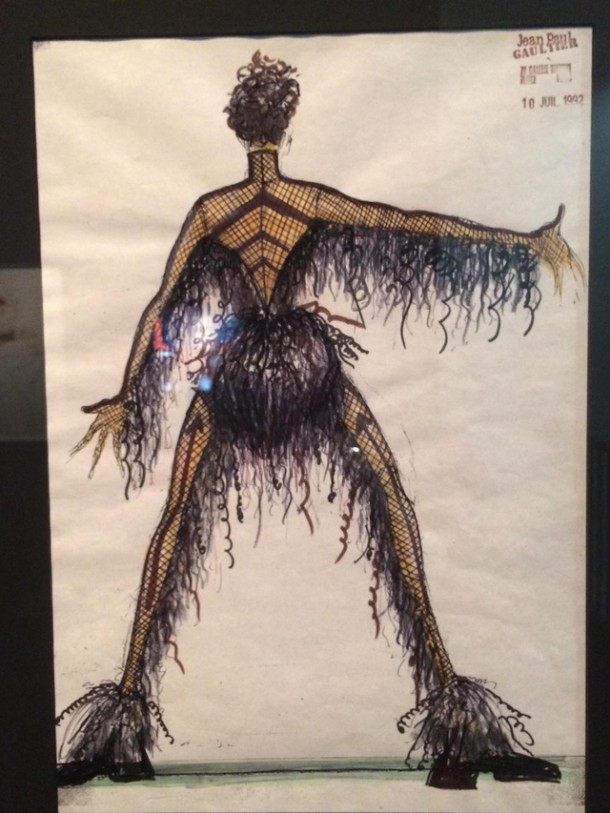 Prince by @JPGaultier. He was supposed to play Ruby in the 5th Element…but couldn't find dates during his tour…? pic.twitter.com/xNEBX7KKTq

— Luc Besson (@lucbesson) April 23, 2016
Milla Jovovich Says The Fifth Element Should've Had a Sequel
Could The Fifth Element sequel still be a possibility? Someone needs to call Luc Besson.
Actress Milla Jovovich has become an action icon, having starred in notable films such as The Fifth Element and the Resident Evil series. Now, she's ready to lead a new franchise as Captain Natalie Artemis in Monster Hunter.
In the lead-up to the film's global release, Jovovich and director Paul W. S. Anderson appeared at a virtual press junket to discuss their brand-new film, as well as their past projects. When asked which film or character she would've loved to revisit, Jovovich didn't miss a beat in her response.
"I always thought The Fifth Element should've had a sequel," she said. "It was such a fun and revolutionary movie for its time. And Leeloo is just such a great character – and it's too bad that we were unable to see her further adventures."
While director Luc Besson has said he will never make a sequel to 1997's The Fifth Element, fans around the world remain hopeful that we'll eventually see another adventure with Leeloo and Korben Dallas.
Tell us, would you like to see The Fifth Element get a sequel and for Milla Jovovich to return?