OBEY. CONSUME. BUY. SLEEP. CONFORM. WATCH TELEVISION. SUBMIT. Yes, it's time to put away your sherbet dib-dabs and face the facts. You're nothing but a brainwashed wage-slave who's doing the bidding of a fascist regime of upper-crust formaldehyde-faced aliens, and the world is a real-life black-and-white sci-fi B-movie from the 1950s. So how do you solve that problem?
Wear your sunglasses. All the damn time.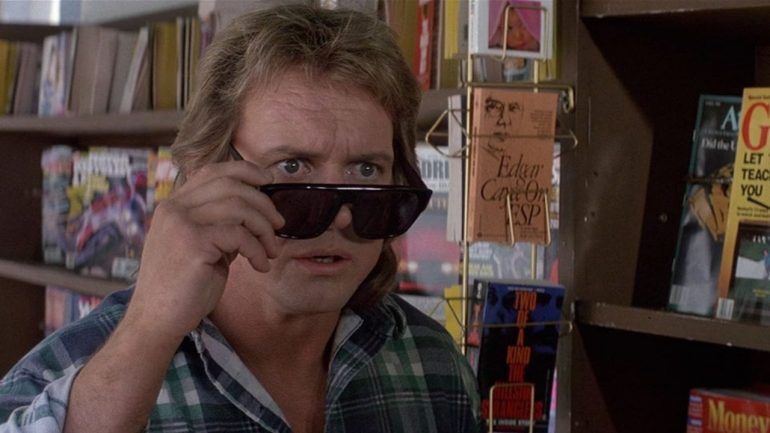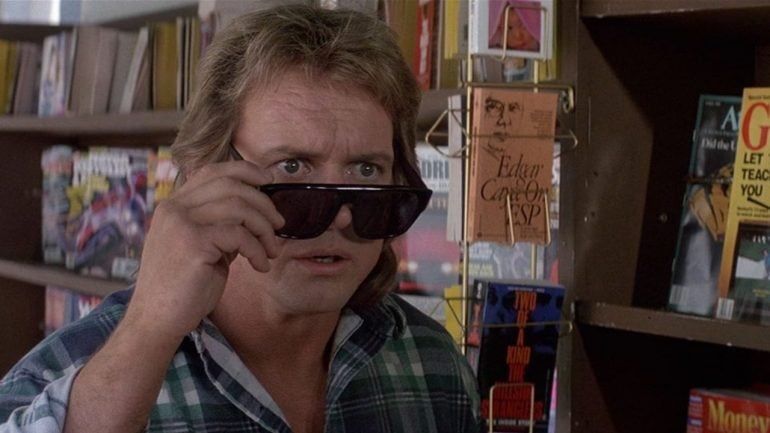 When it comes to generally overlooked and unappreciated movies, most of John Carpenter's films fit the bill. Big Trouble In Little China wasn't really all that great, but who can deny the coolness of Kurt Russell in it? Christine was one of the best adaptations of a Stephen King book, but these days everyone wants IT instead. The Thing set the standard for horror paranoia, and Halloween perfected the slasher film, but Alien's xenomorph, Freddy Krueger and Jason Voorhees are all more famous. And then there's They Live.
It's the 1980s, and as always the rich are getting richer while the middle and lower class do all the work. One such hard-working guy is a drifter who… well, for the sake of argument, let's call him John Nada. He's a down-on-his-luck drifter who's just started work at a construction site, which is near a mysterious church. When John investigates, he learns that the church is just a cover. For what? It's kind of hard to tell, but they sure do make a lot of sunglasses. John takes a pair, and when he tries them on he learns the truth:
The world as we know it is a lie.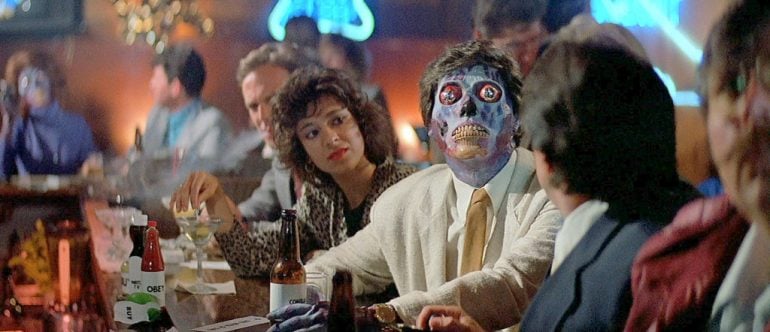 Those rich, upper-class snobs are our alien overlords, and everything around us is plastered with subliminal messages designed to make us conform, obey, and be happy with the status quo. They're using us to gain wealth, power, sex, and are even responsible for global warming! John instantly gets spotted by the authorities as a troublemaker and goes on the run. After "convincing" his friend Frank that he isn't crazy, the two meet up with the underground resistance who plan to knock out the aliens' camouflage shielding and expose them for who they really are. But can a brainwashed humanity really fight back against such odds?
Now, I'd be crazy if I said that there weren't problems with this film. John Nada, not that he's ever actually called that in the film, is played by the late, great, totally mental wrestler "Rowdy" Roddy Piper. It's a fantastic casting choice because, like Kurt Russell, in some of Carpenter's other films, he's not quite the stereotypical action hero you'd expect to see. But as great a choice as he is though, sadly he wasn't that great an actor. Also, the premise is brilliant and at times it features excellent writing and some classic set-pieces… however, the film also drags in all the wrong places. There are too many scenes which get away from the best aspect of the film, which is seeing the world through John's newly-opened eyes.
Those problems aside, it's a genuine cult classic.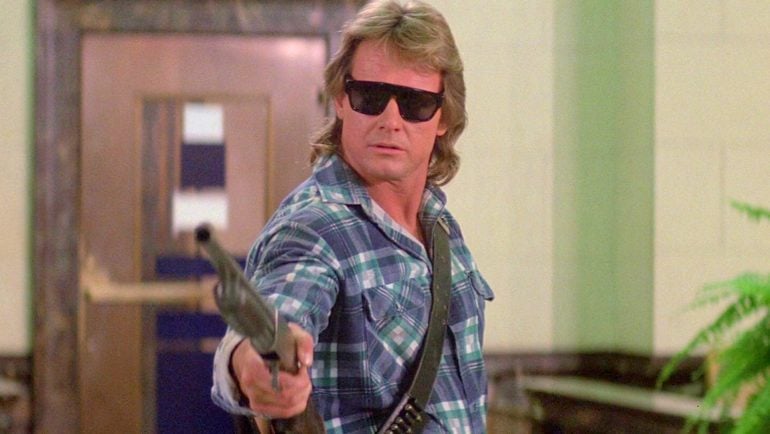 The concept alone is brilliant and works just as well now as it did then, if not even more so. The film has a message about the global culture of greed and consumerism, cleverly disguised by a massive layer of satire. Obviously the rich and powerful are evil aliens; they're as distant from the working class as you can get! Why else would the world be as screwed-up as it is? The casting is unusual, but it makes sense and it also sets a trend for having a sidekick who's really an equal. It's a low-budget film that at times looks like a made-for-TV movie and it's thirty years old, but who cares? It does the job, and you wouldn't expect a film as deliberately anti-establishment as this to be anything else. And then, of course, there's the alleyway fight scene.
If you ask any fan of this film what they remember, they'll tell you about obeying in a world of black-and-white, bubble gum and kicking ass, and… the alleyway fight scene which seems to last forever. It's the simplest scene, where all John has to do is convince Frank to put on a pair of sunglasses. In execution, it's hilarious. A pointless fight breaks out between the two, who brawl away for no real reason for the better part of six minutes. Is it just to pad out the running time of the movie? Who cares?! It's violent, funny, and completely entertaining!
It's really hard to describe They Live as a classic by traditional standards, but by cult film standards it truly is. Like with so many of Carpenter's films, its influence is everywhere even if you don't realise it, and while it may not have been a box office hit at the time it's still a damn good movie and any fan will wish there were more of it. Personally, I'm not a fan of remakes and reboots, but I could stand to see an updated version of this, maybe featuring current totally mental wrestler Dean Ambrose in the lead role. That's because the original film had so much potential and it would be good to see it fulfilled.
As it is, nothing like that seems to be on the cards, but I'm still okay with that – and so are They Live's many fans, I expect. It's a bitter slice of snarky anti-consumerism in a world of product placement… and it's delicious. If you must consume, consume this.