We've seen horror films featuring everything from possessed dolls to haunted videotapes, now Shudder is introducing us to a new kind of terror – a pair of killer jeans that is definitely to die for! The streaming service has released a gory trailer for the horror/comedy Slaxx, and it's unquestionably a must-see!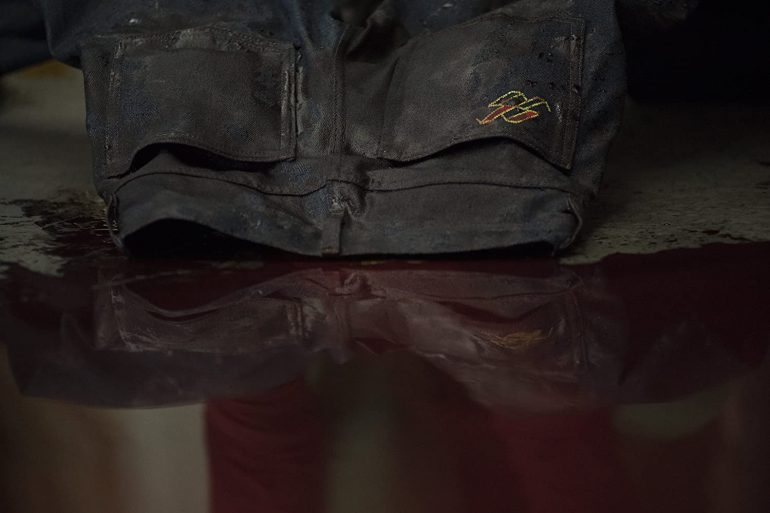 What is Slaxx about?
Slaxx is a Canadian film about a possessed pair of jeans that is brought to life to punish the unscrupulous practices of a trendy clothing company. When the much-coveted pants starts killing off staff from the company's flagship store, it is up to the stores newly hired salesclerk, Libby (Romane Denis), to stop its bloody killing spree.
I know what you're thinking, how can a movie about a murderous pair of pants on a deadly rampage be any good?
Well, if the trailer is anything to go by, the film is sure to be packed full of gory goodness and cheesy humour (like a killer dance sequence from the films bloodthirsty denim menace) – and what more could you really ask for in an '80s inspired slasher movie?
If you don't believe me just watch the preview for Slaxx and see for yourself.
How scary can a horror film about pants be?
The outrageous horror film, which hails from the producers of the '80s-inspired superhero comedy Turbo Kid, proved to be a fan favourite at last year's Fantasia Film Festival and even managed to tie for the Audience Award for Best Canadian Feature.
It is the third feature film from Canadian filmmaker Elza Kephart (Go in the Wilderness) and stars Romane Denis (Slut in a Good Way), Brett Donahue (Total Recall), Sehar Bhojani (The Handmaid's Tale), Stephen Bogaert (IT), Kenny Wong (Transplant), Tianna Nori (My Roommate's an Escort), and Hanneke Talbot (Rabid).
Slaxx will premiere on the Shudder streaming service come March 18th (the same day Zack Snyder's Justice League will be released) giving viewers another film to look forward to for the month of March.
What are your thoughts on the trailer for the crazy horror film Slaxx? Are you hoping to watch the horror film about a pair of scary pants once it is released?