There are quite a few actors who look alike. Can you tell them apart?
It's no secret that the entertainment business has a certain standard when it comes to the looks of its celebrities. However, weird things can happen when these doppelgängers get just a bit too similar. No, you're not seeing double: these actors really look like mirror images of themselves.
In this list, we'll examine some of the most uncanny resemblances out there as we take a look at actors who totally look alike.
1. Katy Perry and Zooey Deschanel
Let's begin our list with one of the most incredible cases of a doppelgänger in the entertainment industry. Actress Zooey Deschanel is well-known for her recurring roles as a manic pixie dream girl, but she also bears a striking resemblance to the popular singer, Katy Perry. These are two actors who definitely look alike.
With the same eyes and hair colour, it's almost impossible to tell each other apart. That said, don't tell Deschanel about the similarities, as she seems to be annoyed by the constant comparisons between the two. The thing is, it's difficult not to point out the obvious when two people look this much alike.
2. Susan Sarandon and Sigourney Weaver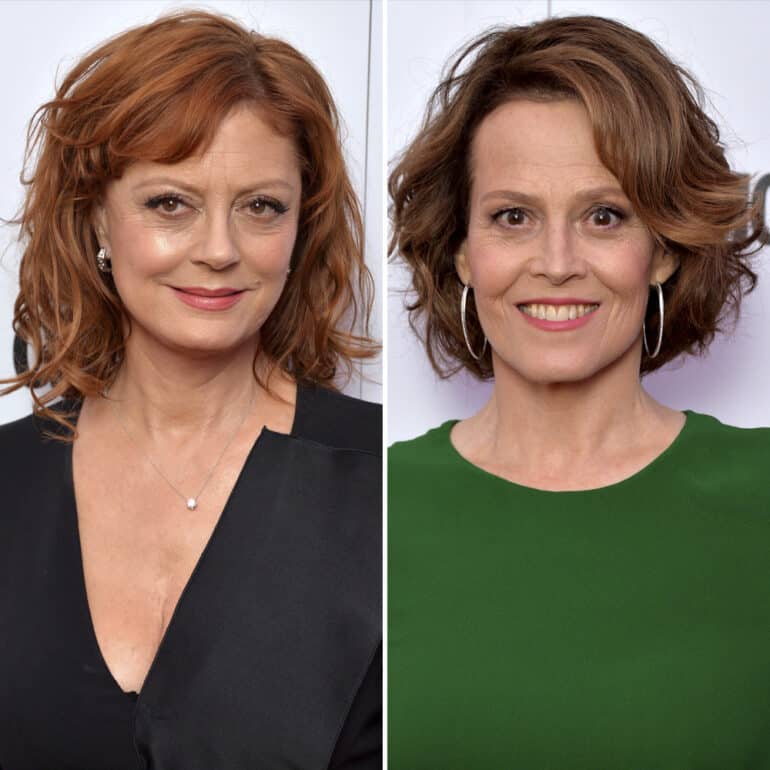 Sigourney Weaver is better known for her butt-kicking roles in the Alien franchise, while Susan Sarandon leans more on the dramatic side of Hollywood. The physical similarities between the two actresses are stunning, starting with how similar their hair and their faces look.
The pair admits that they get mixed up a lot, especially by fans. Sarandon jokingly said that Weaver has signed autographs with her name on multiple occasions, just as she has taken some credit for Aliens. The lookalike spell is broken once you see the actors side by side, however, as Weaver is significantly taller than Sarandon.
3. Gerard Butler and Clive Owen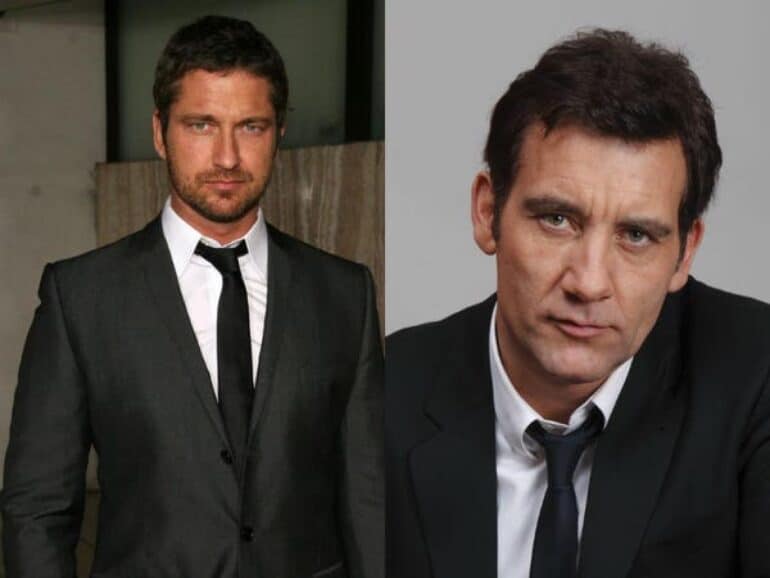 Back when Clive Owen was younger, audiences everywhere used to think that he was the star of the epic 300. However, Gerard Butler was the one who played King Leonidas in that film, but you'd be forgiven for getting them mixed up. Both actors look alike and could even be mistaken for brothers – and the slight 5 year age gap between them further cements any comparison.
There are, however, some clear differences that will help you tell each other apart. For one, Butler is Scottish, while Owen is English. The other difference is that Owen is now delving deeper into action territory, while Butler now seems more focused on romantic movies.
4. Alan Cumming and Paul Reubens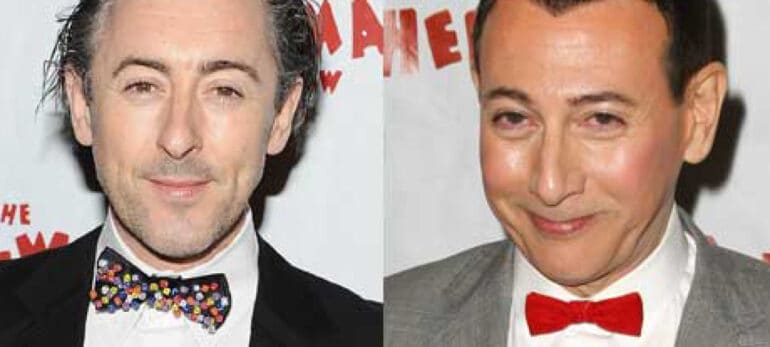 You might remember Paul Reubens from his Pee-Wee Herman character. Alan Cumming, on the other hand, might be better remembered for his drama roles and the TV show, The Good Wife. If you're somewhat younger, however, you might remember Cumming as the Spy Kids villain, Fegan Floop. These are two actors who definitely look alike.
Cumming and Reubens share a striking similarity, and their past playing characters from kids' films makes them even more similar. Maybe Robert Rodriguez would be interested in making a film with both actors involved?
5. Jason Bateman and Jerry O'Connell
In another case of "actors who could totally pass as brothers," Jason Bateman and Jerry O'Connell are dead ringers for each other. The eyebrows, skin tone, and even their hairline look incredibly similar, and that's something that both actors have noticed in the past.
Reportedly, O'Connell loves being mistaken as Bateman, and the two text each other every time someone mistakes them. While Bateman is known for comedic and serious roles like Game Night and Ozark, O'Connell might be best remembered for his role as Vern Tessio in Stand By Me, or for the confusing action-comedy, Kangaroo Jack. He also got his genitals eaten by piranhas in Piranha 3D, so there's that.
6. Isla Fisher and Amy Adams
Another duo of actresses that look just like they could be sisters are Isla Fisher and Amy Adams. The Australian Fisher is best known for her work in romantic comedies like The Wedding Crashers and Confessions of a Shopaholic. Adams, on the other hand, had her breakout role in Disney's Enchanted but has since moved on to more dramatic projects like Arrival.
The similarity between Fisher and Adams is so strong, that Fisher reportedly changed her face for Adams' for a Christmas card, and not one of her family members noticed. Now that is a lookalike.
7. Mark Wahlberg and Matt Damon
Two beefy action heroes, even if one of them delves into comedy more often than not. Mark Wahlberg and Matt Damon often get confused due to her early roles in action flicks, even if their careers look somewhat different now.
During the Transformers' heyday, Damon said that he got confused with Wahlberg nearly every day. It got so bad that he ended up signing autographs as Wahlberg. The physical similarities have dissipated a bit in recent years, but looking at both actors side by side in the mid-2000s is like looking at twins. These are two actors who definitely look alike.
8. Salma Hayek and Penelope Cruz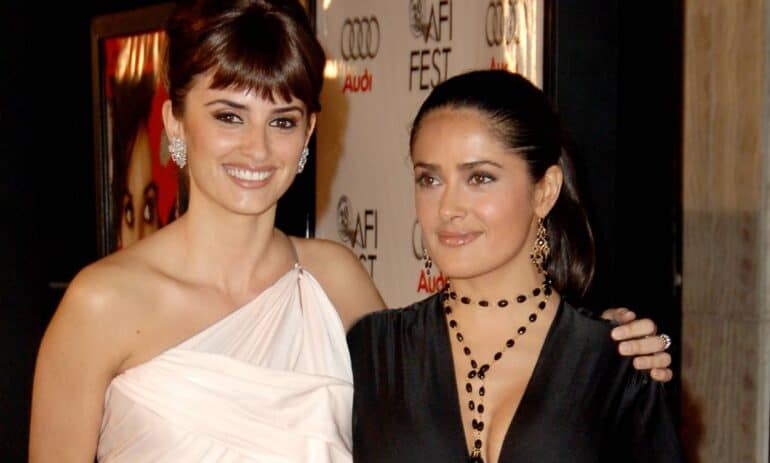 Penelope Cruz and Salma Hayek don't just look eerily similar, they are very close friends in real life. Cruz is a Spanish actress, known for her roles in films like Vanilla Sky and Vicky Cristina Barcelona. Hayek is Mexican-American and is remembered for Robert Rodriguez's Desperado and Frida.
Don't feel too guilty if you mix up the two actresses: the official Academy Awards Instagram did just that in 2014. Looking at the selfies Hayek and Cruz have taken together, one can't help but think that they must be related somehow.
9. Jesse Eisenberg and Andy Samberg (and Michael Cera)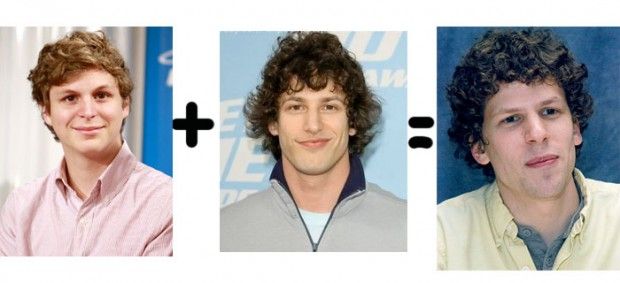 Now, here's a triple treat of celebrities who look like each other. There's an online joke about Andy Samberg being the evolved form of Jesse Eisenberg and Michael Cera, and the similarities are absolutely clear. The curly hair and the pronounced noses look extremely similar in all three actors, especially when Eisenberg and Samberg were younger.
Conversely, Michael Cera has said that he also gets confused with another curly-haired actor: Jon Heder, who you might remember as Napoleon Dynamite. How deep does this curly-haired rabbit hole go?
10. Jessica Chastain and Bryce Dallas Howard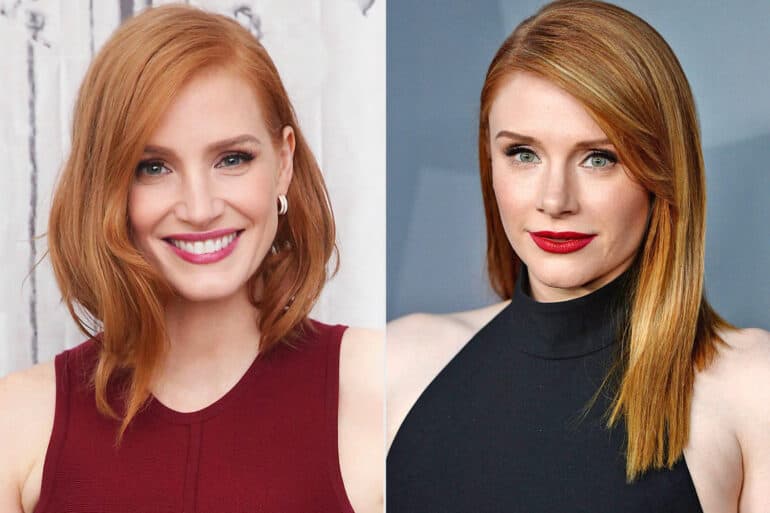 A running joke between the two red-haired actresses is how fans seem to never be able to tell them apart. Jessica Chastain, who's an accomplished drama actress, often gets mistaken for Bryce Dallas Howard, who's better known for her acting in Jurassic World and for her directorial work in shows like The Mandalorian.
Howard has taken to Twitter numerous times, giving tips on how to tell her and Chastain apart. Their gorgeous red locks might be the reason why they get confused so often.
11. Dax Shepard and Zach Braff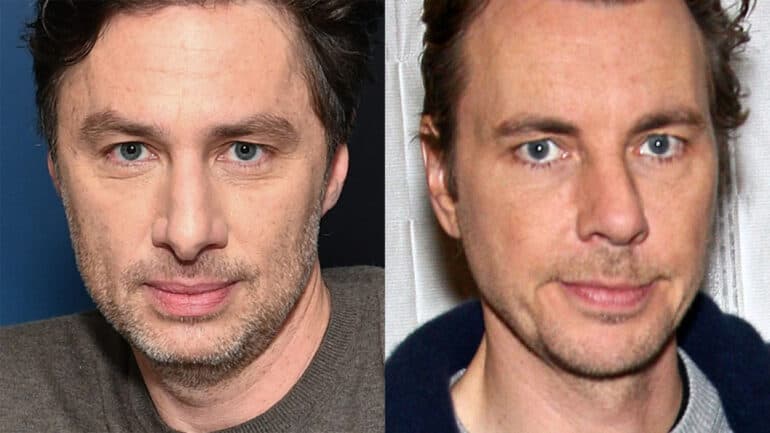 Wait, they're not the same person? There's "looking similar" and there's "downright identical." Dax Shepard and Zach Braff fall into the latter category. Even AI seems to have some issues telling them apart, as Braff has told in interviews that an app on his phone had him confused with Shepard.
Even more impressive is that Shepard's wife, actress Kristen Bell, took a face-swapped photo of the two actors. The result is uncannily similar to how they look in real life. Maybe they are the same person after all.
Did we get it wrong? Which actors do you think look alike?
Also read: