If you're in the market for a new TV, there's quite a lot to consider. This is especially true if you own or plan on owning a next-generation console. The LG NanoCell AI ThinQ 55 Nano86 is a definite option. The Nano86 Series range isn't OLED, but the next best thing. With 4K, HDR and WebOS Smart AI ThinQ, is it worth replacing your current 4K TV?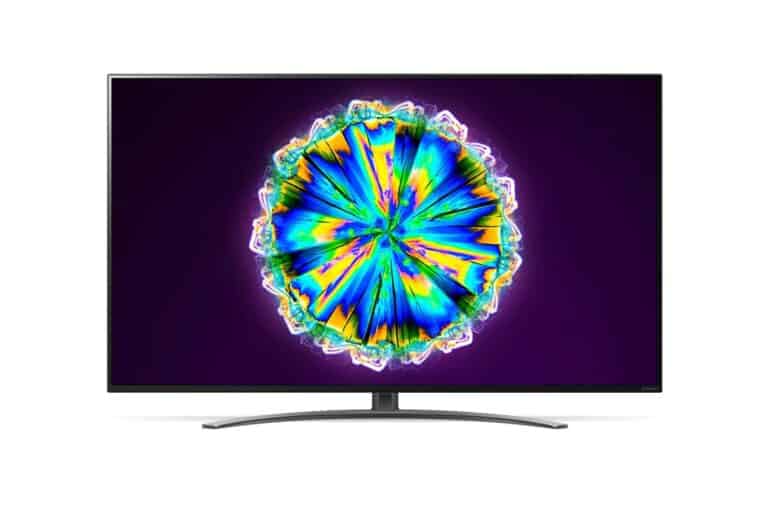 Background
Unlike smartphones, TVs don't get as much publicity in the media in terms of releases, despite receiving updates every year or two for a particular range. With users only replacing their TVs once every four to five years, it's easy to become overwhelmed with new offerings available. With new technologies that many people still don't know about or don't understand, buying a TV can be somewhat of a daunting process, especially given the costs when choosing between features you need and features you want.
What you need to know about the LG NanoCell AI ThinQ 55 Nano86 is that it's an LED panel, which features 4K resolution, with HDR, AMD FreeSyncTM, NanoCell technology and Dolby ATMOS, built upon LG's webOS Smart TV operating system.
With this range, LG aims to provide performances as close as possible to its OLED range, without feeling the dent in your wallet.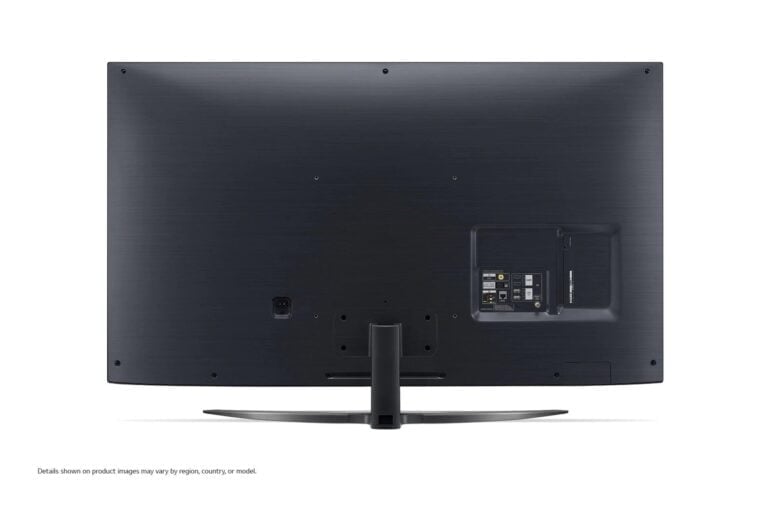 LG NanoCell AI ThinQ 55 Nano86 Build and Design
Unlike most modern TVs that are encased in a mix of various types of plastic, the LG does things a bit different with the LG NanoCell AI ThinQ 55 Nano86. Instead, it has a mix of metals and very little plastic.
The edges are almost frameless, which is made of plastic and finished with a silver coating. The rear, on the other hand, has a thin metallic cover, which also includes the VESA wall mount. It's an oddity that the plastic looks metal and the metal looks plastic on the TV.
The stand, too, is made of plastic. Unlike the previous model with two feet connected at either end of the TV, on the LG NanoCell AI ThinQ 55 Nano86 it has a single neck that screws into the centre underneath the unit. This, then, splits into two sections to provide the balance for the stand.
Compared to many other TVs I've reviewed, the stand is very stable. There is some flex and wobble, which is to be expected to prevent it falling over when a stand is bumped. It doesn't lean forward or backwards, which is all you need.
When it comes to the other contents in the box, you have a remote, some batteries for it, a cable management strap, a composite breakout adapter and some documentation. This is pretty much the standard in terms of contents for modern TVs.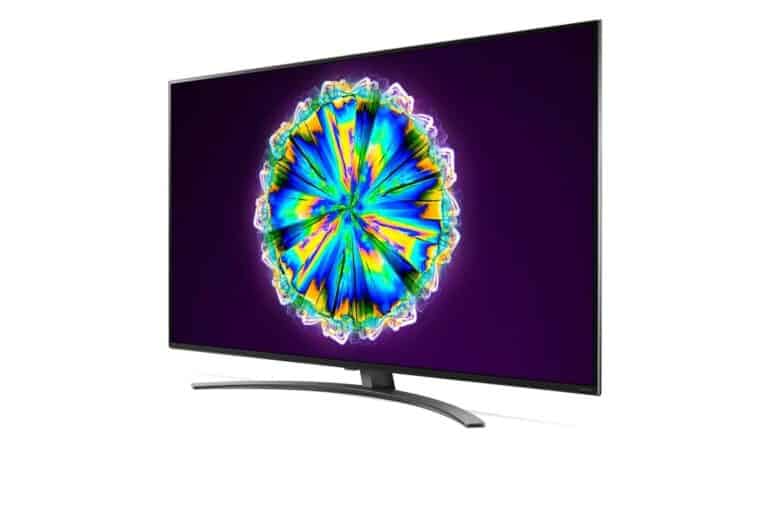 Screen and Display
When it comes to the screen, the LG NanoCell AI ThinQ 55 Nano86 has an IPS panel. More specifically, it includes LG's 4K NanoCell technology. LG states that the technology will produce bright colours by filtering out the dull colours, which enhances the purity of the RGB spectrum.
In terms of the stats from the RGB spectrum, the panel has close to 90% colour gamut for the DCI P3 colour space. This is quite impressive for an LED IPS panel. However, on the Rec. 2020 colour space, it averages around the 65% mark, which is still fairly decent.
What this means, in reality, is that the colour reproduction across the spectrum of colours is quite high. The colours look good to the naked eye as well. With its HDR support, it offers great reproduction of scenes with light. However, using the default settings with HDR makes it seem a bit dim. Turning up the Dynamic Contrast, Brightness and adjusting the Contrast can easily fix this. There are quite a few options to customise your experience.
Where the IPS panel takes strain the most is its local dimming. What this means is that if you have an entirely black background and have a small section of the screen in white, you'll notice quite a significantly large area that also lights up somewhat, removing the supposed black background. This is where OLED really stands out over other, more conventional, TVs.
The unit we received for review had a 55" panel. However, the range also offers 49″, 65″ and 75″ models as well.
LG NanoCell AI ThinQ 55 Nano86 Features
When it comes to smart TVs, the OS is always a mixed bag of results. They're often clunky, have limited apps, half of which don't work, and have a really poor interface. On the LG NanoCell AI ThinQ 55 Nano86, however, that's not the case at all.
LG's WebOS has been around for years (now webOS 5.0) and is one of the most refined native experiences on a TV. The OS is built around the LG Content Store. The ecosystem is rich, offering your essential apps, such as DStv Now, Showmax, Apple TV, YouTube, Netflix, Prime Video and much more.
The experience, however, is streamlined all thanks to its Magic Remote Control. This is where the LG user interface shines. The remote can be used as a standard interface, or to control the cursor on the screen. The cursor mode takes some getting used to if it's the first time in use. Having used it before, it wasn't an issue, so asked a few others to test it out to understand the learning curve. It takes two to three tries across some five minutes and you should be good to go.
The cursor mode from the remote speeds up typing by quite some margin. It can take less than 10s to type a search term versus a few minutes on a standard remote. This is especially true when typing in special characters for your passwords and the likes.
In addition to the cursor, the Magic Remote Control also has a built-in microphone. Here users can send commands to the TV to play movies or series, as well as open apps, or enter search terms without the need to type it. At the start, it seemed a bit wonky. This was probably due to my accent or surrounding noise. Eventually, however, the process seemed a lot smoother to operate, without having to repeat myself often.
Another of the features, now commonplace for Smart TVs, is the cast option. Some TVs, however, are very limited in what they can cast. On the LG NanoCell AI ThinQ 55 Nano86 it can receive wireless broadcast across a vast array of smartphones. This includes Android for Chromecast, iOS for AirPlay, and even other options such as Samsung's SmartView.
And if you're looking for assistants, you can choose between Amazon's Alexa and Google Assistant. This allows you to check the weather, set automated tasks, ask it to perform a function and much more. Unfortunately, I wasn't able to test whether it integrates to other connected devices via these two assistants. The TV, however, does offer LG's ThinQ ecosystem, which has an interface on all your connected smart appliances. You can check your WiFi connectivity, devices connected and much more, all from just one screen.
In terms of other connectivity options, the LG NanoCell AI ThinQ 55 Nano86 has x4 HDMI ports, eARC, x3 USB ports, Bluetooth 5.0, Ethernet, as well as Simplelink.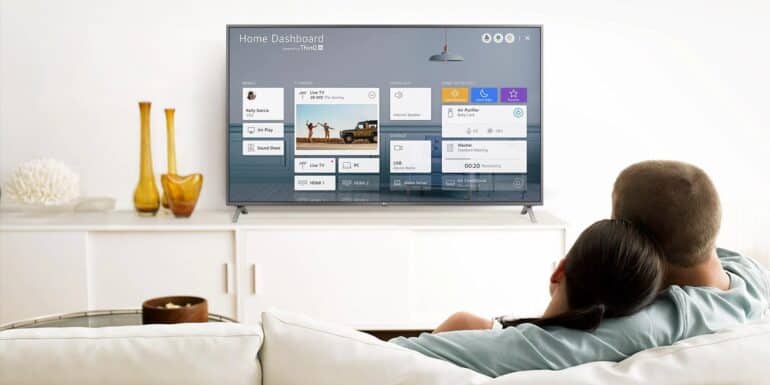 Performance
There's a lot of viewing options when it comes to the LG NanoCell AI ThinQ 55 Nano86. It offers various picture modes, including Vivid, Sports, HDR Effect and Expert. In addition to this, there's a host of other settings to balance out the colours, brightness and contrast to your liking. It may take a while, but it's very flexible in this regard.
LG offers its TruMotion technology on its Smart TVs. The idea is to smooth the motion of objects between frames. This is done via the α7 Gen3 Processor 4K processor in the background. For the most part, it works well. This is especially useful in movies and action series. However, it doesn't fair as well when watching sports, especially football. You'll notice the smooth effect on the ball, but creates a ghosting effect. You can simply toggle this off when you don't need it via the settings menu.
On the plus side, viewing angles and reflection is great on the TV. This means that users can sit around the TV at angles while still being able to see the full picture without the colours or image distorting. In terms of the reflection of light, the panel did a really good job of absorbing this outside influence, so you won't easily have any glare back at you for whatever reason.
The TV features 4K upscaling support within its AI algorithms. It will upscale images from 480p and up, and does a really good job of it. Scaling from 480p is what it is. That said, you won't notice any heavy pixilation that you'd expect from an image that's enlarged more than 4x in length and width.
Playing native 4K content is where it's at though. With HDR support, it does a great job of creating a more balanced image. It looks even better when the source also supports HDR, like the Xbox Series X. This makes gaming an absolute pleasure.
Under the features section, I mentioned the Simplelink technology. As a summary, it allows users to control devices connected via HDMI with the remote. This works well and natively connects to the Xbox Series X quite easily. This means you can use the remote on the Xbox UI, which is much easier at times than using the Xbox Wireless Controller. Unfortunately, the Magic Remote Control options aren't available here. This integration would have been great, making for a truly complete experience across the board.
Conclusion
The LG NanoCell AI ThinQ 55 Nano86 is a really solid Smart TV. It may not be the quality of the OLED experience, but it's an improvement on many other IPS panels gone before. At about half the price of OLED TVs, it's a great alternative for those on a budget.
LG has included plenty of features and settings to explore for maximum performance and is a must for anyone looking to get the most out of their next-generation consoles short of buying an OLED TV.
The Review
LG NanoCell AI ThinQ 55 Nano86
The LG NanoCell AI ThinQ 55 Nano86 is a great smart TV, with great value for users on a budget and not able to fork out on an OLED TV. With plenty of features and settings to explore for maximum performance, it is a great option for anyone looking to get the most out of their next-generation consoles.
PROS
Closer to OLED experience
Colour space accuracy
Viewing angles and light reflection
Response times
Affordable
CONS
HDR isn't bright enough by default
Local dimming
Review Breakdown
Ease of Learning

0%

Ease of Use

0%

Design

0%

Performance

0%

Enjoyment

0%

Value for Money

0%