If fans have their way, Short Circuit's inquisitive robot, Johnny 5, could be getting his own motorised LEGO set. "Number 5 is alive!"
If you grew up in the '80s, you would probably be familiar with the quirky robot from the Short Circuit movies. A military robot designed to infiltrate behind enemy lines, Number 5 was struck by lightning which short-circuited him and changed him from a death-dealing military machine to a quirky lovable robot, Johnny 5.
The film, which was released way back in 1986, follows the machine on his adventures as he tries to learn more about humanity. As with all '80s films, hilarity ensures and Johnny makes a whole slew of new friends. The movie also stars actor Steve Guttenberg as the scientist who built the futuristic robots.
Thanks to RJ BrickBulds, we might soon see Johnny 5 in LEGO form. The LEGO-based replica uses a LEGO motorised drivetrain so that LEGO Number 5 can move his arms, head and laser. As an added bonus, Johnny can also move his eyebrows, similar to how the movie version could, allowing for some interesting expressions.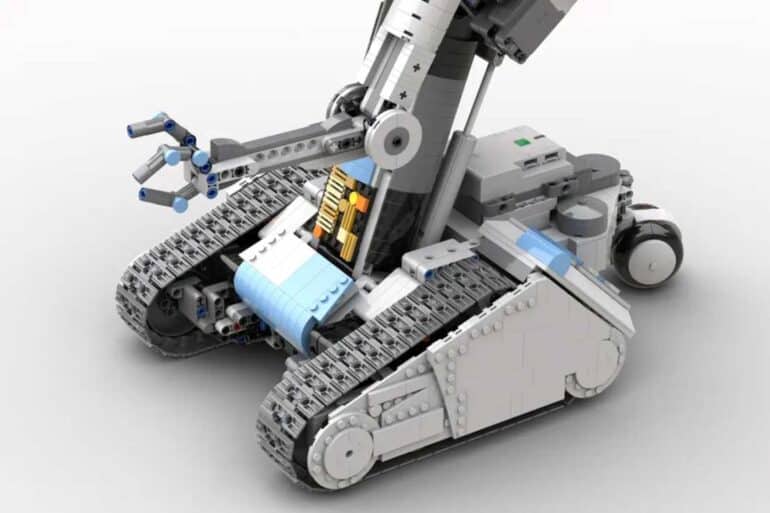 This is quite a big set as the LEGO-based replica model consists of 2711 LEGO pieces and stands around 23 inches tall.
The Short Circuit Johnny 5 model was submitted via the LEGO ideas platform and aims to get 10 000 votes, which would see it possibly becoming a full production set. So far the model has received quite a lot of votes and is well on its way to reaching its goal, having already received a third of the votes needed.
If you'd like to help make LEGO Johnny Number 5 a reality, then you can vote for the set via the LEGO Ideas website.