The smartphone industry is constantly evolving. The flagship smartphones continue to push the boundaries of what's possible with the pocket-sized computer. However, another great aspect of technology continuing to move forward is that it becomes slightly cheaper to produce technologies that have been around for some time. And that's what makes mid-range smartphones so appealing. Honor is a brand that fits the bill for entry-level and mid-range smartphones. With its new Honor X9a smartphone, it packs quite a bit of advanced hardware for a solid price.
RELATED: Honor 10 Lite Review – The Rise Of The Midrange Smartphone
For those catching up on the tech news, Honor was formerly a brand within Huawei's stables. In 2020, Honor officially split from the group and launched its first non-Huawei smartphones at the start of 2021. This has had a positive effect overall, having formed its fledgling concepts under the Huawei umbrella, producing great products for the lower end of the market, as well as also allowing it to continue its use of Google Play Services, as it doesn't fall under the same US ban.
Build and Design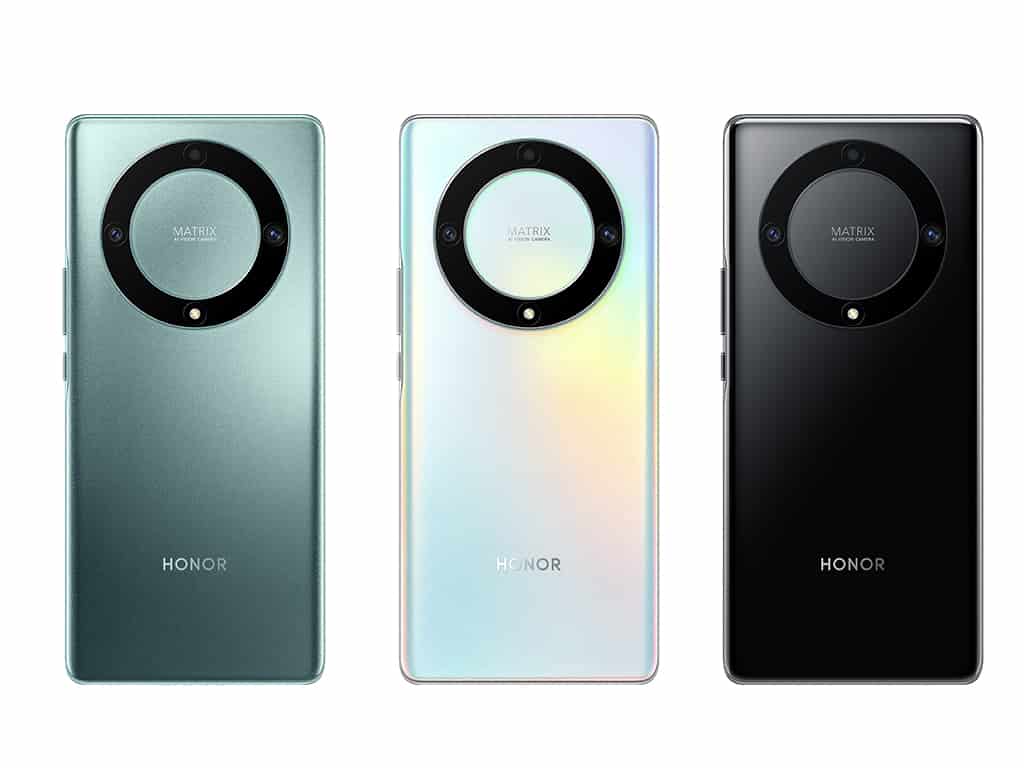 Almost immediately after lifting the unit out from its packaging, you'll appreciate its design. Its slim finish is matched by its lightweight build. The Honor X9a has an aesthetic that closely resembles that of the Samsung Galaxy S6 with its edged screen and rear cover. However, there is quite a marked improvement, as it feels much more premium and robust. Not bad for a mid-range smartphone.
No doubt, the biggest talking point on the Honor X9a's design is the large, circular island for the camera lenses on the rear. The tri-lens camera is positioned symmetrically in 12, 3, 6 and 9 if you think of a clock face. The fourth slot features the flashlight, which completes the symmetrical finish.
The smartphone is available in three colours. This includes Titanium Silver, Emerald Green and Midnight Black. These are fairly standard colour choices among modern smartphones, so nothing really stands out here in that regard. That said, the finishes are still beautifully crafted, with a sheen on the rear meant to sparkle.
RELATED: Rumours About the iPhone 15 Pro Max's New Features
Screen and Display
The screen adds to the design of the Honor X9a. On the outside, it looks great with a glossy finish. It also utilises similar glass protection to Huawei's new Kunlun finish, so you know it's as good as some of the top smartphones in the industry. This is an extremely important aspect given its curved-edge screen. Users will have peace of mind knowing it won't easily crack if it falls on the floor, especially on its side.
In terms of the specifications, it has a decent AMOLED panel. It may not be the top tier among modern smartphones, but with a decent 800 nits brightness, it doesn't embarrass itself.
Furthermore, it features a 1,080×2,400px resolution display. When matched with its 6.67" size screen, it gives it a 395ppi pixel density. Anything above the 400ppi mark would be great, so the Honor X9a is not too far off.
Another nice-to-have is its 120Hz panel. The high refresh rate is up there with leading smartphones and adds to your general use and gaming experience.
Lastly, it has an 89.9% screen-to-body ratio. This, too, is up there with flagship smartphones. Keeping the bezels down reduces the overall size needed, making it comfortable in hand.
RELATED: Samsung Galaxy S23 Range Launches in South Africa
Performance and Battery
The Honor X9a is powered by the Qualcomm SM6375 Snapdragon 695 5G processor. The SoC also features the Adreno 619 as a pairing. This midrange chipset was released some 18 months ago, so has been around for some time. It still offers 5G support, which is great but isn't the most powerful. It gets the job done quite well with little to no lag experienced, even with multitasking activities.
One of the discussion points on the Honor X9a is that it features the older Android 12 OS. The brand has stated that it would update to Android 13 OS in the year, which may still make it two iterations behind, with Android 14 OS scheduled for release in H2. That said, its Magic UI 6.1 isn't a bad interface. It's sleek and relatively lightweight for ease of use. And it doesn't hurt to have access to Google Play Services.
In terms of the battery, it features a Li-Po 5100mAh, non-removable unit. As with many modern phones, depending on your usage, you could eke out up to 40 hours of life from a single charge. Even if you're a power user, you can breeze through an entire day without worrying about reaching for your charger.
Honor X9a Camera
The camera on the Honor X9a features a triple-lens approach. This includes the following:
64MP, f/1.8, (wide), PDAF
5MP, f/2.2, (ultrawide)
2MP, f/2.4, (macro)
For the most part, you'll be stuck on using the main 64MP camera. There isn't much flexibility in switching between lenses unless you're using the macro-photo option or the ultrawide shots. Unlike many other modern cameras, there's no mix or fusion between the lenses to create better images overall. It's a basic setup but does well enough in bright light.
Switching to night mode poses a few challenges. The first of these is that it takes quite a long time to render, which means you'll need to keep the device quite steady to capture the best image. It does, however, result in a few grainy images every so often, but for the most part, is decent enough.
Things get worse when switching to the ultrawide lens, which offers a less powerful 5MP option. Again, things are relatively okay under good lighting conditions but get quite a lot worse under low light conditions attempting to take ultrawide photos. Not really the greatest.
Macro photography is also a nice-to-have addition. That said, it also only has a 2MP lens. Overall, the images taken are quite nice. However, it's not great for creating prints or other artwork and is mainly for your personal use.
RELATED: ​The 11 Best TVs To Buy In 2023
Is the Honor X9a Worth It?
As a mid-range smartphone, the Honor X9a is great. It has features that can easily put up a fight with some of the leading flagship smartphones on the market today. However, in some aspects, it does opt for more mid-range hardware in order to keep the overall costs down.
That said, with a mix of top-tier specifications and cost-reduction on others, it packs quite the punch against other devices in its category. It's a beautifully crafted chassis, like the smartphones of yesterday but a lot sleeker.
Pricing varies between retailers and device models. However, with prices starting at R7,999, it is quite an affordable option for any potential buyer.
The Review
Honor X9a
The Honor X9a is a great mid-range smartphone at a great price. While not all hardware is top-tier, there are many aspects that match flagship smartphones. It's a really good option for anyone on a budget.
PROS
Good design and build
120Hz screen
Long-lasting battery life
Great pricing
CONS
Mediocre camera
Older version of Android
Review Breakdown
Ease of Learning

0%

Ease of Use

0%

Design

0%

Performance

0%

Enjoyment

0%

Value for Money

0%