While the martial arts series Wu Assassins wasn't given a second season on Netflix, it has returned in the form of a film, Fistful of Vengeance: directed by Dutch action aficionado Roel Reiné. But is it a worthwhile follow-up or a final nail in this story's coffin?
Do you need to watch Wu Assassins before Fistful of Vengeance?
The fact that Wu Assassins wasn't renewed on Netflix tells you that it failed to hit the streaming service's secretive benchmark. No one knows what the measuring stick for success is there, but it's clear that John Wirth and Tony Krantz's 10-episode season struggled to reach the numbers of The Witcher and Stranger Things. Still, it must've done something right if Netflix was willing to part with money to create a follow-up movie. The question is, do you need to watch the series before the film?
The answer is no. Speaking to MovieWeb about Fistful of Vengeance, Lawrence Kao, who plays Tommy Wah, said, "[It] is sort of like a standalone movie. You don't necessarily have to watch the first season to understand what's going on." This is accurate. While prior knowledge of the show helps to understand some of the emotional setups, it isn't crucial as the film gives you a quick rundown of where the story is at in the opening scene.
So, what is Fistful of Vengeance about?
Set in Bangkok, Thailand, Kai Jin (Iko Uwais), Lu Xin Lee (Lewis Tan), and Tommy (Kao) are out to avenge the death of Tommy's sister, Jenny—an event from Wu Assassins. In their quest for vengeance, however, they discover something bigger—something that threatens the fate of the entire world. New characters, such as Pearl Thusi's Zama and Francesca Corney's Preeya, add to the assortment of mystique and mayhem, as they help Kai, Lu Xin, and Tommy to save the world.
But is it good?
While it's clear that Fistful of Vengeance tried to stand on its own without too much reliance on the audience having seen Wu Assassins, it does feel slightly different from the show. For one, it doesn't rely as heavily on mysticism and lore like the series did, choosing to be more straightforward action with basic elements of fantasy sprinkled throughout. Also, it moves at a breakneck speed, with almost no time for you to capture your breath in between fight scenes.
That said, Fistful of Vengeance focuses on what it should: the breath-taking, heart-bursting-out-the-chest action. If you're a fan of The Raid or The Night Comes for Us, you're in for the best time you can have without lube as this film puts the pedal to the metal here. While Uwais and Tan are at the centre of every single fight, delivering inventive fight sequences that'll have you roundhouse kicking your couch in delight, the supporting cast like Kao, Corney, and Thusi step up in a huge way. Thusi's gun-fu style looks like it could've been pulled straight out of John Wick as she certainly makes a claim to being cast in future action flicks.
The stunt and action choreography teams deserve major credit here, as their work elevates what would've been a simple story to a must-see action spectacle. There's one particular scene where everyone is fighting at different locations in a building and it's showcased in a single shot in perfect harmony, leaving you wondering why big blockbusters with massive budgets rely so heavily on shaky cam for action scenes. (Looking at you, Snake Eyes…)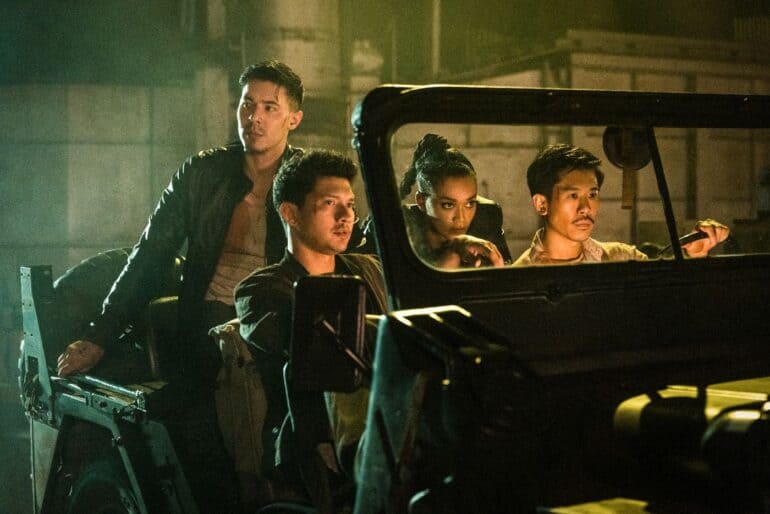 Will there be more Wu Assassins in the future?
After watching Fistful of Vengeance, you can't help but wonder if there will be more Wu Assassins stories in the future. A return to the series format seems unlikely, but this movie model could be something for Netflix to explore. As the action genre makes a comeback, there's a need for more films like this. And hey, if Uwais and Tan haven't convinced you that they should be cast in a Double Dragon film, Fistful of Vengeance will change your mind.
Tell us, are you looking forward to watching Fistful of Vengeance? Let us know in the comments!