In the comments under each news about the announcement or release of a new part of any sports simulator, you will see quite fair accusations about very small differences from the previous part against the backdrop of a complete lack of competition. But is this so? At first glance, it seems that EA releases the same part of FIFA every year with a new number in the title for $60, selling several tens of millions of copies, only to do the same thing a year later. But it's not quite like that.
What is FIFA like now?
FIFA has long been the most ordinary football simulator. It included both regular matches with AI or friends, and entire modes: a career for a club, a career for one player, and the European and World Championships. FIFA 2009 has a new one – FIFA Ultimate Team. In short, this is an online mode that allows you to assemble a dream team. In order to collect the best players as quickly as possible, you will need fifa coins, which can be obtained more profitably in boosting services. Game boosting is a service that helps players save time on boosting their accounts.
Your dream team can consist of players from different leagues and nationalities, and then you can fight with the same enemy's dream team. This mode is by far the main game mode among both players and developers.
Players can be purchased from the huge FUT Transfer Market (hereinafter referred to as FIFA Ultimate Team), or you can try to catch them in loot boxes, which are called packs or sets here. You can purchase these very sets both for in-game coins and for FIFA Points, a currency that can only be replenished with real money. Ultimate Team has divisions, just like in real football, and the so-called FUT Champions – a mode where you need to play 30 matches in 3 days (Friday-Saturday-Sunday), and the more matches you win, the better the reward.
The FUT mode itself is so popular that in FUT Champions, a weekly league with 30 matches, the servers simply cannot cope with the loads and most of the fights are lags, high ping, or crashes, followed by defeats for you and your opponent. The problem with the servers has become so urgent that many players began to play at night or early in the morning to finish the remaining matches in comfortable conditions.
Why do people keep buying new FIFA parts?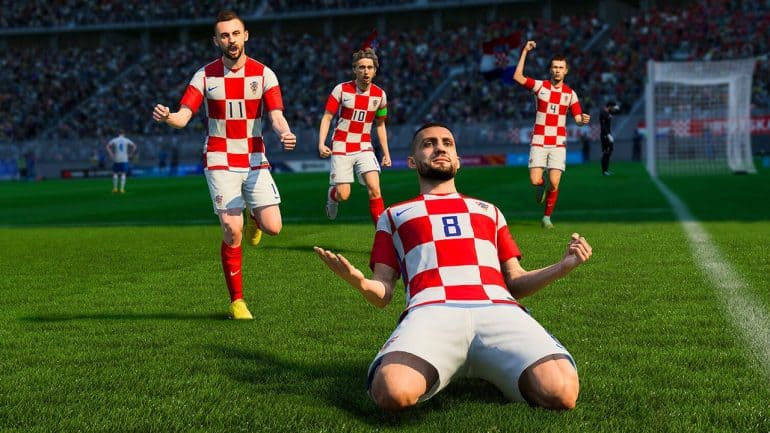 You probably have even more questions for those who annually buy a new part of FIFA and then voluntarily spend their money on it. If the game practically does not change from year to year, has obvious signs of a casino, and cannot work stably, why do people do it every time?
Changes
Every year the game is a little bit, but still changes. The accuracy and usefulness of different passes changes, the effectiveness of scripts changes, and the effectiveness of strikes from different positions changes, sometimes in the new part something starts to work that did not work in the previous one. For example, awnings are becoming more dangerous and can be used now. Even such small changes already greatly diversify essentially the same game that you have become very tired of for a year.
No competitors
FIFA has no worthy competitors. Here you can argue and cite Pro Evolution Soccer as an example, but here is how to compare a fly with an elephant. Konami's football sim doesn't even have a fifth of the FIFA licenses, so it's nearly impossible to play without fan patches. At the same time, PES has simpler gameplay, it feels slower to the touch and less rich in various animations. Although it has its analog of the Ultimate Team, it is poor in football players, suffers from a handicap even more than FIFA, and the network code here is the same as in the worst times of the competitor. And in Football Manager, apart from deep tactics, there is no gameplay itself, it is about something else.
Career mode
EA does not share detailed statistics, but I would venture to guess that many people buy a new part of FIFA, including for playing other modes, for example, the career mode, which also changes every year. EA Sports summer transfers are also added only to the new part of the series, and this is a very important moment in a career for many.
FUT
FUT itself is also slowly being finalized. There are new modes such as Draft, where you need to assemble a team of players offered by the game for each position and then win 4 matches in a row for the highest reward. At the same time, the old modes in FUT become more interesting.
Popularity of football
Football is the most popular sport in the world. A lot of people buy it to play with friends on a console because FIFA is suitable for people of all ages. After all, it is quite interesting to look at it and play it, like real football. Buying a simulator from EA has become a standard practice for playing at any party where you can arrange entire tournaments among yourself.
In conclusion
Even despite all the shortcomings, FIFA is a worthy sport. The gameplay itself, the songs of the fans and the roar of the stands, celebrations, exits from the tribune, a large number of real stadiums and coaches, real faces of football players and their movements on the field, tournaments like the Champions League or the World Cup – all this creates an atmosphere of a real holiday for football fans. And with each part, these elements are getting better.
If you look at the game as a whole, then it just has a huge amount of content for any football whim. However, many fans are already aware that the next game will have a different name – EA Sports FC 24. Let's hope that the next developer is still on the path to fixing the main shortcomings of the series, increasing the drop rate of playable football players and, finally, resolving problems with the servers.
The game has millions of fans around the world, and we hope that there will be more and more FIFA fans every year. Because this is truly a legendary video game that several generations of gamers were raised on.