EA Sports celebrated the release of EA Sports FC 24 by announcing how 11.3 million players tackled the football video game in its first week of release, which is a million more than FIFA 23 managed last year. For all intents and purposes, this symbolises how the rebrand from FIFA to EA Sports FC didn't harm the franchise one bit – despite naysayers predicting doom and gloom without the football governing body's muscle behind it.
RELATED: FIFA 23 Review – Farewell and Thanks for the Flicks
From a marketing perspective, this is a major win for EA Sports. Unlike Pro Evolution Soccer, which vanished from thought when it transformed into eFootball, EA Sports FC demonstrates it is here to stay and shedding the FIFA skin did nothing to its popularity. It's understandable how the first instalment in the new series didn't try to veer too far from its predecessors – in order to still attract the same players – but it's astonishing how this title doesn't even attempt to do anything new in the slightest. Sorry, fans, but EA Sports FC 24 is a reskinned FIFA 23 sold at a premium price.
How in the world did the graphics take a step back?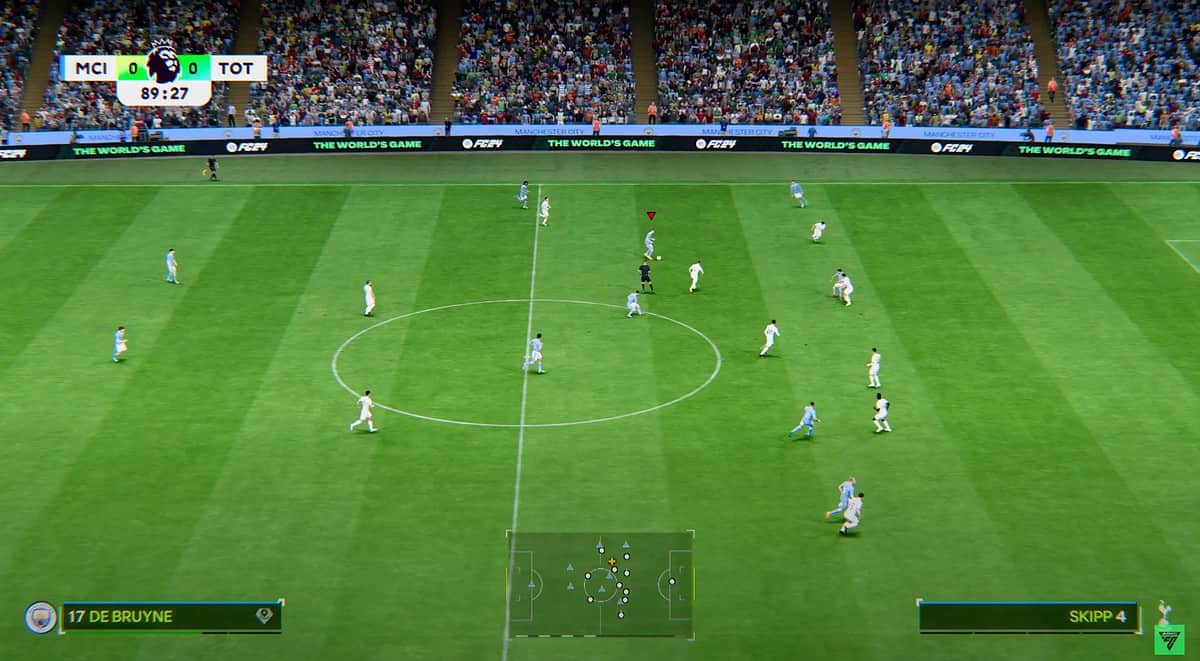 The memes exploded when the first footage of EA Sports FC 24 dropped, with fans laughing at how bad the player models were. A reasonable person would take a step back, though, understanding the game is still in development and to wait until the final product is released before making a snap judgment about it. Well, the memes didn't lie, and no one overreacted. The graphics are worse than before.
While the stadiums received an upgrade and there are more venues to visit, the players look awful. From the nightmare fuel faces to unnatural body positions, there is an embarrassing number of players who look nothing like their real-life counterparts – despite them being household names. Also, EA Sports failed to scan many top players' faces for this game, as some of the breakout stars from the past season still receive generic features. Plus, why are several big players still missing their authentic celebrations after so many years?
EA Sports FC 24 infuses new animations into the game, such as the referee approaching players in a first-person view to dish out cards and pitch-side reporting to add more authenticity, but this cannot hide the genuine issues from before that have failed to be addressed. For example, collision detection is still a coin toss. Run toward the goal posts and players turn into spooks for Halloween as they phase through the metal posts and net. Also, there are still instances when players get tangled up in a fight for a ball and it's surprising the PlayStation 5 doesn't go up in smoke from all the glitching. These problems have been raised for years but look nowhere near being addressed with little to no improvement here.
RELATED: Assassin's Creed Mirage Review
The gameplay receives slight improvements
Back to the marketing, EA Sports has always had the gift of gab, telling players about all these new technologies such as HyperMotion V, AcceleRATE, and PlayStyles. It's like all these cute, corporate buzzwords that make a game's engine sound amazing and innovative, but no one knows what the hell they mean in practice. For what it's worth, EA Sports FC 24 does update its gameplay through incremental tweaks and developments. The game feels more challenging and there's a competitive edge to matches that's far more symbolic of the modern game, as matches become scrappier and intense in phases.
At the same time, the AI is still about as intelligent as people trusting ChatGPT to be an accurate source of information. The CPU does the weirdest things at time, as if EA Sports modelled its entire AI on Harry Maguire's decision-making abilities on the field. Any FIFA veteran player will choose the most challenging mode and still pummel opponents by a few goals.
Additionally, other modes, such as VOLTA and Ultimate Team (replacing FUT), feel identical to before. While there's the ability to combine male and female players in UT as a new development, this doesn't take away from the fact that the modes do need serious innovation and refreshment to stand out.
At the end of the day, EA Sports FC 24 feels like a middle-of-the-road patch to FIFA 23, which fixes a few issues and breaks many others. This isn't exactly a shining introduction to the next era, as it repeats the biggest mistakes from before. Sure, some people may wonder how anyone can refresh a sports sim every year, since there's only so much that can be done with such a small window of development time. At this point, though, it's becoming far more practical for EA Sports to release season passes with relevant updates than pass off another edition as a brand-new game.
Unfortunately, it's unlikely EA Sports will learn its lesson based on the first-week sales figures alone. The only way anything will change is if a legitimate competitor steps forward and creates serious competition – and that seems unlikely right now.
RELATED: Forza Motorsport (2023) Review 
Tell us, have you played EA Sports FC 24? If so, what did you think of it? Leave your comments down below.