From the talented team behind the network's hit cartoon show The Amazing World of Gumball comes Elliott from Earth — an imaginative and futuristic animation filled with weird and wacky aliens.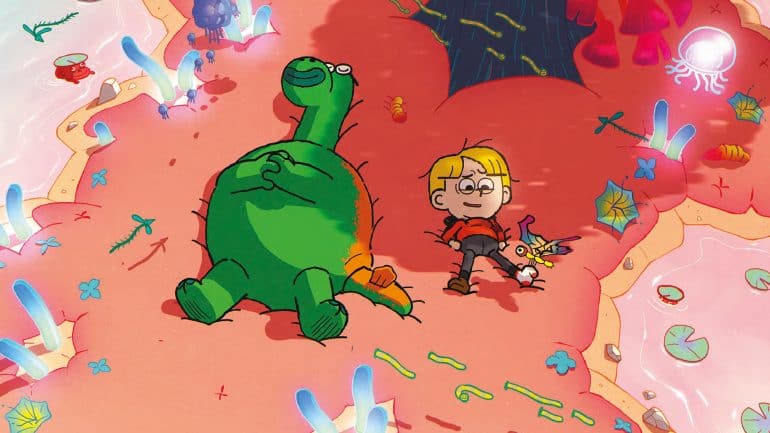 What is Elliott from Earth cartoon about?
Join Elliott, his mom Frankie and his new best friend, a dinosaur named Mo, for unrivalled adventure as they find themselves on an unexpected journey across the universe.
Elliott and Mo will explore the Centrium –an exciting place high up among the stars that is bursting with an astonishing array of aliens and cosmic creatures from new and unknown corners of the universe. Despite the many differences between the various species of extra-terrestrials, they all manage to coexist in perfectly chaotic harmony.
In the process of trying to figure out who brought them to space and why, the trio are able to make a new home for themselves and encounter new friends along the way all while learning valuable lessons from the Centrium's kooky inhabitants.
Who should watch it?
The cartoon show is targeted at kids aged 6-12 years old and is bound to appeal to kids' sense of wonder, friendship, adventure, discovery and humour. It is sure to be a fun experience that shows kids that home is where love is and true friendships go beyond colour, creed and universes!
Elliott from Earth will premiere on Cartoon Network Africa on Saturday, 13 March @ 09:35 CAT with new episodes airing on weekends @ 09:35 CAT.
Be sure to gather the kids to watch this Cartoon Network original, but make sure to save yourself a seat too. If it's even half as funny and creative as The Amazing World of Gumball, you will certainly not want to miss out on all the craziness this cartoon show has to offer.
Will you be tuning in to the premiere of the Elliott from Earth cartoon come the 13th March?