Step into a dystopian world full of robots and cyborgs with Binary Domain – the sci-fi shooter game from Ryu Ga Gotoku Studio. Let's revisit this classic!
RELATED: Melina Can Be Killed at the Very Beginning of Elden Ring
If you are familiar with the Yakuza video game franchise, then you are also familiar with Ryu Ga Gotoku Studio. Now, their Yakuza series is the Japanese company's biggest game and the focus of their work. The franchise perfectly falls into a mix of Beat 'em Up, RPG and action-adventure genres, a large part of what makes these games so fun. But, if you did not already know, the Yakuza franchise is not Ryu Ga Gotoku Studio's first game. In fact, their first game was a third-person shooter that was released in 2012. Perhaps you are already familiar with the title, but Binary Domain was a fun sci-fi game that revolved around innovative artificial intelligence (AI). And, if you have never heard of this game, you are in for a treat.
It is officially more than a decade later, and surprisingly this eccentric shooter title still holds up today. Not only that, but the game is highly underrated, as it will offer you an enjoyable gaming experience. With a 9/10-star review on Steam and over 2000 positive reviews, the game surprisingly only retails for $15 (R160) on the gaming platform. Directed by the creator of the Yakuza franchise, Toshihiro Nagoshi, the game obviously has flaws. But once you give it a chance, you will find a fantastic story, interesting mechanics, and a satisfying gaming experience. Let's find out what makes Binary Domain so good.
RELATED: Uncharted 5: What We Would Love To See In A Sequel
What is the Plot of Binary Domain?
The game is set in a futuristic version of Tokyo, Japan, in 2080. Already starting strong, the plot revolves around Global Warming and its impact on the city. Water levels have risen, and as a result, many pieces of land have been flooded, drowning most of humanity. In an attempt to rebuild what was lost, humans recreate their society above the ruined cities. Furthermore, they create highly intelligent and advanced AI robots to compensate for the lost labour workforce, leading technology companies to capitalise on the loss of humanity.
However, the androids believe themselves to be human, so the New Geneva Convention is passed, which bans robots that can pass as humans. You take control of special agent Dan Marshall, who is a part of the Rust Crew for United Nations Security. This happens after a robot who thought it was human the entire time attacks the headquarters of Bergen in Detroit, Michigan, a large robotics company. From here, Dan is sent to Japan to infiltrate Amada corporation for breaking the Geneva Convention with the android attack on Bergen.
And true to Ryu Ga Gotoku Studio's comedic style, Dan's team of worldwide specialists comprises the most stereotypical special agent character tropes. So naturally, this means that you will inevitably have a British agent named Charles on your team.
RELATED: Top 10 Reasons Why You Should Purchase Sony's PSVR 2
What does the Binary Domain Gameplay Look Like?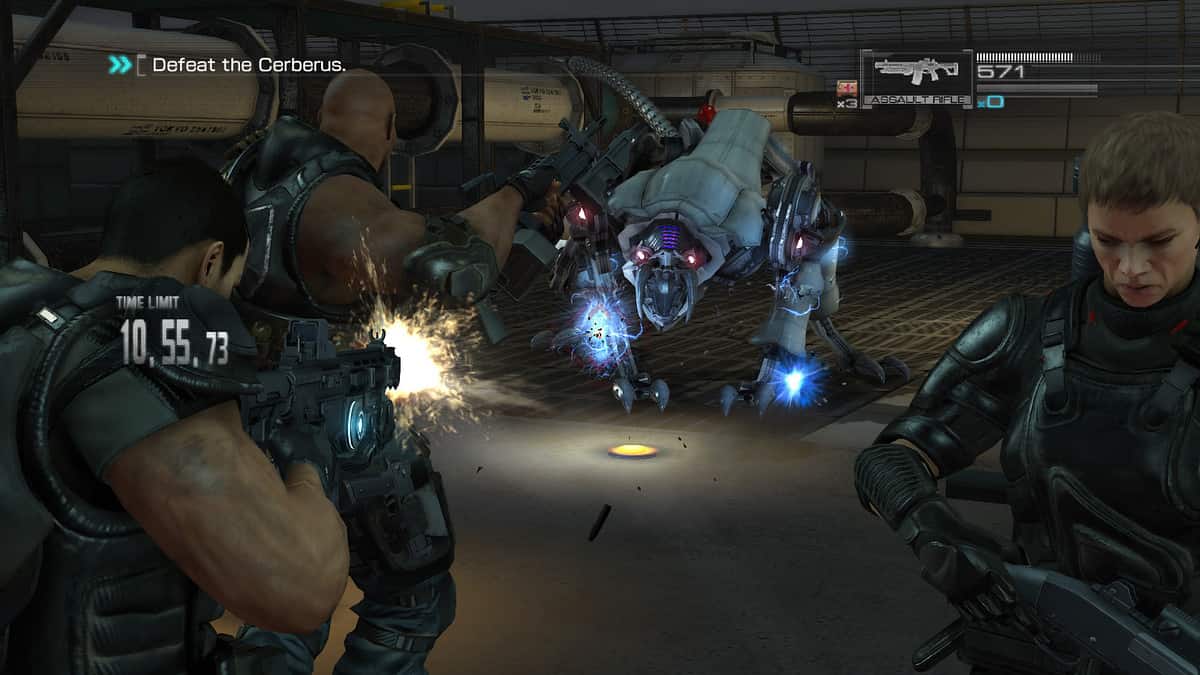 First, despite not being a horror game, it offers intense gameplay with some extremely bothersome imagery. This is especially relevant in some of the more action-packed sequences where you and your team will be fighting hordes of the mechanic monsters. Second, and this is more of a game mechanic than anything else, you can issue commands to your team during battles. This is a nifty little trick that can help avoid the type of problems you would get with the AI-run team members of your group in games such as Left 4 Dead 2. For example, if you want your team member to get a move on, you can literally tell them to do so.
Third, you can immerse yourself in the gameplay with its consequence system. This means that your actions all have consequences, and depending on the dialogue/actions you opt for, it can affect how your team views Dan. Individual team members may trust you more or less, depending on what you choose. And lastly, there is great emphasis on teamwork in the game, as taking down large hordes of enemies will heavily depend on your tactical and strategic approach with your squad. And this is not necessarily bad, as even a basic robotic enemy will relentlessly pursue you even after you have taken its arm or leg.
Also, if you are worried about the actual shooter experience, then it's best to liken them to most Xbox 360 shooters from this era. This should give you a decent idea of how the shooting feels.
RELATED: Nintendo Microsoft Game Pass Deal Could Be Competition For Steam Deck
TL;DR
The Yakuza franchise was not Ryu Ga Gotoku Studio's first game despite it being their most popular game.
Over a decade ago, the Japanese company released the third-person shooter called Binary Domain, the studio's first game.
Binary Domain is set in Tokyo, Japan, in 2080 and the plot centres on dangerous AI robots who fail to realise they are not human.
Do you want more Binary Domain games?