Nothing says Halloween quite like an anthology movie, right? Michael Dougherty's Trick 'r Treat might've set the spooky standard back in 2007, but Scott B Hansen and Desiree Connell's Bad Candy leans into its schlocky goodness as if its life depends on it.
So, what's Bad Candy about? Well, killer clowns, haunted houses, creepy creatures, stupid kids… It's pretty much everything you can think of for a twisted night in. In a nutshell, New Salem radio DJs Chilly Billy (Corey Taylor) and Paul (Zach Gilligan) are responsible for telling six tales of the macabre and terrifying to their listeners; however, much like Trick 'r Treat, every story acts as a cog in the bigger overall narrative.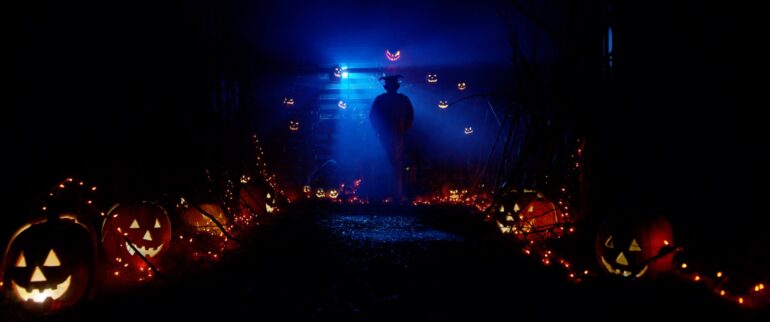 Though, like any anthology, there are some stories that connect with the audience better than others. In the case of Bad Candy, the beginning is strong while the finish doesn't quite live up to the benchmark. That isn't to say that the last two stories are terrible, but they simply lack the same gusto as the first few do out of the starting blocks. By the time the credits roll, however, you'll nod and grin at how everything paints a clearer (horrifying) picture—and you'll definitely check your candy.
Most of these tales blur the line with their characters. You see both the best and worst in people within the same story, leaving you apprehensive about if they deserve their fates or not. None of this would be possible, though, if the actors were incapable of walking the fine line between good and bad. Sometimes, it's subtle switches in their behaviours, while others are complete 180s. Haley Leary's Abbie, in particular, is a standout, as that character took one of the most shocking and unexpected turns in the movie.
Refusing to become overproduced fluff, Bad Candy wears its B-movie influences like an earned scar. Some of the special effects are intentionally campy, but there are also other moments that are equally gruesome and remind you that this is meant to be viewed as a horror, first and foremost. It might feel like a throwback at times, but it also understands the needs of modern audiences without being too nostalgic in the process.
It also successfully juxtaposes the grim happenings with the vibrant colours symbolic of Halloween. Even though the stories take place in the evening, this isn't a cascade of darkness that swallows up all the light in its vicinity. From the deliberate lighting of the environments to the vivacious costumes and decorations, every shot embodies the devilishly playful spirit of All Hallows' Eve.
If you ate up every serving of Trick 'r Treat and wanted more, you'll be hungry for Bad Candy. It's the kind of movie that'll become a staple for every Halloween going forward. In fact, let's make it a ritual right now—like how people watch It's a Wonderful Life over the festive season. Only in this case, our movie will be much better and way more fun.
Tell us, are you looking forward to checking out Bad Candy? Let us know your thoughts in the comments section down below.