When I was first offered Zeros and Ones for review, I jokingly admitted that I was willing to watch Ethan Hawke paint a house for two hours straight. While Abel Ferrara's (Bad Lieutenant) political thriller doesn't feature the Training Day actor doing manual labour, it's surprisingly equally boring. In fact, I might have preferred watching paint dry instead.
Shot in Rome during lockdown, Zeros and Ones is mostly grainy footage of a masked Ethan Hawke in self-isolation aimlessly wandering the empty streets. Literally.
In an attempt to create fear and tension, a lot of the film is made up of slow walking from point A to point B, staring off into the darkness and our protagonist completing mundane tasks in awkward silence.
It doesn't work, and what we're left with is an incredibly slow film that's hurt even more by Abel Ferrara's bewildering script.
Hawke plays an American soldier named J.J. who has travelled to Rome in order to stop a terrorist attack at the Vatican. While he is there, he learns that his twin brother (also played by Hawke) has been captured and is being tortured in an undisclosed location. Does his brother have information that could potentially prevent the bombing?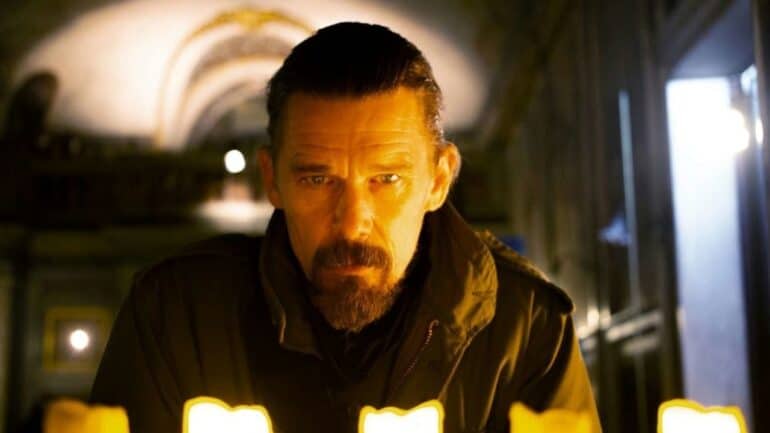 To be completely honest, it's an incredibly hard story to follow — even with the character's inner monologue throughout (mostly ramblings about political ideas and quotes from The Bible). I even had to look up the synopsis to make sure I got that right. It just felt incredibly disjointed while watching.
I can tell what happened here. Hawke didn't want to be stuck indoors and decided to take on a project to kill time. Zeros and Ones seemed like an interesting idea on paper, but, in practice, it just fell flat.
With all that said though, Ethan Hawke's commitment cannot be questioned. He gives his all in every scene — even when that scene feels aimless and a drag.
I know there are film students out there that will be studying this film and looking for a deeper meaning. Unfortunately, the honest truth is that Zeros and Ones doesn't say much about anything. Not COVID-19. Not terrorism. And not religion. It also doesn't deliver on action, tension or suspense. All it does is kill time.
It takes a lot to make a bad film when you're working with one of the most celebrated actors working today. Ethan Hawke deserves much better than Zeros and Ones.