Although WINX is a relatively new brand on the block, it has a fairly substantial history in manufacturing quality tech and everyday prices. The Hong Kong-based manufacturer is renowned for its wide portfolio, ranging from PC peripherals to cooling, power and even cabling requirements. As part of its wide-range of products, the brand also features some quality audio. One of these units is the WINX Vibe Pure ANC Wireless Headphones.
These hybrid headphones provide active noise cancellation, while also offering a feature-rich experience for the user. With its low price, many prospective buyers would question the audio quality of the WINX Vibe Pure. And that's exactly what this review will uncover.
WINX Vibe Pure Design and Build
The design fits that of the average pair of wireless headphones. WINX has adopted the "less is more" approach to the design, keeping it very simple. This is a huge plus in my books.
The headphones sport soft, faux leather, cushioned earcups. In addition to this, WINX states that these earcups are also pressure-relieving, which adjusts to your head and ear to make it the most comfortable experience. Added to this is the ergonomic headband, which is fully adjustable down to the earcups. It, too, is padded, providing additional comfort on the top of your head.
The outer portion of the earcups is manufactured from a plastic polymer. It has a matte black finish in an oval shape, designed to fit most ear types. The outer part includes the WINX logo. There are various buttons at the bottom end of each earcup. On the left-hand side, you have the power button, as well as the audio controls to toggle stop/start, as well as skip forward and back. It also houses the 3.5mm jack. The right-hand side earcup includes the ANC control toggle.
When it comes time to put the unit away, the unit WINX Vibe Pure is foldable. It folds into about half the size and fits neatly into the included carry case in the contents. Although I don't have the exact weight, the unit feels quite lightweight. As such, its small size, carry case and lightweight build makes it very portable.
Overall, it has a clean aesthetic with a solid build that feels robust. While I wouldn't expect the unit to fall apart easily over the near future, it does carry a two-year warranty period, which speaks to the quality of the build.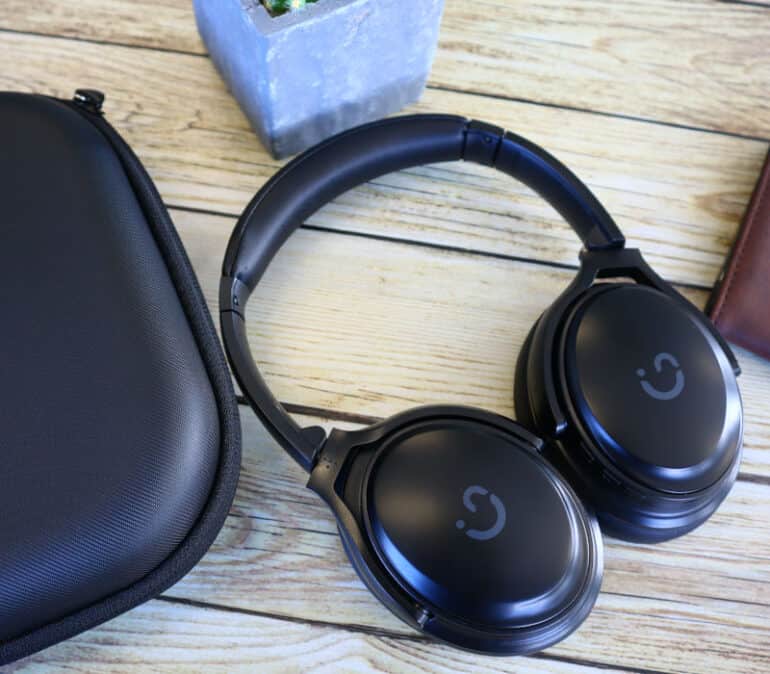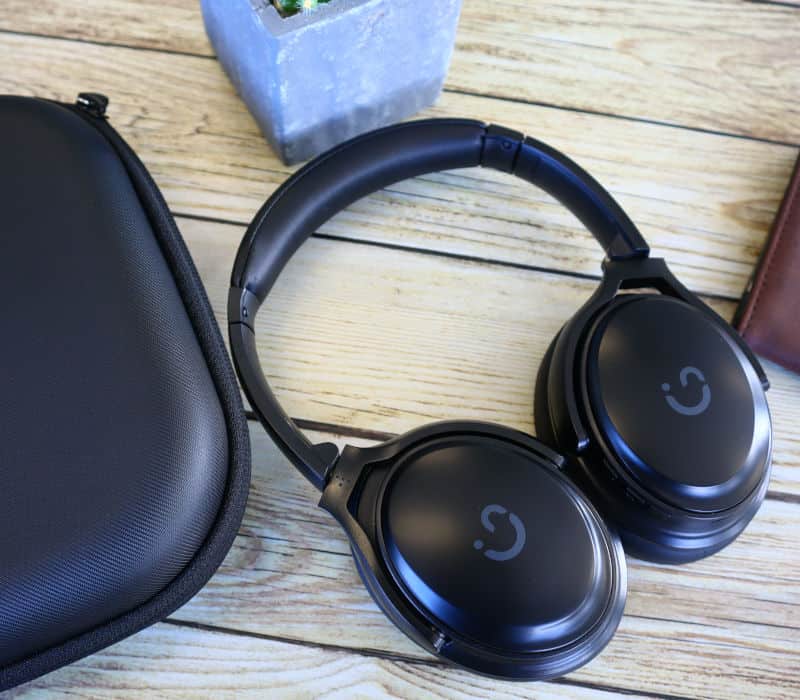 Setup and Features
Since the WINX Vibe Pure is a hybrid pair of headphones, it offers two methods of connectivity. The first of these is the wireless option, via Bluetooth. Setting this up is as easy as most Bluetooth devices in this day and age. Simply long-press the power button and await the indicator tone. You'll then be able to pick up the device on your PC, smartphone and the likes. You'll then choose to pair the device and you're good to go from there.
The second option is via the included 3.5mm auxiliary cable. Users can plug this into the WINX Vibe Pure and the PC or laptop. This will provide both power and connectivity and you're all set. It's as simple as that.
The first notable feature of the headphones is the active noise cancellation. It is capable of detecting a range of sounds and chatter, and is capable of blocking out sounds up to 25dB. It is also capable of picking around 80% of all noises in any environment, with up to 98% of low-frequency noises.
It also offers noise cancellation on the microphone, which can detect various speech patterns and tones in order to hone in on your voice while blocking out the majority of other ambient sounds.
With Bluetooth 5.0, connecting the device to your PC or smartphone provides useful information, such as the battery levels, enhanced audio settings and more.
There isn't any included software for the headphones, which means there aren't really any advanced features to set up. This isn't too much of an issue given that the unit only offers stereo audio, with the rest of the features capable of being toggled from the device itself.
Specifications
When it comes to specifications, there is a lot of technology under the hood. The list includes Bluetooth 5.0 with a transmission range of 10m and wired connectivity via a 3.5mm auxiliary cable. It also supports charging using a microUSB cable.
In terms of the audio specifications, each cup has a 40mm driver providing stereo audio, with a frequency range between 20Hz and 20kHz. The sensitivity is 110 ±3dB.
The device is also widely compatible across platforms. This includes iOS, Android, Windows and even Mac.
Performance and Audio Quality
When it comes to real-world tests the WINX Vibe Pure delivers quite good audio. It has a well-balanced range overall. However, focusing on each individual range, the deep audio is good but could use a bit of a boost for that really quality audio for great bass. Mids are probably the best quality overall, with the highs also doing well at lower volumes, but distorts slightly above the 80% mark.
Its noise-cancelling microphones also make for good news. The voice quality on calls is great. However, it's the capacity to block out quite a lot of ambient noise that really makes it stand out. There are times when one or two loud sounds will sneak into the chat, but not that often that it would become an issue.
There is also no notable difference, at least from my perspective, when it comes to the audio quality when switching between wired and wireless modes.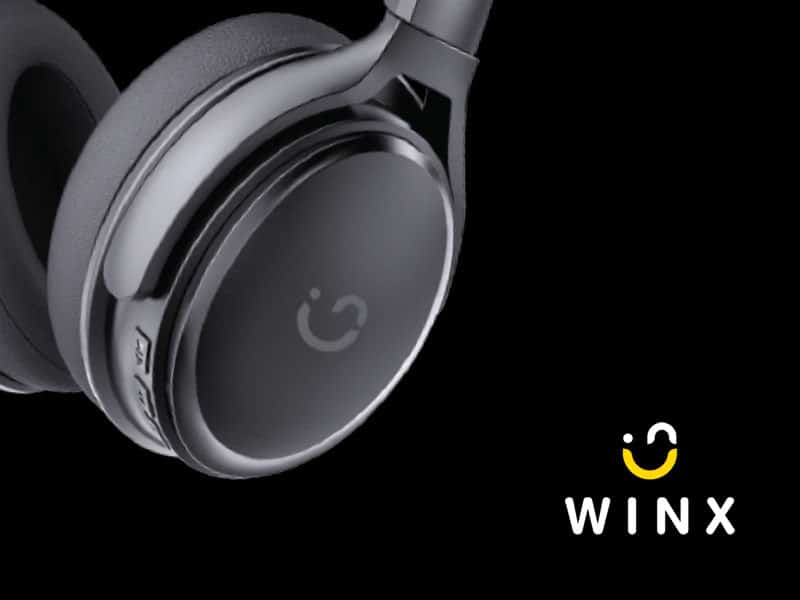 Battery Life
When it comes to the battery life, the factory testing indicates an approximation of 25 hours at 80% volume level. In the real world, I found that the headphones are capable of easily reaching the 20-hour mark. Testing at various volume levels had an average uptime of 22 to 26 hours.
When turning on the ANC feature, the battery life drops by some two to three hours, again depending on the volume levels. That's not a bad return, given that you're drowning out the outside world in return.
If you're going to be using these as your daily driver for work, it will easily breeze through three days' worth of work. That is if you're spending eight hours a day on a call or listening to music. It's quite impressive either way.
To recharge the WINX Vibe Pure, users will use the included microUSB cable. Irrespective of whether you're plugging it into a socket or your laptop, it takes around two hours to fully charge from zero. It is a bit on the lengthy side, but just 15 minutes of charge will get you three to four hours of use.
Should you purchase the WINX Vibe Pure ANC wireless headphones?
These headphones are a great option for any audio enthusiast. It's not quite studio quality but gets the job done well. It also has a good feature set. At a price of just R1,299, it's quite affordable. As such, the unit is highly recommended, whether you're looking to listen to music on the go or playing games on your PC.
The WINX Vibe Pure ANC wireless headphones are available across many retailers in South Africa, both online and in-store. Currently, Takelot has the best offer, with the unit retailing for R828.
The Review
The WINX Vibe Pure is a great pair of mid-range hybrid headphones with ANC features for audio and microphone. It offers all this at an extremely low cost, making it a really great buy for potential buyers.
PROS
Minimalist design
Good audio quality on wireless and wired modes
Very affordable
ANC audio and microphone
CONS
Lacking full bass
Some distortion on highs at increased volumes
Some loud noises sneak in on ANC mic
Review Breakdown
Ease of Learning

0%

Ease of Use

0%

Design

0%

Performance

0%

Enjoyment

0%

Value for Money

0%