Many fans of the hit show, Game of Thrones were disappointed by the ending they received in season 8. And with that in mind, many fans have gone as far as to start a petition so HBO could redo the entire season without David Benioff and D. B. Weiss. Unfortunately, this did not happen, and fans created alternative endings. This was until the studio released a production documentary on YouTube. It showed some deleted scenes from the show's finale, and one such shot was that of Daenerys Targaryen with a baby bump. Fans went crazy over the prospect of her carrying Jon Snow's child. But was Daenerys Targaryen pregnant with Jon Snow's child?
RELATED: How Jon Snow's White Hair Colour Impacts Game of Thrones' Big Reveal
There were many reasons for the shot being included in the documentary. Some fans suggested that it may have been an attempt to avoid leaks while filming, so they shot extra scenes to throw fans off. Other people suggest it may be a weird angle, with one Redditor posting a side-by-side of the shot from the documentary and the shot that made it into the official final season. And some fans think it may have been a storyline that was ultimately discarded, as Maisie Williams confirmed that they did not have the budget to shoot multiple endings. So, which one was it?
RELATED: Excited Fans Believe HBO's Jon Snow Series Will Be About Aegon Blackfyre
A Quick Flashback to The First Season of Game of Thrones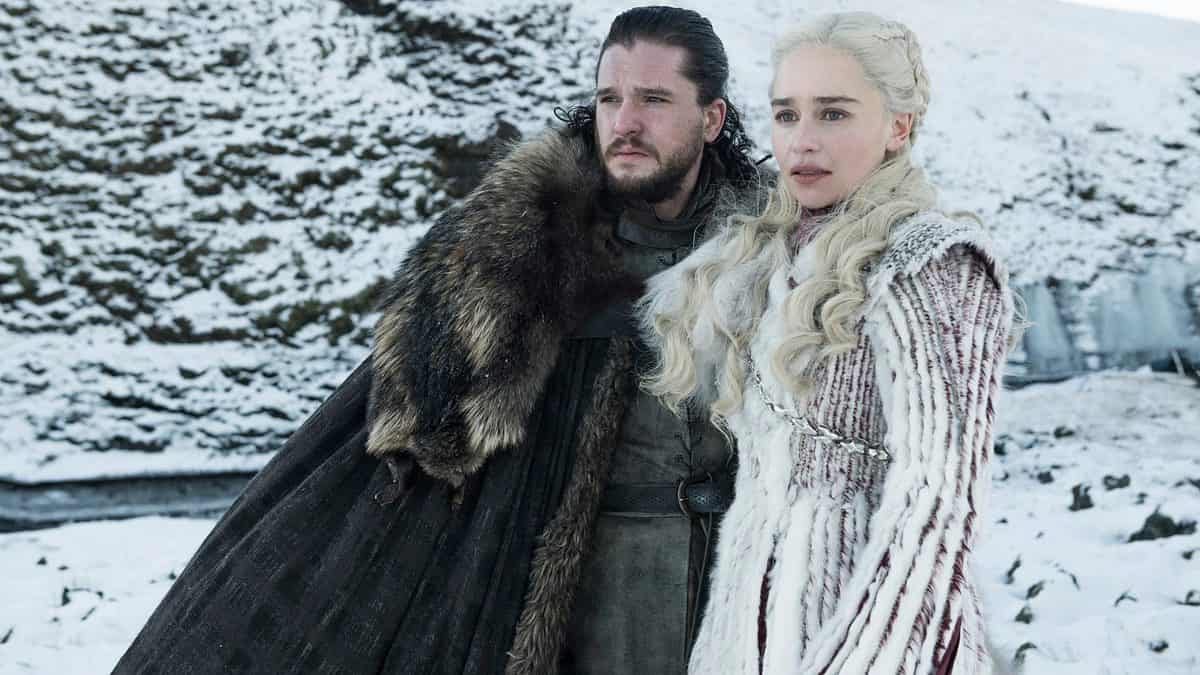 Although it may be an exciting thought that Daenerys Targaryen was pregnant with Jon Snow's child, fans may have forgotten the first season's events. Shortly after Khal Drogo kills Khaleesi's brother, he gets injured. The witch whom Daenerys saves from being defiled by the warriors, Mirri Maz Durr, offers to treat him but instead poisons the wound, which leads to his death. Daenerys begs her to bring him back to life, and her unborn child is killed so this can happen. But Khal Drogo comes back in a catatonic state, which leads to Daenerys suffocating him with a pillow and climbing into his funeral pyre along with him.
More importantly, the blood witch tells Khaleesi something significant during the scene where she sees Khal Drogo's state for the first time. She states that Daenerys would not be able to have children unless Khal Drogo returns from beyond the grave. And since bringing someone back from the dead would be impossible, it is apparent that Daenerys would not be able to bear children. Therefore, for her to have been pregnant in the final season, it would mean that a notable miracle would have occurred, or Khal Drogo rose from the dead.
RELATED: Why Does Jon Snow Have Black Hair?
What Are Fans' Theories on The Pregnancy Shot?
There were many fan theories and suggestions that circulated along with the shot, but there was one that stood out and made the most sense. A Redditor suggested that if Daenerys Targaryen was pregnant with Jon Snow's child, it might have been a red herring. The user explains that it may have been a means to distract from Cersei's pregnancy which would eventually lead to a miscarriage. In return, Daenerys then falls pregnant with a baby that would be of great importance (perhaps The Prince that was Promised). This theory is further backed up by Lena Headey's confirmation that they did shoot a scene wherein Cersei had a miscarriage.
Again though, it would be pretty difficult for the show creators to have pulled this off. The final season received a lot of hate, and a lot of it was because the storyline was rushed. There was no opportunity to explore further character development for many characters. So, explaining how Daenerys got pregnant when it was explicitly stated she couldn't conceive as far back as season 1 would have been a nightmare for the writers. That being said, there is an excellent probability that Daenerys was pregnant with Jon Snow's child, but they just did not have the runtime to include it in the story.
RELATED: King Viserys' Prophecy Will Be Fulfilled In The Jon Snow Series
Do you think Daenerys Targaryen was pregnant with Jon Snow's child?