Get ready to saddle up and ride into the sunset with these unforgettable westerns. We've compiled a list of the top 20 best western movies of all time!
RELATED: The Cast of John Carter Then And Now
The Western genre has been one that has dominated the film industry for as long as it has been around. Whether it be the thrill of a horseback chase or a shoot-off in the middle of a small town, the premise has always been of fascination to viewers. However, you may be surprised that there are many types of Western movies and that the genre has been adapted into various countries' cinemas. There have been Italian, Korean, Japanese, Indian, Mexican, Brazilian, and even Australian takes on the popular genre. And that makes it extremely difficult to decipher the best among them. So, what are the top 20 best Western movies of all time?
It may be a tale about the deputy sheriff in the Old West or a group of outlaws in the Wild West. However, one thing is for sure, which is that the best films of the genre can be found right here. This list will rank twenty of the best Western films worldwide, including the popular subgenre of Spaghetti Westerns. In addition, this ranked list will include the greatest Westerns from classic and modern cinema. So, without further ado, here are some of the best Western movies to ever grace our screens.
RELATED: Western Legends Review – An Open-World Sandbox Tabletop Adventure
20. The Revenant (2015)
Directed by Alejandro González Iñárritu, the film sees Leonardo DiCaprio as Hugh Glass. Set in 1823, he is a frontiersman who sustains life-threatening injuries from a bear attack while exploring the uncharted wilderness. Glass is abandoned by one of his hunting partners (played by Tom Hardy) after the death of his son (who is played by Forrest Goodluck). Left for dead in the freezing conditions, Glass must now find his way back to civilisation while dealing with his newly found grief and injuries. Fuelled by anger and a thirst for revenge, the fur trapper journeys through the harsh snowy terrain to find the man who betrayed him and caused the passing of his son. With a fantastic performance by DiCaprio and beautiful cinematography to match, this film deserves its spot as the opening title for this list.
19. The Searchers (1956)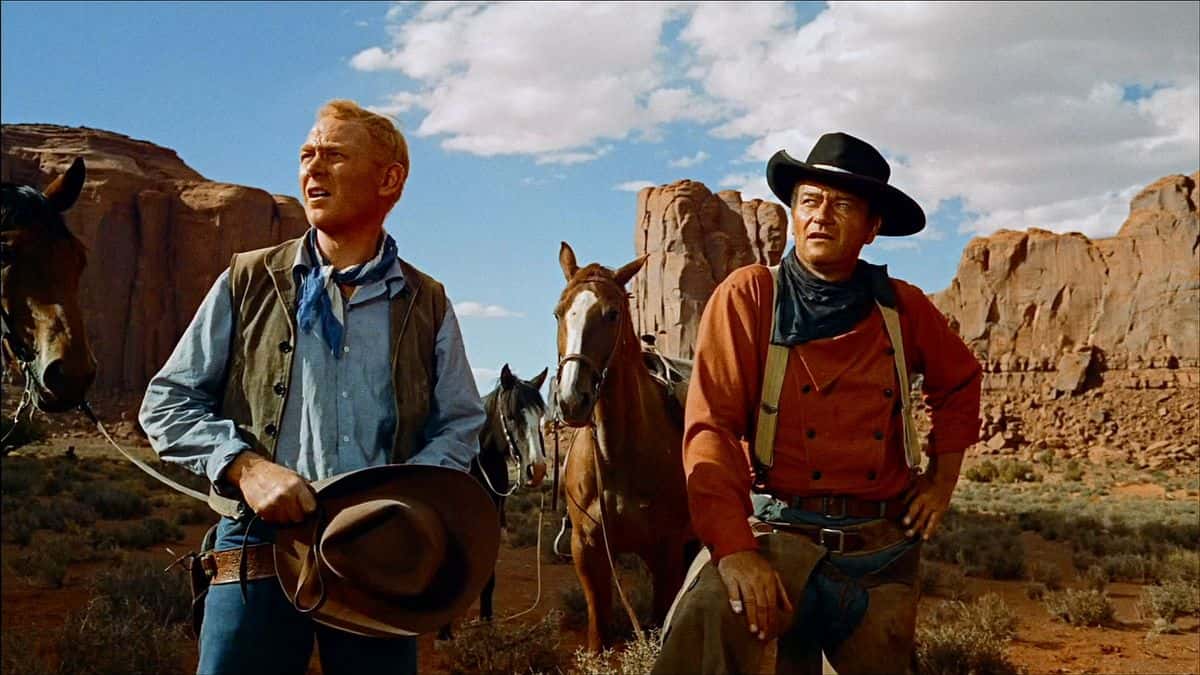 With John Ford as the director and John Wayne in the leading role, this is considered one of the best Western movies ever. Not just that, but it is also considered one of Wayne's best performances to date. Wayne stars as Ethan Edwards, a man who returns home to Texas after the Civil War and finds that the Comanches have harmed and abducted his brother's family members. However, Ethan discovers that Debbie (played by Natalie Woods), his niece, and Martin Pawley (played by Jeffrey Hunter), her adopted brother, are still alive. So, risking his life on a perilous journey, Ethan heads deep into Comanche territory to save his surviving family members.
18. Shane (1953)
Having won the Academy Award for Best Cinematography, this great movie was directed by George Stevens and is praised for its performances, editing and landscape cinematography. As an American Technicolour film, it sees Alan Ladd as Shane, a mysterious gunslinger who has arrived in a small Wyoming town. He takes a job on Joe Starrett's (played by Van Heflin) farm, hoping to live peacefully as a farmhand. However, growing fond of Joe's wife, Marian (played by Jean Arthur) and son Joey (played by Brandon de Wilde), the gunslinger takes action against Rufus Ryker (played by Emile Meyer), a cattle baron who is in conflict with the townsfolk for their land. Despite wanting to leave his violent life behind, Shane does not disappoint in ensuring Ryker ceases his bullying of the homesteaders in the valley.
RELATED: This Is What Happens When The Matrix And Westworld Come Together Perfectly
17. 3:10 to Yuma (2007)
Based on the short story Three-Ten to Yuma by Elmore Leonard, this great Western is directed by James Mangold. It is also a remake of Delmer Dave's 1957 film of the same name, which sees Glenn Ford and Van Heflin in the titular roles. Set in 1800s Arizona; it sees Russell Crowe as an Outlaw named Ben Wade who is terrorising the area, his focus mainly on the Southern Railroad. When he is eventually captured, the owner of a failing bar due to the ongoing drought Dan Evans (played by Christian Bale), volunteers to escort the criminal to a train that will take Ben to his trail. The two men form a begrudging bond along the way while Ben's men relentlessly pursue the duo.
16. Pat Garrett & Billy the Kid (1973)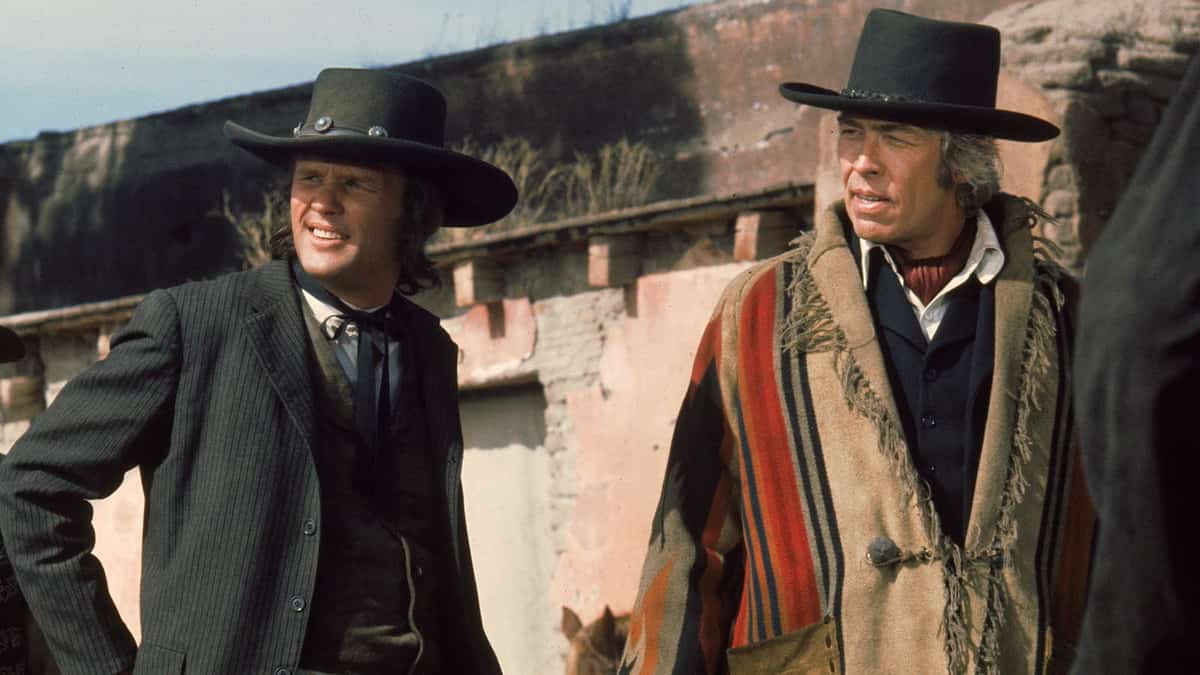 Directed by Sam Peckinpah, this fun cat-and-mouse Western movie deserves its spot on the list of the best of all time. With one of the best scores in American cinema, the film sees James Coburn as Sheriff Pat Garrett, who is ordered to go after an outlaw who also happens to be his old friend, Billy the Kid (played by Kris Kristofferson). As a lawman, Garrett must obey the orders of Governor Wallace (played by Jason Robards) and the wealthy New Mexico cattle barons who have hired him but struggle greatly to catch his cunning friend. Meanwhile, Billy has enlisted the help of a mysterious stranger named Alias (played by Bob Dylan) as he continues to evade the Sheriff and his deputies.
15. McCabe & Mrs Miller (1971)
Starring Warren Beatty and Julie Christie, it sees the actors starring as a gambler and a lady of the evening. Beatty stars as the mysterious stranger, John McCabe, a charming gambler who decides to open a bar in the small mining town he has just arrived in. While the residents of the town if fooled by his charm and fast-talking nature, Christie's' Constance Miller sees through his act and realises that he is not as bright as he makes himself out to be. The two partner up when she offers assistance to help run his bar in exchange for a profit from the business. Soon after, a more prominent company threatens to destroy all their hard work. Directed by Robert Altman, the film sported terrific performances by the cast alongside amazing cinematography.
RELATED: Outer Range Season 2 Will Have Even Bigger Twists & Turns
14. Hell or High Water (2016)
Directed by David Mackenzie and written by Taylor Sheridan, this neo-Western movie sees Chris Pine and Ben Foster as brothers Toby and Tanner Howard, who have successfully robbed two branches of Texas Midlands Bank. Toby is a divorced father trying to give his kids a better life, while Tanner is a trigger-happy ex-convict with a short temper. In fact, Tanner's impulsiveness causes him to take unnecessary risks in their mostly well-planned bank heists and gets on Toby's nerves. Meanwhile, Jeff Bridges plays Texas Ranger Marcus Hamilton, who is close to retirement but gets assigned to the Howard brother's case. An epic Western battle ensues between the brothers and the Texas Ranger, who will not let them get away with their final heist.
13. The Assassination of Jesse James by the Coward Robert Ford (2007)
With Andrew Dominik and Roger Deakins as the cinematographer, this is one of the more iconic movies from the Western genre. The film sees an ensemble cast of A-listers, with Brad Pitt as the infamous and rumoured Fastest Gun in the West, Jesse James. With a massive price on his head, the outlaw plans his next big heist while staying ahead of the people trying to turn him in for the reward. Unfortunately, his newest companions, Robert (played by Casey Affleck) and Charley Ford (played by Sam Rockwell), grow envious of his success and plot to take him down. However, their attempts backfire, and Jesse's reputation is shot to legendary status.
12. Tombstone (1993)
Directed by George P. Cosmatos and Kevin Jarre, this iconic Western also sports an ensemble cast of actors that are huge in the industry. Starring Kurt Russell, Bill Paxton and Sam Elliott as brothers and former gunslingers, Wyatt Earp, Morgan and Virgil, the three settle in Tombstone, Ariz, by starting a business. Although the three are looking for a peaceful life, trouble soon finds them in the form of a Cowboy gang led by "Curly Bill" Brocius, who causes chaos in the small town when he commits a massacre at a local police officer's wedding. But, of course, this is in return for their actions against two of his gang members. So the brothers pick up their weapons and, together with Wyatt's best friend Doc Holliday (played by Val Kilmer), set out to restore peace to the town.
RELATED: Fans Want Charles Smith As The Protagonist Of Red Dead Redemption 3
11. My Darling Clementine (1946)
While the previous entry on this list deals with the Earp brothers and their battle against organised crime, this film focuses on the brothers and their family ties. This time, Wyatt Earp is played by Henry Fonda, Victor Mature plays Doc Holiday, and Clementine, Holiday's ex-girlfriend, is played by Cathy Downs. Directed by John Ford, the film sees Wyatt and his brothers stopping to rest in the small town of Tombstone while doing a particularly long cattle drive. When they wake the following day, their cattle are stolen, and one of their brothers has passed. Wyatt suspects the Clanton Family, who owns O.K. Corral and tries to get even by becoming Sheriff of the small town to exact his revenge legally. However, he forges peace with Doc Holiday and begins to fall for Clementine.
10. Once Upon A Time in the West (1968)
As one of the most epic and best Spaghetti Western movies of all time, it was directed by Sergio Leone and written by Sergio Donati with the help of the director. Gabriele Ferzetti plays Morton, a rail baron with his heart set on owning a piece of land around Flagstone with water on it. Henry Fonda plays one of Morton's henchmen, Frank, who is sent to intimidate the landowners of the property he wants to claim for himself. Instead, he ends up mortally wounding the owner, McBain (played by Frank Wolff) and pins it on Cheyenne (Jason Robards), a known bandit. As these events unfold, McBain's wife, Jill (Claudia Cardinale), arrives in town with a mysterious gunslinger, played by Charles Bronson arrive in town to settle the score.
9. True Grit (2010)
Directed by Ethan Coen and Joel Coen, this American Western explores what people are willing to do when they have limited choices in a desperate situation. Set in Yell County, Arkansas, in 1878, it sees Hailee Steinfeld as 14-year-old Matie Ross, whose father had just lost his life. Wanting to avenge his death, she sets out to do this by hiring trigger-happy lawman Cogburn (played by none other than Jeff Bridges) to track the perpetrator, Tom Chaney. The duo soon becomes a trio when Texas Ranger LaBoeuf (played by Matt Damon) joins them as he, too, is trying to find Tom Chaney. Nominated for a total of ten Academy Awards, the film deserves its spot in the top ten.
RELATED: The 10 Best Movie Scores Of All Time
8. Dances With Wolves (1990)
Based on Michael Blake's 1988 novel of the same name, it sees Kevin Costner in the director's seat with this movie as his directorial debut. And although it is an American Western, most of the dialogue is spoken in Lakota. Winning the Golden Globe Award for Best Motion Picture – Drama, this film is a classic. Starring Costner in the lead role as Lieutenant John J. Dunbar, it sees him travelling to the American frontier, where he meets and befriends a group of Lakota Indians. Attracted by their simplicity, he joins the group and leaves his former life behind. He starts anew here, gaining the name Dances With Wolves and finds love before chaos ensues when Union troops arrive to take their lands. This award-winning film is a beautiful and heartbreaking watch.
7. Butch Cassidy and the Sundance Kid (1969)
Directed by George Roy Hill with the music composed by Burt Bacharach, the film rightfully won Academy Award for Best Music (Original Score). Based on a true story, it sees Paul Newman as Robert LeRoy Parker and Robert Redford as Harry Longabaugh, two outlaws on the run after committing a series of train robberies. Robert is known as Butch Cassidy, whereas his partner, Henry, is known as the Sundance Kid. With Sundance's lover Etta Place (played by Katharine Ross), the trio flee to Bolivia to escape the group that is relentlessly pursuing them. Funnily enough, this movie was selected as the 7th-greatest Western of all time by the American Film Institute.
6. Sukiyaki Western Django (2007)
Combining classical American cowboys with Samurai and Japanese influence, this film does not hold back on the unadulterated chaos and action. Directed by Takashi Miike, it sees a mysterious man who rolls into town with a vengeance on his mind. He walks in a few centuries after the Genpei War, where the white-clothed Genji, led by Yoshitsune (Yusuke Iseya), tries to keep a secret treasure from the opposing clan of warriors known as the Kiyomori, led by a man named Kiyomori (played by Koichi Sato). The mystery man offers to join the clan who will give him more money so that he can exact his plan of revenge.
5. Django Unchained (2012)
As a film by one of the best directors of all time, Quentin Tarantino also finds himself in charge of the screenplay resulting in multiple awards and nominations. The story follows a slave named Django (played by Jamie Foxx) accompanying Dr King Schultz (played by Christoph Waltz), a German bounty hunter. The two are on a mission to capture the brutal Brittle brothers, and once they have successfully done so, Schultz frees Django, and they proceed to hunt down notorious criminals in the South-West. They end up at Calvin Candie's (played by Leonardo DiCaprio) plantation, where Django finds that his wife (played by Kerry Washington) is still enslaved.
RELATED: Quentin Tarantino's Final Film Could Have Actually Been An Astounding Crossover
4. No Country for Old Men (2007)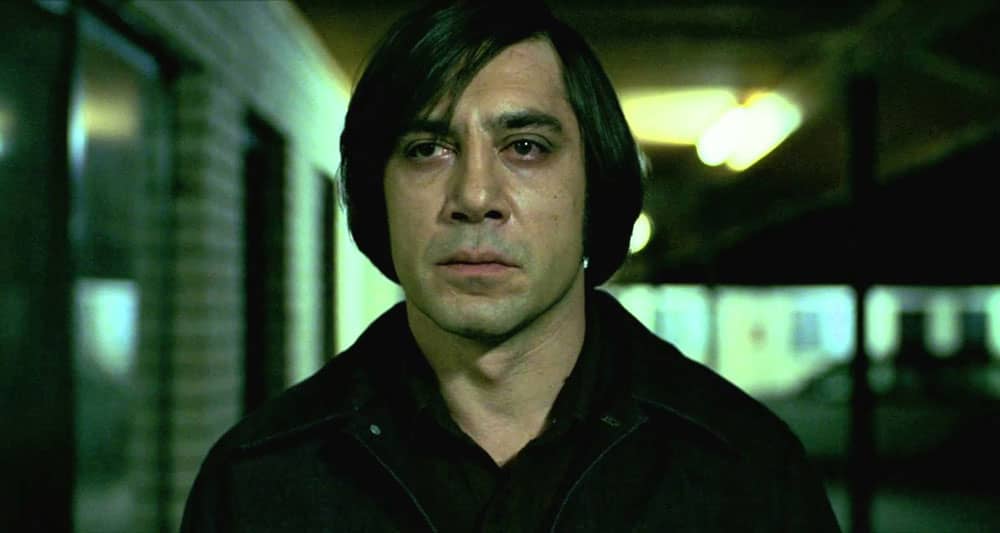 Directed by the Coen brothers, the film is based on Cormac McCarthy's 2015 novel of the same name. It sees Josh Brolin as Llewelyn Moss, who finds the aftermath of a criminal exchange gone wrong while out hunting. Although realising it isn't intelligent, he grabs the cash left behind, and soon, Chigurh (played by Javier Bardem), a ruthless criminal, picks up his scent and hunts him down to get the money back. However, Moss is not alone as Sheriff Bell (played by Tommy Lee Jones) is hot on his trail, too, trying to protect him from the assassin that is after him. To this day, many audiences consider this film a masterpiece, and it is praised for its modern spin on the Western movie genre.
3. A Fistful of Dollars (1964)
Starring Clint Eastwood as a Man with No Name who enters San Migue, a Mexican village, right as the three Rojo brothers as they are in the midst of a power struggle with the local Sheriff John Baxter (played by Wolfgang Lukschy). He inserts himself in the middle of the ongoing battle and delivers false information on both sides for his own benefit. Directed by Sergio Leone, this Spaghetti Western movie is considered one of the best of all time despite being shot on a modest budget of $200,000.
2. Unforgiven (1992)
With revenge being a major theme in all the Western films included on this list so far, it should come as no surprise that one of the greatest Western movies of all time's central plot is also revenge driven. Directed by and starring Clint Eastwood, it sees Delilah Fitzgerald (Anna Thomson) as she is disfigured by two cowboys at her brothel in Big Whiskey, Wyoming. A bounty is then placed on the cowboys' heads, offering a reward for their capture. Eastwood stars as William Munny, the leader of a group of gunfighters who go to collect the reward at the same time as their rival group, led by English Bob (played by Richard Harris). This results in the two groups clashing, not just with one another but also with the Sheriff.
RELATED: Casting A Red Dead Redemption Movie
1. The Good, the Bad, and the Ugly (1966)
And, of course, the best Western movie of all time goes to Sergio Leone's The Good, the Bad, and the Ugly (1966). And, of course, it also sees Clint Eastwood in the titular role as Joe, a strange man in the Southwest during the Civil War. He forms a begrudging partnership with a Mexican outlaw named Tuco, who is played by Eli Wallach. They plan for Joe to turn in Tuco for the reward and then rescue him just as he is being hung. However, Joe's shot goes wrong when he tries to loosen the noose, which results in Tuco momentarily trying to get revenge. But then the two must team up again to battle against the Union Army and a ruthless criminal. If any film deserves its spot at number one, it is this one.
RELATED: BraveStarr: Can We Get A Reboot or a Live-Action Movie?
What is your favourite Western movie, and is it included in the top 20?