It's time. SilverHawks needs to return as a live-action movie or an animated reboot.
Back in the mid-eighties, there were only two types of shows that kids loved to watch: you had to make either a fantasy cartoon or a sci-fi/space one. If your show didn't have some sort of magical power sword or combining robot, you could forget about reaching the masses of pre-teens hungry for more cartoons.
That's why in 1986, Rankin/Bass developed a new show that was meant to be a successor to the wildly popular ThunderCats. The new show was called SilverHawks, and it followed the battles of a bionic police force called the SilverHawks against the nefarious Mon*Star.
65 episodes were made, and while the show didn't receive the widespread acclaim that ThunderCats did, it was still a modest success with its target audience. In 2021, plans for a reboot of the series were revealed by the Nacelle Company, sparking rumours about the future of the franchise.
We know for sure that, so far, the reboot of the show is planned to be animated – but what if the producers were to make a live-action SilverHawks movie instead? Let's take a look at some of the reasons why a live-action movie would work, or why an animated reboot would be the better option.
Live-Action SilverHawks Movie: Captivating a new generation
When the original SilverHawks show was released, kids were used to watching cartoons as their favourite form of entertainment. While cartoon shows are just as popular now as they've ever been, there's no denying that this generation might be more pleased with a Marvel-style movie about a bionic police squad.
As Josh Burn's artwork shows, this could look really slick — especially with modern CGI.
Animated Reboot: True to the original
A new animated take on the classic would allow for greater freedom of expression from the show's creators. Not only would they be making use of new animation techniques, but they would also be looking at a much easier production schedule than managing a live-action film.
Another great thing about the show being animated is that the studio could reuse some of the original show's voice actors to reprise their roles in a SilverHawks reboot. This would be a pleasing surprise for avid fans of the eighties cartoon.
Live-Action: The start of something epic
There are tons of narrative potential lying in the show's 65 episodes. A single live-action film could be the gateway into a whole new cinematic franchise for the SilverHawks, and now might be the best time to tap into such potential.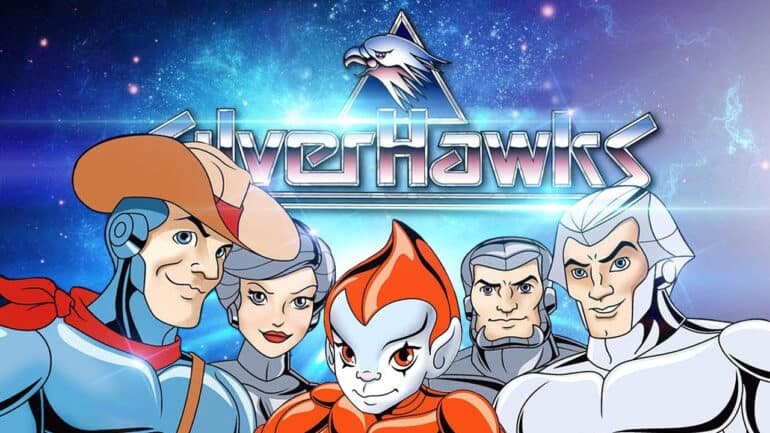 Animated Reboot: Learning from their mistakes
If there's one show that has angered fans in recent years, that would be the (fortunately) short-lived ThunderCats Roar. The wacky comedy style and simplistic art style turned the show into a mess that had no traces of the original show. In the end, the cartoon didn't appeal to fans of the eighties original or new ones, getting the axe after just one season.
A SilverHawks animated reboot could learn from this show's many mistakes, delivering something that fans, old and new, can appreciate.
SilverHawks Live-Action Movie: Nostalgia bait
As mentioned before, SilverHawks never got the mainstream popularity that ThunderCats did, but there are still some fans who swear by the show's quality. This is the audience that might be more than intrigued by the news of a live-action movie based on one of their beloved childhood franchises.
While there has been a lot of internet talk recently about the quality of reboots in general, there's still hope for a franchise such as SilverHawks to live up to its potential. As long as the live-action adaptation takes itself seriously enough to be considered an adventure movie and not a self-referential comedy, fans of the source material would be more than pleased to be getting a new entry into the series.
Would you like a live-action SilverHawks movie or animation reboot?
Featured image artwork by Josh Burns.