It's been a busy two years for the Tecno brand, especially in the South African market. Along with securing a foothold with their mid-range smartphones, the brand also launched many supporting products, including smartwatches, earbuds, speakers and even a range of laptops in the new year. A few weeks ago, the Tecno Spark 10 5G was launched locally.
Its launch aims to bring affordable 5G to the market and is marketed to offer speed and performance for users looking for a solid mid-range smartphone.
RELATED: Do New Smartphones Make Older Models Stop Working & Obsolete?
Build and Design
Upon unboxing, there's a lot to love about the smartphone. While listed as a mid-range smartphone, it doesn't take shortcuts regarding its design ethos. At first glance, the glass front doesn't give away too much of its design. However, lifting the unit out of the box and revealing the rear, you'll find a 3D print design on the rear cover. The design resembles miniature versions of the smartphone's shape incorporated to create a unique pattern.
Its contents also include a transparent cover, which protects while offering a clear view of the rear design. Although the frame is crafted in plastic, it doesn't feel cheap. The plastic polymer feels premium in hand. The plastic also keeps the weight down to 194g, which is on par with many flagship devices of similar size.
The Tecno Spark 10 5G has a 6.6" screen with an 84.3% screen-to-body ratio. It's not a completely bezel-free build, but it's nothing too extensive to note. With dimensions of 164.4×75.5×8.4mm, it's pretty reasonable for a mid-range smartphone. The screen has an IPS LCD panel, which supports a 90Hz refresh rate. Additionally, its display has a 720×1,612px resolution.
Regarding the build, the smartphone has a Type-C charging port and a 3.5mm audio jack. It also has a fingerprint sensor on the right side, doubling as the power button. This is the standard for non-flagship smartphones, which typically feature its sensor within the screen. It also includes a dual NanoSIM tray for good measure. On the rear, the layout of the camera island is also a bit different, giving it another unique attribute.
Overall, it's a pretty nifty design and a solid build. It's not the conventional mid-range smartphone, providing an appealing look and feel with more premium ranges.
RELATED: Tecno Spark 7 Pro Review: A Good Mid-Range Smartphone
Performance and Battery Life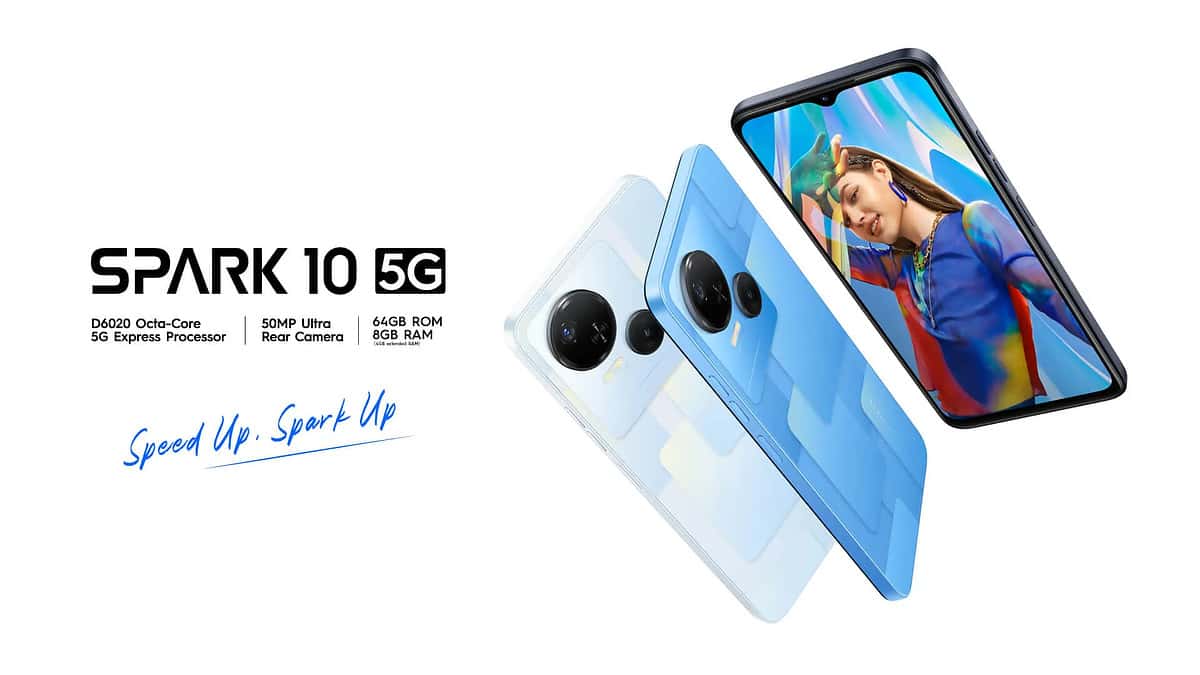 Regarding daily usage, the Tecno Spark 10 5G offers plenty of features to complete most of your daily tasks. The device uses a MediaTek Dimensity 6020 chipset. This has an Octa-core CPU (x2 2.2GHz Cortex-A76 and x6 2.0GHz Cortex-A55) and Mali-G57 MC2 GPU.
During my testing, I could reach beyond the 24-hour mark using the smartphone quite frequently. On the odd occasion, I was able to push this towards the 48-hour mark before needing to recharge. It has a Li-Po 5000mAh battery, which accounts for most of this longevity. However, the power drain, with a slightly lower screen resolution, isn't as significant.
What is missing here, however, is a fast-charging approach. It offers a maximum 18W charge, which takes over 150 minutes from 0 to 100%. This is relatively slow. A good thing, then, is that if you're charging daily, the chances of needing to recharge from below 40% are rare.
Its RAM offering is an exciting addition to the Tecno Spark 10 5G. It is listed as having 4GB of RAM, a mix of physical and virtual RAM. By using its internal storage, which has options of 64GB, 128GB and 256GB, it utilises a swap file to increase its virtual memory. Tecno calls this feature Memory Fusion. It can offer up to 4GB RAM to get the job done. This is quite a nice trick, as most mid-range smartphones offer less overall memory at the expense of fully utilising their multitasking potential.
Tecno has fitted a 50MP primary camera on its dual-camera layout. The 50MP wide lens has a f/1.6 aperture supported by a 0.08MP depth lens. It's not the greatest of offerings on paper, but the results are impressive nonetheless. The primary camera handles all the heavy lifting here, with the depth camera only used to offer a few blur and bokeh effects. It produces decent image quality, good colour depth and contrast, and close-up images. However, it lacks a bit of sharpness to the result, which will need some work in post to correct.
Unfortunately, if there is one thing I found lacking for use as a daily driver, it's the missing NFC. While I understand that the device is a mid-range smartphone, which means it won't offer all the features of a flagship smartphone, I'd happily swap out one of the other features to have this included to keep the same price. With NFC becoming an easier way to make mobile payments and access control, I can't do it without my daily driver.
RELATED: Xiaomi Streaming Simplifies Entertainment in the Home
Conclusion
The Tecno Spark 10 5G has plenty of features to enjoy. Despite being labelled as a mid-range smartphone, it offers a lot to compete in some form with a few flagships. That said, there are a few missing features that I would've chosen instead of others. Overall, it's a solid offering.
At a price of R5,499, it is pretty affordable compared to what it offers. And with its wide availability across retailers, potential buyers will have several payment options available to them as well. Retailers stocking the device include Ackermans, Edgars, Game, Jet, Makro, Mr Price, TFG and Vodacom.
The Review
Techno Spark 10 5G Review
The Tecno Spark 10 5G sets the bar for mid-range smartphones. It offers a range of features typically only offered on flagship devices while keeping the overall price very competitive.
PROS
Great design elements
Large screen
Includes rear and screen covers
Great battery life
CONS
720p display
no NFC support
18W recharge
Review Breakdown
Ease of Learning

0%

Ease of Use

0%

Design

0%

Performance

0%

Enjoyment

0%

Value for Money

0%