Most gamers are grouped into one of two gamer types: hardcore and casual gamers. Over the years, the definition of both these terms have changed somewhat and, thanks to some new research, it seems there is more clarity.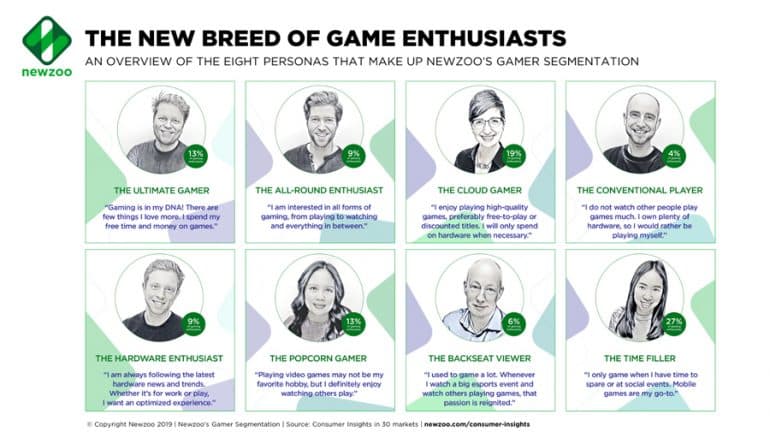 According to Newzoo, a global provider of games and esports analytics, gamers can be bunched together into 8 distinct groups. These are based on various metrics which range from how much money they spent to how much they watch esports.
Below are the 8 gamer types as described by the research from Newzoo.
1. The Ultimate Gamer (13%)
A gamer who loves nothing more than spending all their time and money on games.
2. The All-Around Enthusiast (9%)
A gamer for who is all about balance in their gaming life. From their buying habits to how much they view gaming-related videos, it's all about finding the right balance.
3. The Cloud Gamer (19%)
The early adopter is a gamer who is among the first to game streaming services and who will only spend money on hardware when necessary.
4. The Conventional Player (4%)
This gamer owns a ton of gaming-related hardware and prefers spending time playing games rather than watching other people play.
5. The Hardware Enthusiast (9%)
A gamer who keeps up with all the latest hardware trends and probably has an extreme RGB emitting gaming rig in their home.
6. The Popcorn Gamer (13%)
This gamer prefers watching others play games than actually playing themselves.
7. The Backseat Viewer (6%)
Age can be a wicked thing. This gamer use to play a lot of games but then age, kids, marriage and life in general happened. Now they prefer watching others play games and immerse themselves in esports.
8. The Time Filler (27%)
This gamer plays games to help pass the time, and only when there is some time available. Of course, they would very rarely touch a PC game, as they prefer other platforms.
Do you think these are an accurate representation of the gamer types out there? Which gamer type do you see yourself as?