For the longest time, fans have been begging for a sequel. Now, nearly 15 years later, District 10, the sequel to Neill Blomkamp's odd fan-favourite South African sci-fi film, District 9, is finally happening.
RELATED: Beast Review – Another Fun Idris Elba Movie
District 9 is a sci-fi film directed by Neill Blomkamp and produced by Carolynne Cunningham and Peter Jackson. It was Blomkamp's feature film debut and was released in 2009. The film was shot in a mockumentary style and used a combination of conventional filming, fictional interviews, found footage and video from surveillance cameras.
The 2009 science fiction action film was heavily inspired by the forceful removal of 60 000 people that took place during apartheid in Cape Town's District Six. It deals with themes of immigration, racism, social segregation, xenophobia and the dangers of relying on multinational corporations.
District 9 was initially supposed to be a film adaptation of Halo, but because of the lack of finances, that plan was put on hold. Several props made for Halo can be seen in the film.
It was relatively successful when it was first released and was nominated for four Academy Awards, including Best Adapted Screenplay, Best Film Editing, Best Picture and Best Visual Effects. While it didn't win any of these, people still referred to it as the best sci-fi film of the 2000s.
Since its release and lack of follow-up, many fans have wondered what happened to Wikus after he fully mutated and whether Christopher made good on his promise and returned to cure Wikus. After 14 years of hints and rumours surrounding Neill Blomkamp's District 10, fans hope they'll finally get some answers and a long-awaited sequel.
RELATED: Sharlto Copley Confirms District 10 Will Begin Filming Next Year
What Happened in District 9?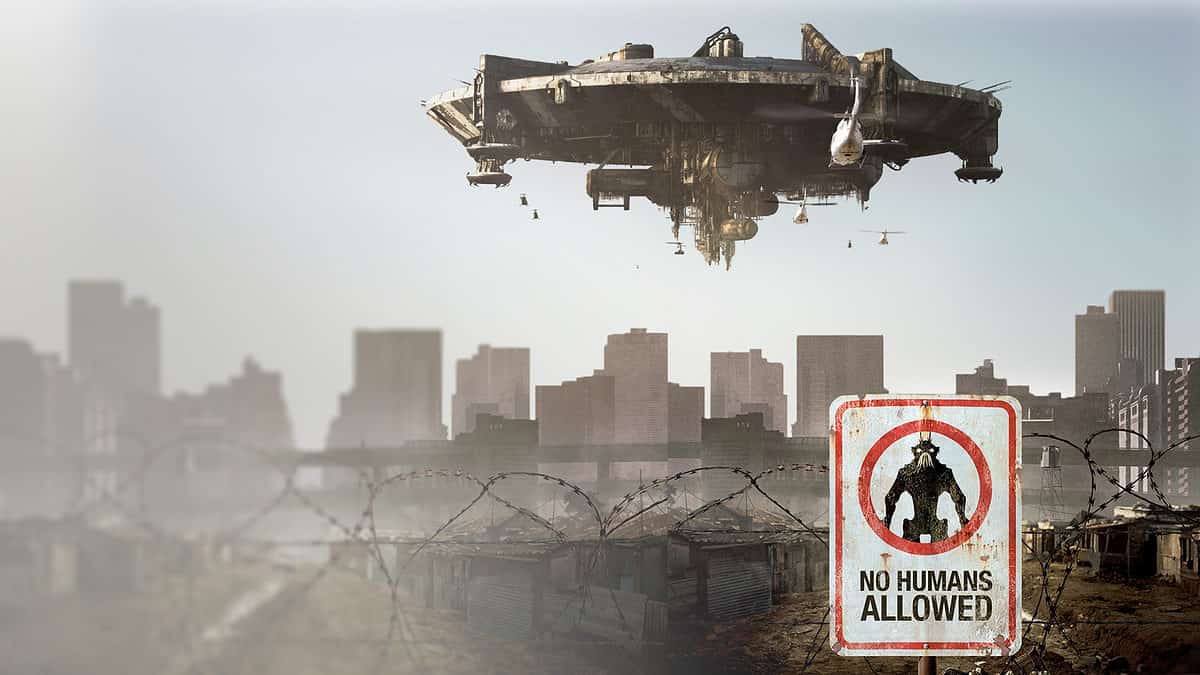 When a giant extraterrestrial spaceship landed on Earth in an alternate 1982 unexpectedly, hovering ominously over Johannesburg, South Africa, a few humans decided to investigate the ship. Inside, they found millions of malnourished aliens, which they would call "prawns" in the future.
A couple of years later, the aliens, who came to Earth seeking refuge, are living among humans, and people have started to complain about them and District 9, the terrestrial camp turned slum that was set up for the aliens by the government when they first arrived.
As a result of the complaints, the South African government decided to relocate the aliens, and Wikus van de Merwe, a human bureaucrat who works for the Multinational United (MNU) Department of Alien Affairs, was appointed to lead the relocation by his father-in-law.
Wikus encounters Christopher Johnson, his friend Paul and his young son CJ, three aliens who have spent the last twenty years synthesising fuel and finally have enough to act on Christopher's plan finally. Wikus confiscates the fuel, accidentally spraying himself with it, and Koobus Venter – a sadistic PMC (Private Military Company) who takes pleasure in murdering aliens – mercilessly kills Paul.
Wikus learns that he has become infected and ignores the very violent symptoms he shows until he realises that he has slowly started mutating into a Prawn. This unfortunate realisation comes when he wakes up in the hospital with a claw where his left arm should be after passing out at the celebration of his promotion.
Researchers at MNU begin experimenting on him. However, after his father-in-law learns that his newly changed DNA enables Wikus to use the prawns' weaponry, he orders the researchers to vivisect and harvest Wikus' body for its properties. Fortunately, Wikus escapes, but a smear campaign is run to paint him in the worst possible light to try and get him back while Venter and his men begin the hunt for Wikus.
Taking refuge in District 9, Wikus happens upon Christopher once again and the prawns' mothership. Christopher explains that he plans to reactivate the dropship but that the fuel he had confiscated was crucial to the plan's success.
Wikus decides to help him after learning that Christopher can reverse his transformation. He gets his hands on prawn weapons (after dealing with Obesandjo, a Nigerian arms dealer who wants to eat his arm), and the two break into MNU to retrieve the confiscated fuel.
While in the MNU lab, Christopher sees all the cruel experiments they have done on his people and tells Wikus that because of the limited fuel supply, he wouldn't be able to undo the mutation. Not yet, anyway. He needed all the fuel to return to his home planet as fast as possible, but he would return in three years to cure Wikus.
At first, Wikus is understandably upset by this and leaves Christopher behind as he tries to fly the dropship himself. Unfortunately, this doesn't go too well, as Venter's mercenaries shoot him out of the sky, and he is then captured by Obasanjo, who tries to cut his arm off. Fortunately, CJ, who is hidden in the dropship, manages to activate the mother ship and the mechanised battle suit in Obesandjo's base that kills the Nigerians.
Wikus accepts the fact that he is going to turn into an alien and enters the battle suit to help Christopher escape. However, they come under heavy fire from Venter's men, and Wikus uses the battle suit to take out the mercenaries and buy Christopher time.
Several aliens help to kill Venter just before he kills Wikus.
As Christopher leaves, he promises Wikus he will be back. But then, the mothership departs, leaving the aliens behind, and humanity is left to speculate about whether his return will be to rescue the rest of the aliens or to declare war on Earth.
The brutal practices of the MNU are finally exposed, though the person responsible for the exposure is awaiting trial. Meanwhile, Wikus waits for Christopher's return; now fully mutated, he passes the time by making metal flowers for his wife while living in District 10.
RELATED: The Ghost and the Darkness Still Haunts Me Today
What We Know So Far
Will the District 9 Sequel Happen?
After the failure of Blomkamp's horror film Demonic, many fans were worried that Neill wouldn't proceed with District 10; however, that no longer seems to be a worry.
While filming has yet to begin, it has been confirmed that Terri Tachell (Blomkamp's partner and wife) will write the screenplay and that star Sharlto Copley is also attached to the project.
Fans are excited to see the next project from Blomkamp, but given how long it has been since District 9, no one's expecting the sequel to arrive anytime soon.
Everyone Previously Involved is Keen on a Sequel
Over the years, both director Neill Blomkamp and lead actor Sharlto Copley have spoken about how excited they would be to film District 10.
A sequel has been teased since District 9 first came out "If [District 9] is successful, if audiences want another, whatever, District 10, I would live to do it […] It's a very personal film, and it's a universe and a place that I find incredibly creative. I'd love to go back to that universe."
While in an interview with The Hollywood Reporter promoting his sci-fi horror film Demonic, Neill Blomkamp spoke a little bit about his vision for District 10 when asked about the scale and scope of the film:
"I think the approach of the first film is correct; it's just really a question of the script. If there's slightly more stuff happening in the script, then you need slightly more money. But I think it would still be as stripped-down and bare bones as we could make it. That becomes more nimble and more creative, and personally, I like that."
Blomkamp isn't planning on making a CGI and action-heavy film like those popular today. Instead, he intends to keep it as close to the style of the original film as possible.
While speaking with Comicbook.com, Copley mentioned that he and Blomkamp had often discussed doing a District 9 sequel, "We do. I mean, we came so close to doing it. So hopefully, after his next movie, maybe we'll do it then."
In August last year, Copley mentioned that he and Blomkamp have both written up drafts for the script of the sequel:
"Yeah, man, we've been working. I did a draft, I sent it back to him. He's done a draft. It's like just tiring to find the right sort of story. There were some things going on socio-politically that he felt maybe timing-wise he didn't want to go immediately. So maybe in like a year, year-and-a-half [we'll being filming]. He wants to have something to say."
When We Can Expect to See the Film
The Chappie director is currently working on a film adaptation of the popular racing simulator Gran Turismo. Copley is under the impression that once he has finished with it, Neill Blomkamp will start officially working on District 10.
While Blomkamp confirmed that the District 9 sequel film was in development in February 2021, there have been no announcements regarding the film's time frame. However, considering his usual time frame, we could expect to see District 10 sometime in 2024.
Copley commented during an interview with Radio Times that progress on the film has stalled:
"Neill's got to stop lying to the public, because it's creating havoc. It's like if you say you're going to do it, dude, just do it because now I'm sitting trying to… It was just there was a timing thing with what was going on socio-politically that he was concerned about. He just wants to sort of time it right. So it looks like it's going to be another two years. But you know, what's another two years once it's been like, what 12? Hopefully we're shooting in like two years time. Let's see."
RELATED: Alien Movie Franchise: Can It Be Saved?
Why the Sequel Has Taken So Long to Arrive
Based on Copley's previous comments and Blomkamp's plan to take inspiration from American history, there's a good chance that the main reason we have yet to see a District 9 sequel is bad timing.
With all the political drama the U.S. has been dealing with over the last couple of years, doing a film based on historical racism in the country might not be the best idea. The South African director may have felt that it wasn't a good time for someone with an outsider's perspective to write and direct a film on a topic about which many people are very sensitive.
What We Hope to See in the Sequel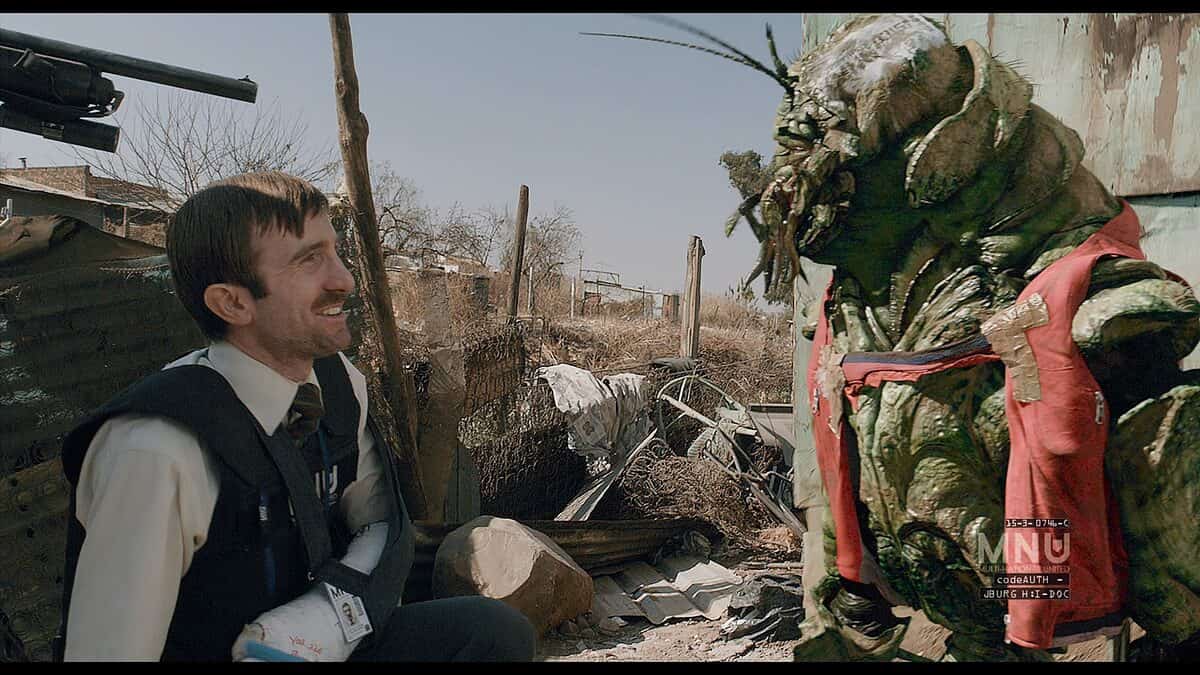 1. The Return of the Original Cast
At this point, we're not entirely sure who will be coming back and who won't. But there is one person who has to return to reprise his role: Sharlto Copley.
Not only did he star in the first movie and Alive in Joburg, the short film on which District 9 was based, but he has been in many of Blomkamp's previous films. For example, he co-starred alongside Matt Damon in Elysium and provided the movement of the titular robot in Chappie.
Given his involvement in Neill Blomkamp's other works, how excited he's been to do a sequel and the fact that he's been credited as "co-writer", it wouldn't make sense if he didn't reprise his role as Wikus van der Merwe in District 10.
Fans also hope we'll see Jason Cope return as Christopher and Vanessa Hayward return as Wikus' wife, Tania.
Jason Cope did an excellent job as Christopher Johnson and Grey Bardnam. He also provided the voice of every alien that spoke and the man behind the camera several times throughout the film, specifically for Trent.
It'll be interesting to see if the second film focuses on Tania a bit more and how she reacted to the sudden loss of her husband.
The number of familiar faces in the sequel film may be limited, especially since Neill Blomkamp has teased that District 10 will have a new plot rather than be a conventional continuation of where the movie left off. However, some of us hope the new faces will be more alien.
2. A Plot that was Just as Hard-Hitting as the First One
District 10 is reportedly going to be just as bleak as its predecessor, if not more so. According to Looper, "District 10 is described as an even less comfortable, entirely segregated area for housing out alien guests, a place more like an internment camp than a ghetto. Designated as the new, government-enforced home to the Prawns, It's said to house 2.5 million extraterrestrials and counting."
Neill Blomkamp has said that he was inspired by an unspecified period in American history for the story of District 10. This means that the dynamic between humans and aliens could be different, and we probably won't see a repeat of humans ruling over alien-filled slums.
Fans suspect that the chosen historical era will be between the 17th and 19th centuries and that the film's plot will be based on the treatment of Native Americans during that time.
RELATED: 10 Sci-Fi Films That Were Completely Wrong About The Future
3. An Explanation About Where the Aliens Are From
We learn very little about the home planet of the prawns in District 9. All we know is that it has seven moons and is quite a bit bigger than Earth. Fans are curious to know why the aliens left their home planet in the first place.
It'd also be interesting to know they chose to take refuge on a planet that was so underdeveloped compared to their own. Some fans would also be curious to see why they were willing to accept the ill-treatment they were put through, despite having weaponry that could easily demolish whatever the humans tried to throw at them.
While taking a trip to their home planet would diverge from the first film's themes, it would be beneficial to learn more about the alien visitors.
4. New Characters and Species
Plans for a new plot mean there will undoubtedly be new characters with intriguing backgrounds. However, with Blomkamp's plan to have a very minimal budget for the upcoming film, the cast will likely be as small as its predecessor.nThis means that if District 10 introduces new characters, the film will be able to go a bit more in-depth and explore their background.
The Elysium director might also choose to explore the idea of aliens a bit further and introduce new species. Humans have already discriminated against one alien species; what's a couple more?
5. An Explanation About What Happened to Earth After Christopher Left
We learnt that the aliens had moved into District 10, and their population had been growing at an alarming rate. This could mean potentially bad news for humanity in the District 9 sequel.
The aliens are an advanced species with weaponry that only responds to their DNA. Moreover, they had been discriminated against and experimented on for years following their arrival on Earth, so they might not be inclined to be very forgiving in District 10.
Fans are curious to see whether the prawns continued to accept the ill-treatment from the humans or if they had taken matters into their own hands and are now the dominant species on Earth.
While many belated sequels have done terribly in the past, a few still manage to surpass expectations and do brilliantly, such as 2022's Top Gun: Maverick. It will be a legacy sequel by the time Blomkamp's future film releases in theatres. Fans just hope that he will be able to recapture the magic of the first one.
RELATED: Neill Blomkamp Movies Ranked Worst to Best
What do you hope to see from Niell Blomkamp when District 10 is eventually released?