Be inspired and gain insight into the source of motivation that Rocky Balboa shared with the world through his riveting inspirational speech.
RELATED: Ivan Drago From Rocky Getting A Spinoff Movie
The character of Rocky has always been one that people have found inspiring for the last few decades. The story of the character first started with Rocky (1976) and continued for three decades, with the previous film happening in 2006. Although there are beautiful and inspirational moments in all of the movies, a speech by Sylvester Stallone as Rocky Balboa has surprised people worldwide. Stallone may never realise the legacy he will one day leave behind or all the lives he has had an incredible impact on.
The Inspirational Speech
In the 2006 movie Rocky Balboa, Rocky talks to his son and shares some harsh truths about what the world looks like. This speech has come a long way, and several people find it inspirational. He starts by talking about how much love he felt for his son when he was just born, how he adored how small he was, and how he fits into his hand. Then, he tells his son that from day one, he would tell his mother that this little guy would be the best kid in the world.
I think that one of the reasons that this speech touches so many people is because of how he talks about watching his son grow up to be "good and wonderful". "Watching you was great, and every day was like a privilege." Many parents who watch this speech feel the same about their children, while children who miss their parents want to hear that.
The speech takes a turn when Rocky Balboa talks about watching his son get older, becoming a man and getting ready to take on the world. The turn comes when Balboa looks at his son heartbroken and says that the poor boy has changed and stopped being himself somewhere along the line. "And when things got hard, you started looking for something to blame. Like a big shadow."
The world can sometimes be a scary place, with a lot of trials and tribulations out there. And Rocky admits that the world can be a nasty place but inspires us all not to be a coward and to go out and take what we are worth. I love that he tells us to take what we are worth, not what we are owed because we are owed nothing and earn everything.
"Let me tell you something you already know. The world ain't all sunshine and rainbows. It's a very mean and nasty place, and I don't care how tough you are; it will beat you to your knees and keep you there permanently if you let it. You, me, or nobody will be hit as hard as life, but it aint about how hard you hit, it's about how hard you can get hit and keep moving forward. How much you can take? Now if you know what you're worth, then go out and get what you're worth. But you gotta be willing to take the hits. And not pointing fingers saying you ain't where you wanna be because of him, or her, or anybody. Cowards do that, and that ain't you! You're better than that!"
Finally, he finishes, "Until you start believing in yourself, you ain't going to have a life." I wonder if Stallone realised how relevant his words would be to the world one day.
RELATED: Rocky vs Drago: Stallone's Snyder Cut
Responses To The Inspirational Video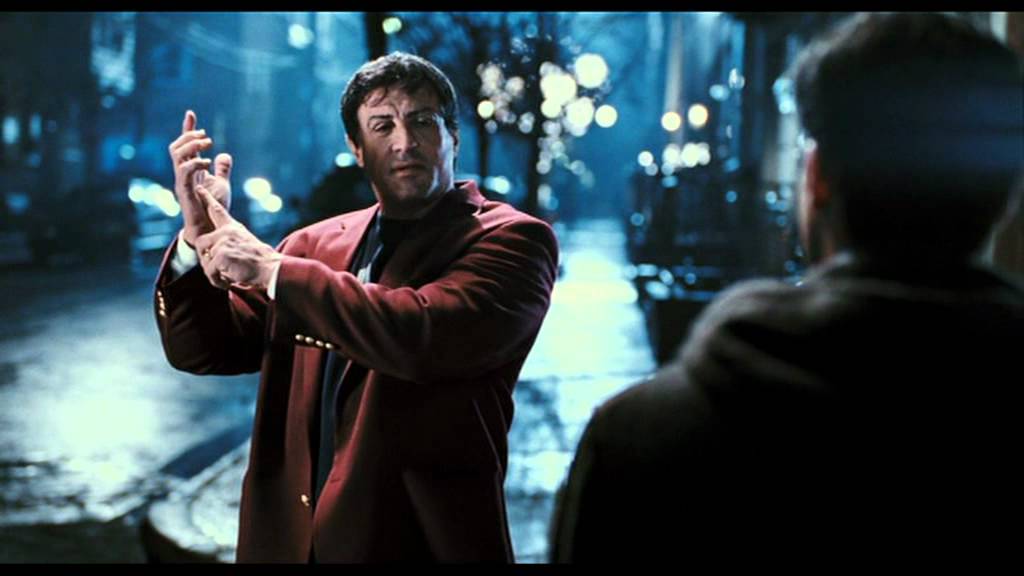 The inspirational speech was brought back to the light of day in HD on Vimal Kumar's YouTube channel, allowing fans to once again enjoy this amazing performance by Sylvester Stallone as Rocky Balboa. The responses to the YouTube video ranged anywhere from simply praising the passionate nature of the address to sharing exactly how the film impacted them.
To put it simply, many stories of how Stallone's words impacted these people were simply beautiful.
One commenter, Omar, mentioned that he found it interesting that although Rocky Balboa is a fictional character, he had given him some of the best advice anyone had ever given him. "Man it's sad that a fictional character gave me better life advice than anyone ever has."
A commenter named Grump shared that they end up in tears every time they see the clip.
People felt like Rocky was giving them advice individually because the Doctor of Horrors says that he wasn't just talking to his son in the film but was giving a message to all of us.
One of the commenters mentioned that they had grown up without a father being present in their life, and all they needed to be able to take on the world was the three-minute speech in the footage.
Similarly, Teru, another commenter, shared a touching story about how the address impacted their life. "I applied to more than 100+ companies for a job, and I got rejected from all of them. I was depressed and lost confidence, but this video helped me push myself forward. And I recently got a job offer. I'll value this video and quote forever in my life."
Here is the testimony of a few more beautiful commenters on the video clip, sharing the impact the inspirational Rocky Balboa speech had on their lives:
Totoro – "'Now, if you know what you're worth then go out and get what you're worth, but you gotta be willing to take the hits.' That line gets me every time. The path forward is a long and hard one, but an ultimately rewarding one. Follow your dreams, take nothing for granted, and it will fall into place. And remember, always be willing to take the hits."
Jay – "When Stallone is long gone…this speech is gonna be around for all eternity."
Aaron – "I can remember at 15 downloading this clip into audio and falling asleep at night to it on repeat for weeks straight… this scene changed my life and helped so much."
Regele – "I wonder if Stallone knows how many people he helped with this scene.
Chris – "Played this for my sister 2 months ago. She was 27 and I'm 31. She suffered addiction and sadly I lost her a few days ago. I came back to this video because it made me feel like I tried."
Komal – "This was my dad's favorite movie. I lost him to covid. Whenever I breakdown and can't function I watch this on repeat and pretend he is telling me this."
Nick – "My Dad used this speech at my graduation and literally the entire place was in tears."
ABC – "This speech literally saved my life."
Corey – "Being depressed this is what you need to hear!"
goodmourningstar – "I lost forty pounds and quit drugs after I saw this movie. I cried for the rest of the movie. Sly literally saved my life."
Andrew – "This is the hardest punch Rocky ever threw."
RELATED: Sylvester Stallone Working On A Rocky Prequel TV Series
Rocky Legacy: Rocky (1976)
It was relatively easy for the story of Rocky Balboa to become one of inspiration, as the movie started out in 1976 as a tale to all the underdogs in the world to always keep going. Rocky Balboa, an up-and-coming boxer from Philadelphia, gets to take on the world heavyweight champion. Still, no one believes that he can do it. Against all odds, Rocky works hard, goes the distance, defends his self-respect and manages to accomplish his goal. Although Sylvester Stallone stars as the titular character Rocky, he also wrote the film. The first movie was directed by John G. Avildsen, who also directed the fifth film in the series.
Rocky II (1979)
The legacy then continues in Rocky II in 1979, when Rocky becomes a family man and tries to juggle his life as a boxer with his new life with his lovely wife, Adrian. To his surprise, Apollo Creed is again looking for a rematch and challenging Rocky's Championship. This is important to Rocky because he needs to keep his title. Still, it's even more critical for Apollo Creed because he needs to prove to his critics that he can take back the "stolen " title from him. This time, Sylvester Stallone starred in the movie, wrote the script, and directed the film.
Rocky III (1982)
The story of Rocky Balboa continues further, as it continues with the third instalment of the series, simply called Rocky III (1982). Now that Rocky has managed to defend his title until now, he is forced to turn to a former rival for help in saving his title as the world heavyweight champion. However, after losing the title and his original trainer, he has to find his fire and will to fight again, which his previous foe, Apollo Creed, ends up helping him find again. This film was also written and directed by Sylvester Stallone.
Rocky IV (1985)
Now that Stalone has managed to maintain his reign as the world heavyweight boxing champion for three consecutive movies, he has to do so versus a new and terrifying challenger, Drago, from the Soviet Union. Now his friend, Apollo Creed, joins him again as he takes on the Russian boxer, who kills Creed in the match. This only feeds Balboa's will to beat Drago in a fair boxing match, and he looks to Creed's former manager, Duke, to take him on. Once again, the movie was both written and directed by Sylvester Stallone.
RELATED: Sylvester Stallone to Star in a New Rocky Movie
Rocky V (1990)
Without the need to maintain his title any longer, Balboa retired from the fighting scene and instead used his time to take over ownership of the gym where he had trained for most of his career, as well as start training a young protégé that reminded Rocky of himself when he was younger. It is discovered that an injury sustained by Balboa, and caused by the Russian boxer from the previous movie, forced him into retirement, where he starts to train other fighters. Sylvester Stallone wrote the film, and he still reprises his role as Rocky Balboa. However, John G. Avildsen has returned to the director's seat for this film.
Rocky Balboa (2006)
Although there have been more movies within the cinematic universe of the Balboa story (Creed), Rocky Balboa was the final solo movie that saw Stallone in the iconic role of Rocky Balboa. Despite the injury that had driven him into retirement, it has come time for Rocky to pick up his boxing gloves again to have one last fight against the current reigning heavyweight champion. Mason, 'The Line' Dixon, challenges Rocky Balboa to an actual battle after losing a virtual boxing match to him. To everyone's surprise, he accepts the challenge. With the odds against him again, Rocky is ready to work his most challenging and make history. Stallone once again wrote the film, and this time John G. Avildsen went on to relinquish the role of director to Stallone once again as well.
Although the story of Rocky Balboa is an inspiring one all on its own, many people felt that the inspirational speech from the sixth movie was a special one that inspired them, giving them the will and the fight to face the world each day, despite it sometimes being an awful place to be.
RELATED: The Rocky IV Director's Cut Sends Paulie's Robot To The Junkyard
So, how has the inspirational Rocky Balboa speech impacted you?